Hey guys!
I've decided to continue with my music video inspired nail art designs and today I did a design based on my current fave song - Moves like Jagger by Maroon 5 featuring Christina Aguilera. This song has actually made it to my top played song of all time on iTunes so that should give you some idea of how much I like it.
I ended up being more inspired by the album cover for this single more than the actual music video but the graphic does also appear in the video.
It's a simple design but I thought it turned out pretty crisp and cool! Hope you like it too!
My inspiration:
My interpretation: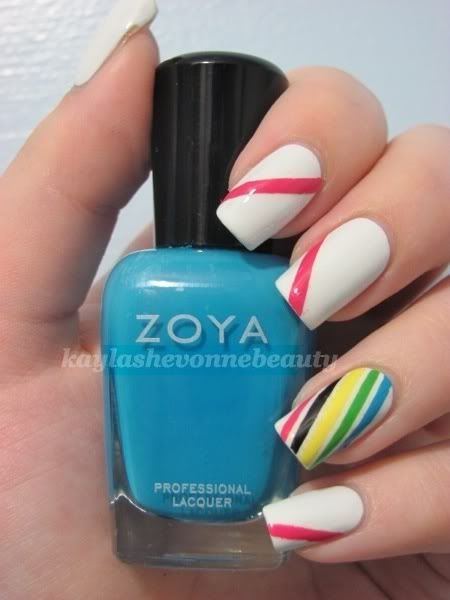 Products:
OPI Chip Skip
CND Stickey Base Coat
China Glaze - White on White (base)
OPI - I'm Indi-a Mood for Love (pink stripes)
China Glaze - Liquid Leather (black stripes)
Orly - Spark (yellow stripes)
Nicole by OPI - One Time Lime (green stripes)
Zoya - Robyn (blue stripes)
Seche Vite Top Coat
P.S. I added a new tab at the top of the page where you can go to request nail art designs that you'd like to see from me! At the moment I'm mostly looking for music video suggestions so I can continue with this series but I'm interested in all of your requests!