Hey guys!
I'm still not feeling 100% better but I was finally feeling well enough last night to paint my nails.
I didn't mean for it to happen but it seems that I've got a kind of music video inspired nail art series happening right now since my last three nail art designs have all been inspired by music videos! I'm actually really enjoying this accidental series so if you have any suggestions for other inspiring music videos, please let me know in the comments or by
email
.
Today's nails are inspired by Nicki Minaj's video for her song Super Bass. The video is super colourful and fun and the outfit that caught my attention is this fish scale looking one so I tried to recreate it on my nails. Her vibrant green wig in this scene is also pretty rad so I wanted to incorporate that as well.
Here's a photo of my inspiration:
And here's my interpretation: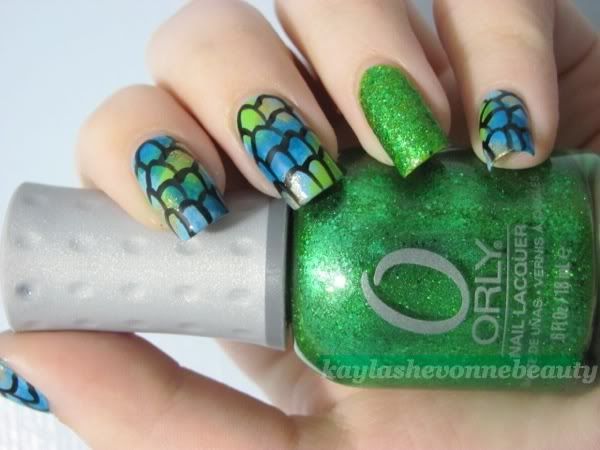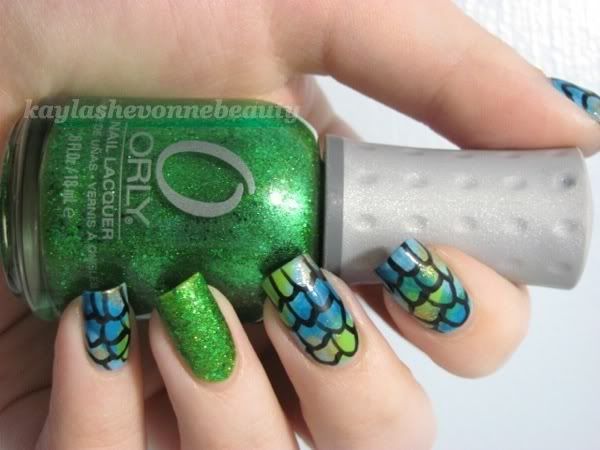 I couldn't decide which photo/angle showed the design off the best so I just went with all 3 photos I took!
Products:
OPI Chip Skip
CND Stickey Base Coat
China Glaze - Bahamian Escape (base)
Orly - Here Comes Trouble (base on ring fingers)
OPI - Who the Shrek Are You? (sponged over base)
China Glaze - Shower Together (sponged over base)
Orly - Glitz & Glamour (sponged over base)
China Glaze - Liquid Leather (scales)
Seche Vite Top Coat
My friend Rebecca also did a design inspired by this video but for a different outfit/scene so check out
her design
as well!