Hey guys!
It's finally here!
This post will give you an in-depth look into my nail polish collection - something that has been requested for a long time now. As always, I'm waiting on a few polishes in the mail but it's not too many that would make me hold off on posting this. I've also listed the polishes I'm waiting on after the appropriate picture.
A few of you might remember my first
collection post
which was over a year ago and is definitely no match for what I've got now. It's interesting to look back and compare though!
Alright, let's get to it! Here's an overview of where I store everything:
Keep reading to see my full polish collection!
I store all of my polishes and supplies in Melmers (they're actually called JetMax Storage Cubes and they can be bought from Michael's). They've gotten the nickname Melmers throughout the nail polish community because they're similar to a Helmer which can be bought at Ikea and which is also a popular polish storage solution.
I have 6 Melmers altogether but I only use 4 and 1/2 for polish storage, the other 1 and 1/2 is for makeup storage. If you'd like, I can do a separate makeup collection post to show you the contents of the other 1 and 1/2 Melmers but for today I'll only be showing you my polish collection.
A couple of weeks ago I showed you how I decorated my Melmers (they come with just a plain white finish) so you can find out how I did that by going to that
post
.
I organize my polishes by brand and then by colour and a few times throughout these photos you'll see little star-shaped stickers on some of my bottles - those are polishes that I have yet to swatch and the stickers allow me to keep track of those.
Ok, let's get to the fun stuff.
On top of my first stack of Melmers I have a container that houses a lot of my polish supplies that I like to have easy access to such as base and top coats, treatments, acetone, files, clippers, nail art brushes, hand/cuticle creams, etc.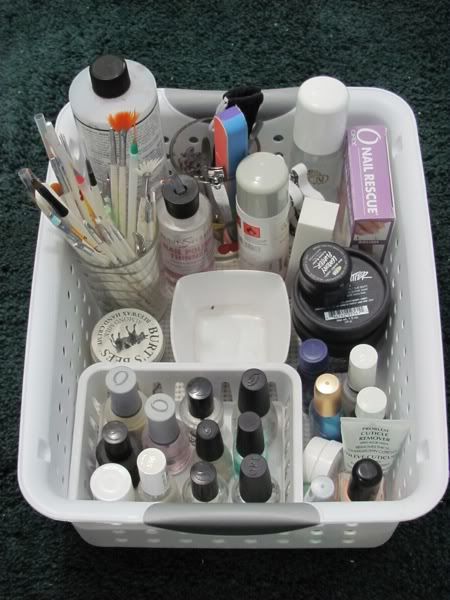 Melmer #1:
This first Melmer holds all of my OPI and Nicole by OPI polishes.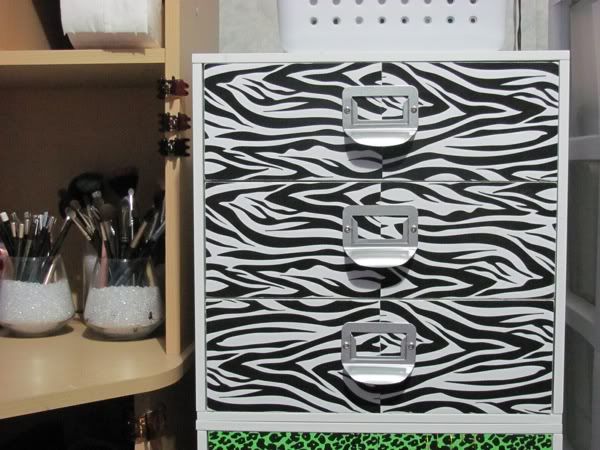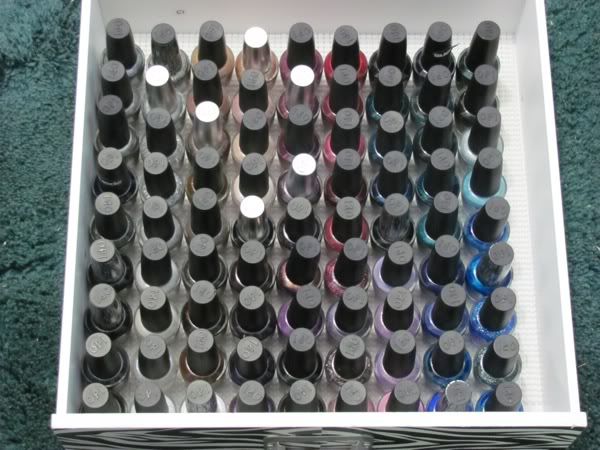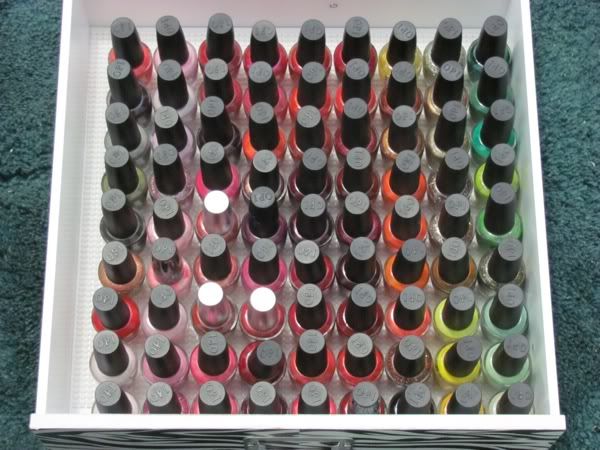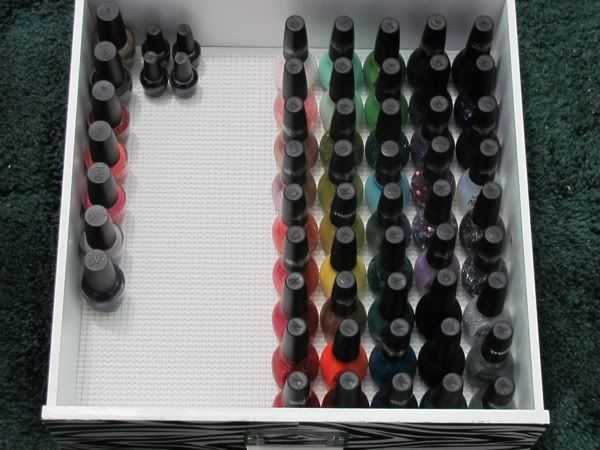 Melmer #2:
This one holds all of my China Glaze polishes as well as my Nfu-Oh Holographics. I also have 5 more Nfu-Oh polishes on the way to me so they'll be kept in the third drawer with their holo friends.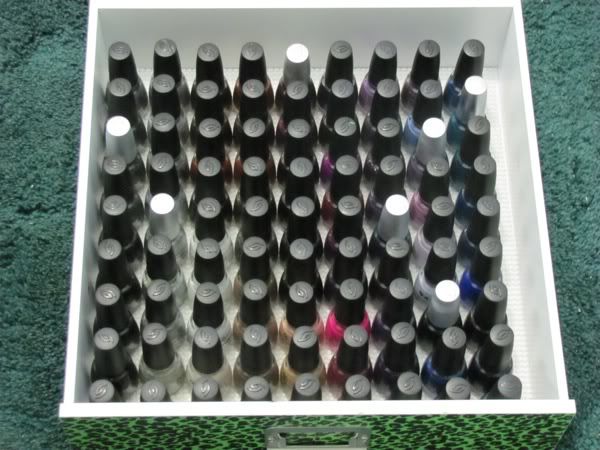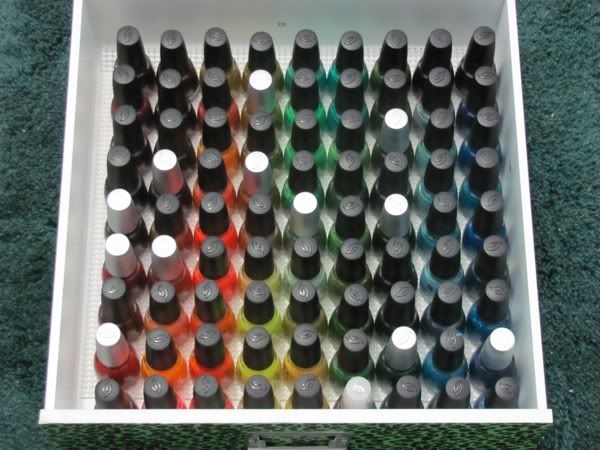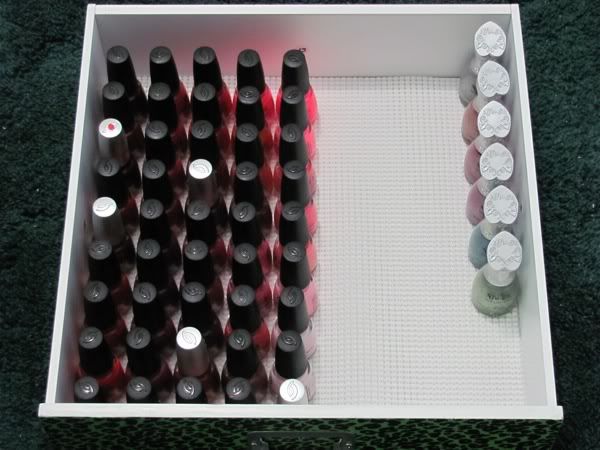 Melmer #3:
This Melmer holds many different brands of polish - most of them drugstore brands.
The first drawer houses Color Club, Milani, American Apparel, FingerPaints and GOSH.
The second drawer houses Revlon, Sally Hansen, Wet 'n' Wild, Joe Fresh, Icing, L.A. Girl and Rimmel.
The third drawer holds a few more drugstore brands such as Sinful Colors and KleanColor but for the most part these are brands that I only have one or a few polishes from such as H&M, piCture pOlish, Misa, Sephora by OPI, Layla, Glitter Gal, Funky Fingers, etc. There is also a container that holds all of my nail art pens/stripers.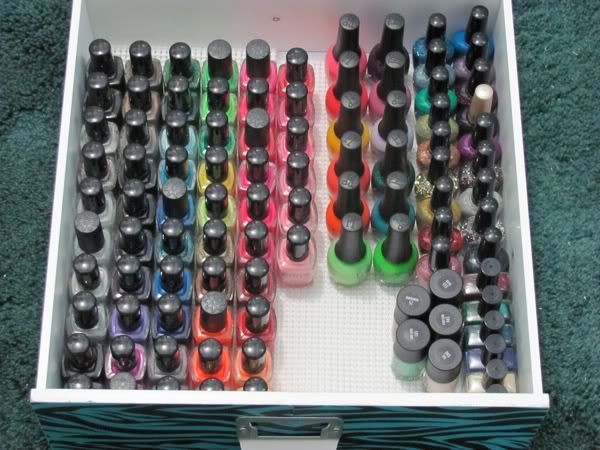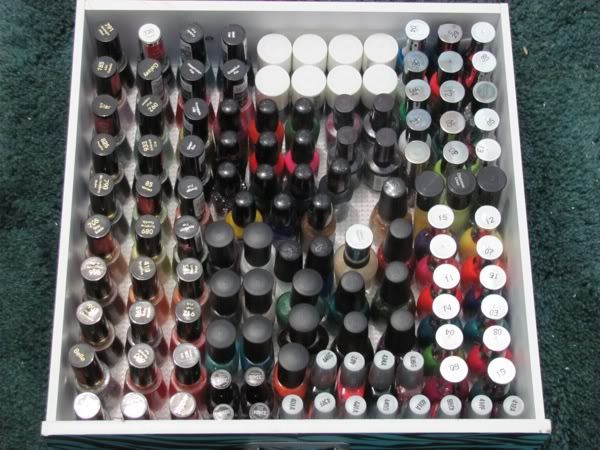 Melmer #4:
This one holds my salon/higher-end polishes that don't need a full Melmer for themselves (i.e. OPI and China Glaze).
The first drawer houses my Zoya, Illamasqua, MAC, and Deborah Lippmann polishes. I also have 2 Zoya polishes in Yara and Neeka on the way.
The second drawer holds all of my Orly polishes.
The third drawers houses my Essie, CND and LCN polishes.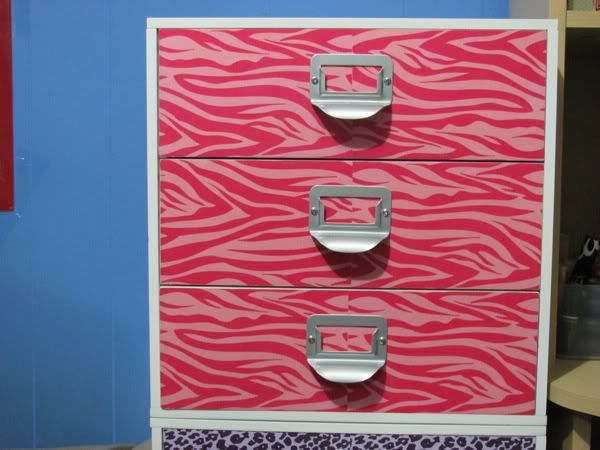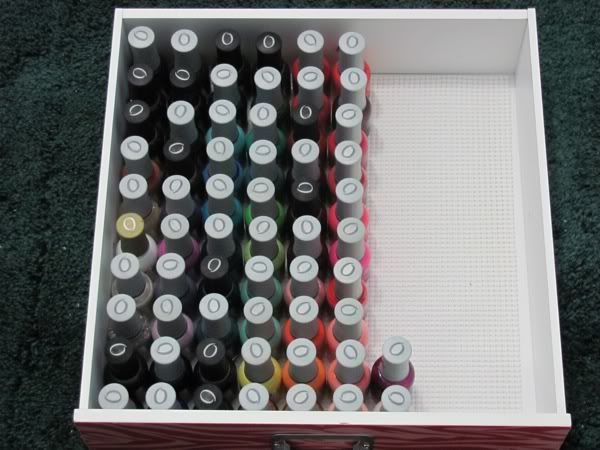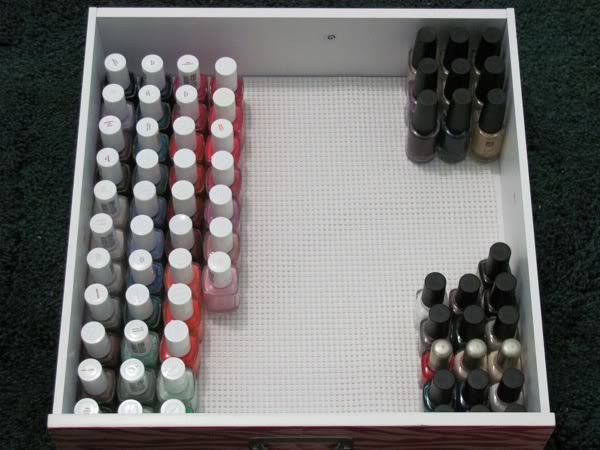 Melmer #5:
Only two of the drawers in the Melmer hold polish-related items and then my makeup storage begins in the third drawer.
The first drawer holds polish supplies that don't really fit in the bin I discussed above (such as q-tips, extra files, back-up base/top coats, etc).
The second drawer holds all of my nail art supplies (such as rhinestones, fimo slices, stamping supplies, loose glitter, bullion beads, etc).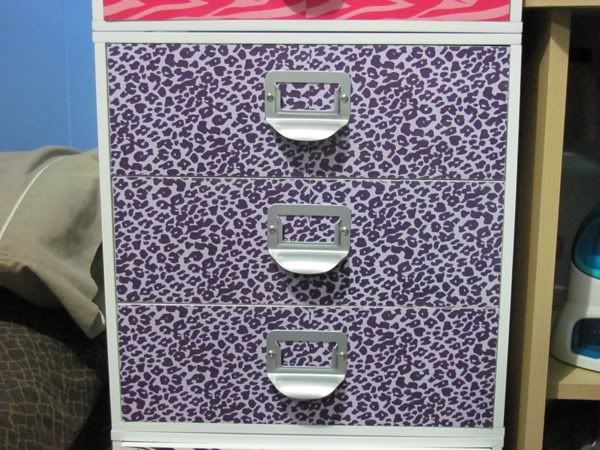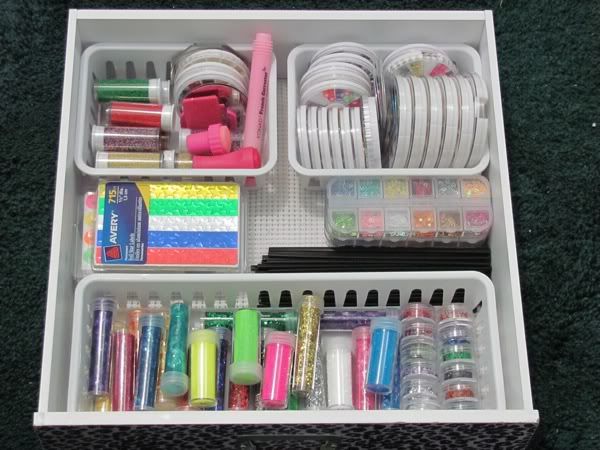 There's a few other polish-related items that aren't housed in my Melmers such as my nail wheels that I use for practicing my designs, my wheels that I use to swatch all of my polishes, remover pads, and my traincases but I didn't get photos of those things.
So there you have it - my entire polish collection!
I didn't actually count my polishes when I was doing up this post but if you were really interested in the number you could probably do some math by looking at the photos. I really want to compose an excel spreadsheet to better keep track of my collection but I know that will take a really long time so I keep putting it off. However
Rebecca
said she'll help me out so at least I'll have help!
Hope you enjoyed this much-requested post!