Hey guys!
Today I've got another instalment of my music video series to show you! Thanks for all the requests that you've been sending me - I've watched all of the videos you've requested and this is the first one that I was inspired by.
This video is pretty dark in general but there are a bunch of pops of neon colours so I wanted to include both black and neons together, which is what led me to the funky french. Anjulie is also wearing some black tape on her face in the shape of a backwards L so I wanted to incorporate that as well, which is where the accent nail came from.
Hope you guys like this one! And I've included the video below in case some of you haven't seen it before and you'd like to see my inspiration (and a quick warning: there's some NSFW language in the video).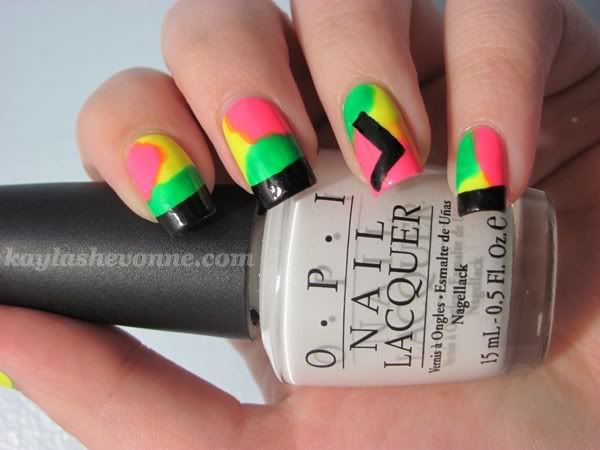 Products:
OPI Chip Skip
CND Stickey Base Coat
OPI - Alpine Snow (base under neons)
China Glaze - Shocking Pink (neon pink areas)
China Glaze - Yellow Polka Dot Bikini (neon yellow areas)
China Glaze - Kiwi Cool-Ada (neon green areas)
Wet 'n' Wild - Black Creme (french tips, backwards L shape)
Seche Vite Top Coat