Hey guys!
When I posted my peacock feathers design last week I didn't anticipate how popular it would be/how much you guys would like it! Since I posted it I've had 6 request forms filled out asking for a tutorial, aside from the several requests in the comments section of the original post.
So, since so many of you want a tutorial for this, here it is!
As a refresher, here's the design that you all liked so much:
Keep reading for the tutorial!
What you'll need:
The exact brands/names of the polishes I've used are in brackets but you can use whatever brands/shades you have in your stash.
Black creme polish (China Glaze Liquid Leather), gold foil polish (Orly Glitz & Glamour), royal blue shimmer polish (Orly Lunar Eclipse), bright blue-teal shimmer polish (Orly Halley's Comet), deep purple shimmer polish (Orly Out Of This World) and a green shimmer polish (Orly It's Not Rocket Science).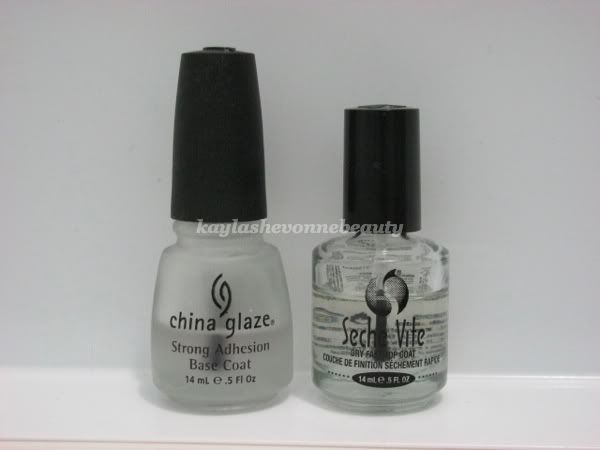 Your favourite base (China Glaze Strong Adhesion Base Coat) and top coat (Seche Vite Top Coat).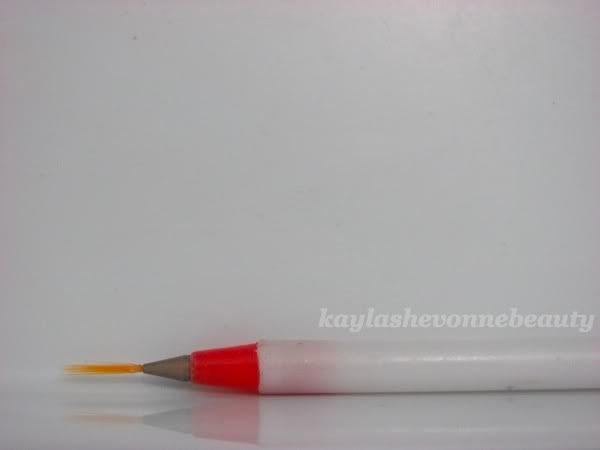 A striping brush (mine is from eBay and you can get them for next to nothing).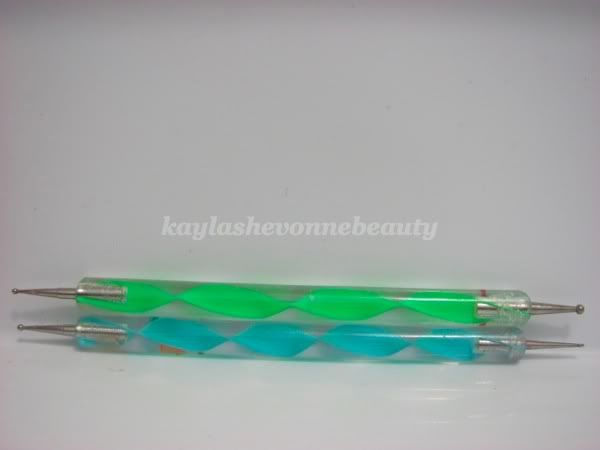 2 dotting tools: one large and one medium (mine are from eBay and they're very inexpensive).
Step 1:
Apply your base coat. (I didn't think it was necessary to take a photo of this step.)
Step 2:
Paint all of your nails with your gold foil polish.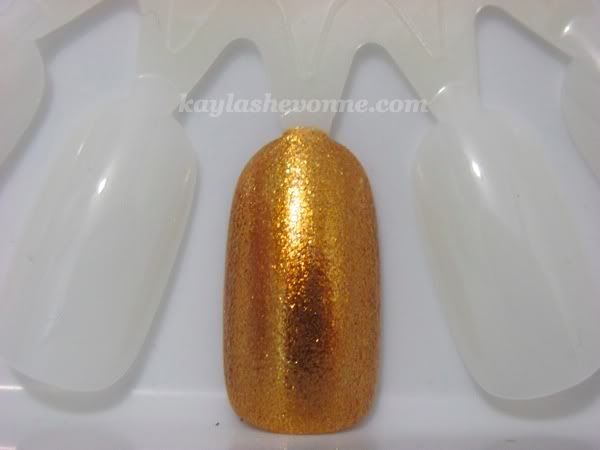 Step 3:
Take your black creme polish and your striping brush and starting at the base of your nail, draw a slightly wavy line to about the middle of your nail. Then, branch that line off into two separate lines creating a v shape at the tip of your nail.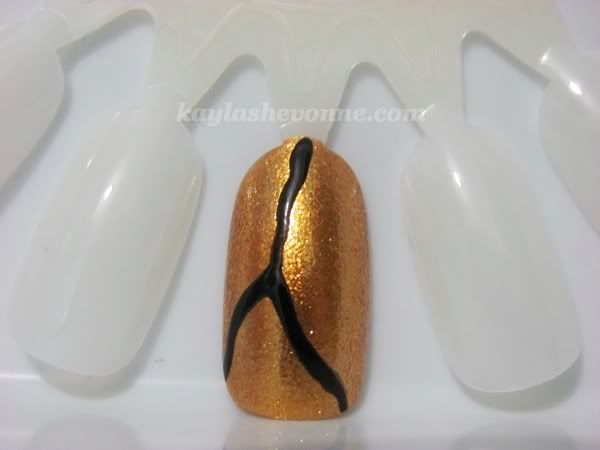 Step 4:
Still using your black polish and your striping brush, draw a couple of imperfect lines extending horizontally out from single black line you drew in Step 3.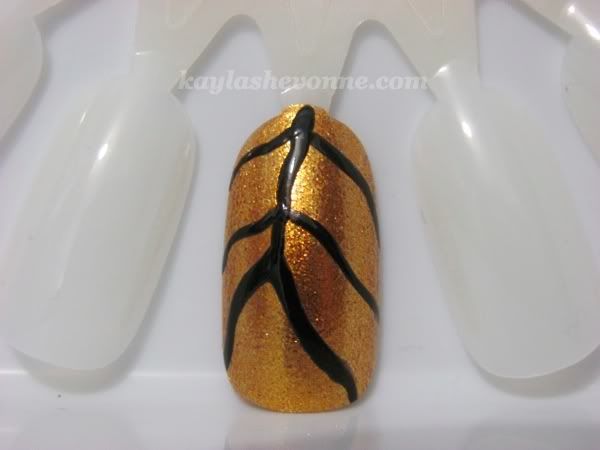 Step 5:
Take your large dotting tool and your blue-teal shimmer polish and make one large dot in the gold v shape at the tip of your nail.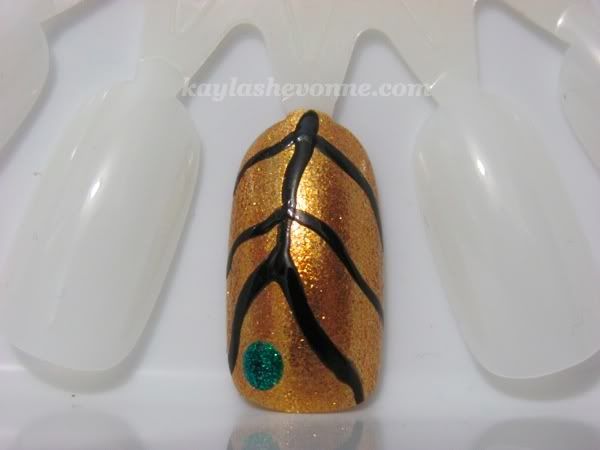 Step 6:
Take your medium dotting tool and your royal blue shimmer polish and make one medium dot inside of the large dot you made in Step 5.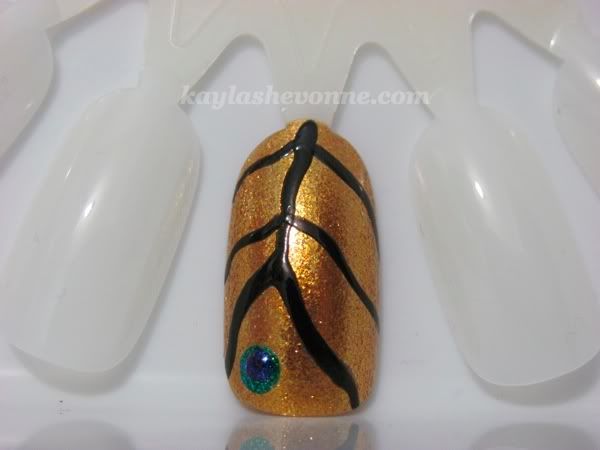 Step 7:
The order that you choose to use your colours for this step is up to you but basically you'll be using your blue-teal, dark purple and green shimmer polishes to fill in all of the gold space that's left (save for the gold v shape at the tip). Use the same technique that you used in Step 4 - use your striping brush to draw imperfect horizontal lines extending from the long single black line that extends up to the middle of your nail.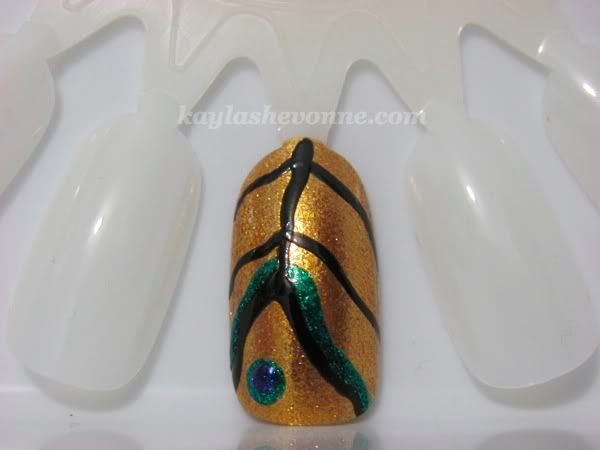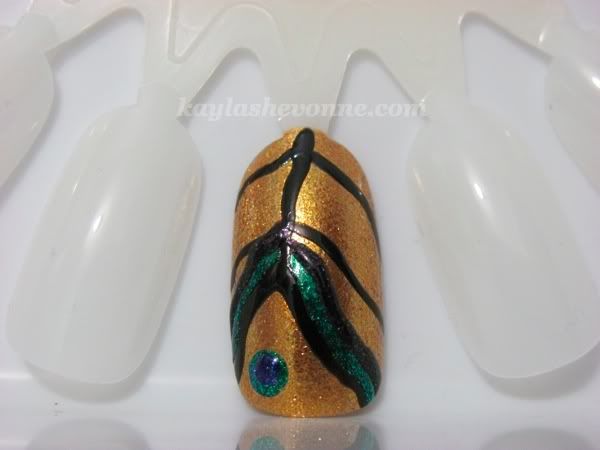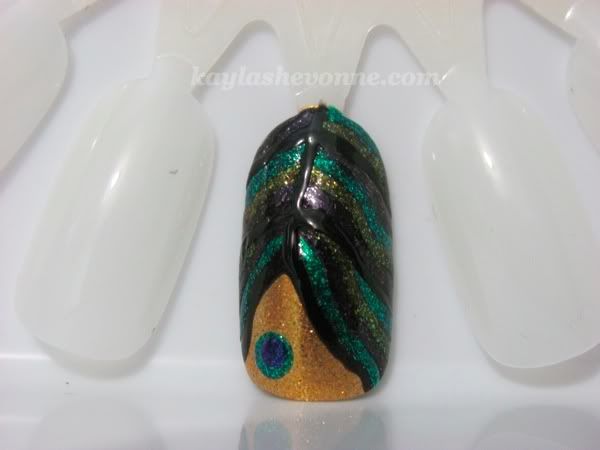 Step 8:
After allowing your design to dry completely, add a layer of your favorite top coat. This will make your new mani last longer, it will smooth out any bumps and ridges that have been created during the process, and will also give your nails a nice shine.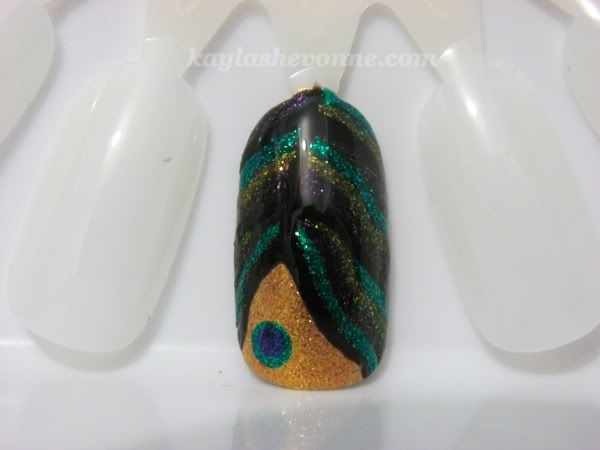 As always, I hope this tutorial was helpful and I hope some of you will try this design out for yourselves. And I'd love to see pictures if you try it!