Hey guys!
There has been a lot of buzz going around about the new Wet 'n' Wild Halloween Collection called On the Prowl, mostly because of the glitters included in the collection. So far I've only managed to get my hands on one of these glitters, but luckily the one I got is the supposed dupe for Deborah Lippmann's Ruby Red Slippers (which I already showed you
here
).
Both of these polishes are sheer black jelly bases with small and hexagonal red glitter. They look like total dupes in the bottle but does that translate on the nail?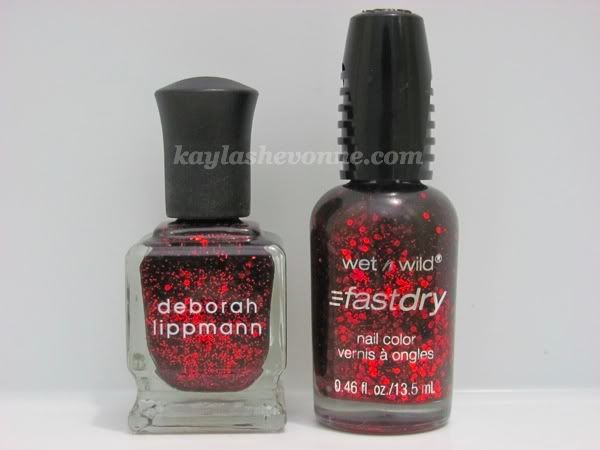 Keep reading to find out!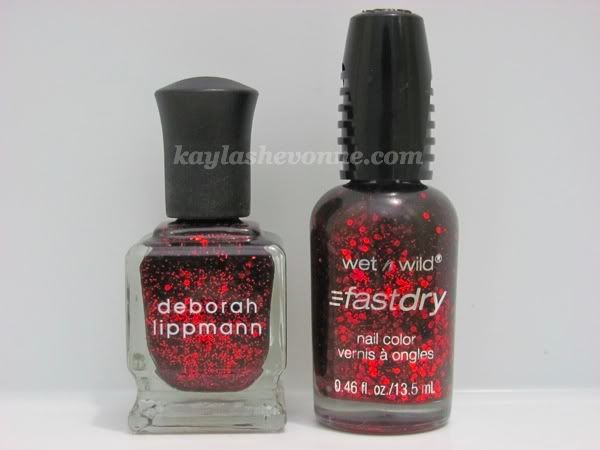 Deborah Lippmann Ruby Red Slippers, Wet 'n' Wild Behind Closed Doors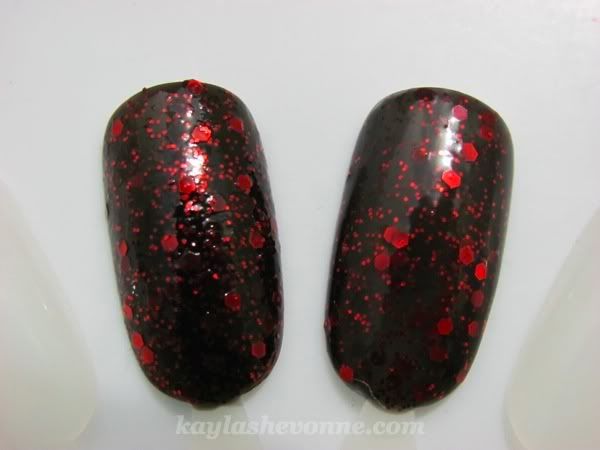 Deborah Lippmann Ruby Red Slippers, Wet 'n' Wild Behind Closed Doors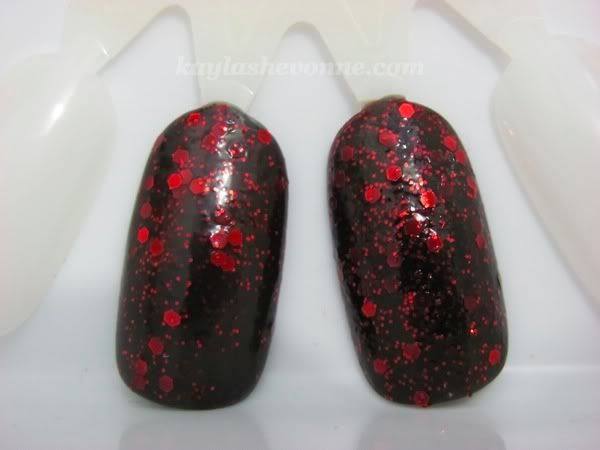 Wet 'n' Wild Behind Closed Doors, Deborah Lippmann Ruby Red Slippers
So it looks like we've got a pretty close match here but there are some subtle differences that I would like to point out.
First, the red glitter (both small and hexagonal) in Ruby Red Slippers is slightly more dense than in Behind Closed Doors. As well, the base of Ruby Red Slippers is a darker, more opaque black jelly while the base of Behind Closed Doors is more grey and sheer. Because of this, Ruby Red Slippers required 3 coats to get the opacity you see below while Behind Closed Doors required 4 coats. However, you can layer both of these on top of a black creme and they would both only require 1 or 2 coats.
The formula for both of these was about the same - no problems with application but it's best to wait in between coats so that you're not just pushing the glitter around.
I don't care for either of the brushes personally (I find the Lippmann brush too small and the Wet 'n' Wild brush too stiff) but this will come down to personal judgment.
The price difference between these two polishes is insane. Deborah Lippmann polishes retail for about $16-18 a pop and they're only available through higher-end department stores and a few online e-tailers while the Wet 'n' Wild FastDry polishes can be bought for $2-3 at a drugstore. However, the Wet 'n' Wild On the Prowl Collection is a limited release collection so you'll need to search for it now while you can.
Overall, there are some small differences between these two polishes but they still look almost identical on the nail. So, if you're on a budget or if Lippmann polishes are hard to come by in your area, opt for Behind Closed Doors instead - it's a great alternative at a great price.
P.S. I wanted to post a quick note letting you all know that it's my friend Rebecca's birthday today so head over to
her blog
and wish her a Happy Birthday!