Hey guys!
Sorry that I haven't posted any nail art in a while but it's been a pretty rough week for me! I had 2 papers, 2 midterms and a book to read all in the past week so I was forced to sacrifice painting my nails twice last week which I always hate doing. Nonetheless, I'm passing in my last midterm paper today so I can get back to painting my nails on a regular basis now.
As I said, I'm passing in my last midterm paper today so I was working on it until pretty last last night. However, my nails were completely naked so I knew I had to put something on them pretty quickly. Normally in a bind like this I would opt for some sort of animal print but I wanted it to be a Halloween design so I had to come up with a quick and simple Halloween design.
I ended up with the idea of just doing a variation on the "
drippy manicure
" but I would use flesh and blood colours to make it Halloween-appropriate. I used a design by the lovely and talented
Robin Moses
to inspire the blood drips. The design then quickly elevated to a vampire bite and blood design so that's what I did!
Hope you like it!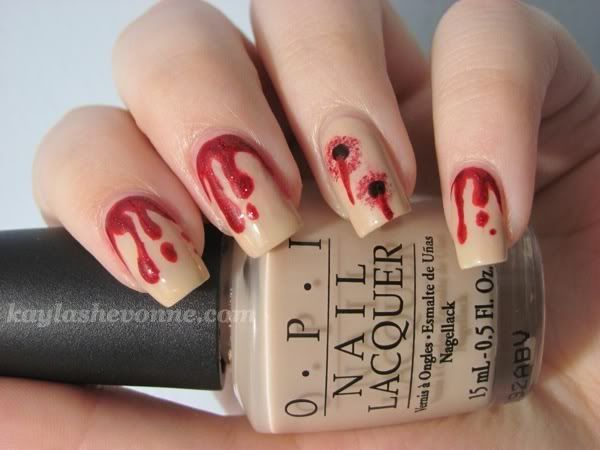 Products:
OPI Chip Skip
CND Stickey Base Coat
OPI - Samoan Sand (base)
China Glaze - Salsa (blood drips)
China Glaze - Ruby Pumps (over drips to add some sparkle)
China Glaze - City Siren
(sponged to look like bruises around the bites)
China Glaze - Naughty and Nice (bites)
Seche Vite Top Coat