Hey guys!
Today marks the beginning of my Halloween Series! I have a few ideas for this series myself but if any of you have any suggestions, I'd love to hear them! Fill out the request form in the Nail Art Requests tab at the top of the page to send me your ideas.
Remember though, I did a
Halloween Series
last year as well and I'd like to not repeat any of those designs.
Today's design was actually something that was suggested to me last year (well, the idea "zombies" was suggested and this is just my interpretation of that idea) but I was never able to get to it, so I thought it would be nice to start out the series with this one.
I really like how this turned out but the self-critic in me thinks that in my efforts to make the flesh look as rotten and dead as possible, I may have made it look too much like a camo print.
Nonetheless, I think the idea still came across pretty well so I hope you all like it!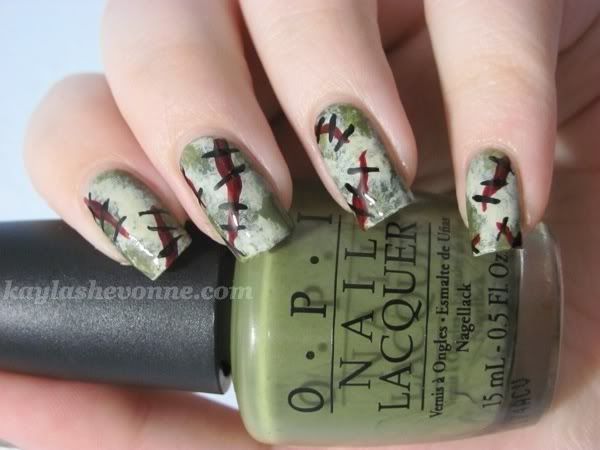 Products:
OPI Chip Skip
CND Stickey Base Coat
OPI - Uh-Oh Roll Down the Window
(base)
China Glaze - Westside Warrior
(sponged over base)
American Apparel - California Trooper (sponged over base)
Nicole by OPI - Deeply in Love
(cuts)
China Glaze - Velvet Bow
(outline of cuts to deepen the colour)
Wet 'n' Wild - Black Creme (stitches)
Seche Vite Top Coat