Hey guys!
Today I have a Halloween tutorial for you! A number of you have requested that I do tutorials for some of my Halloween designs from last year so I decided to start with my favourite one - my Jack-O-Lantern design.
This design is probably one of the most intricate and time-consuming designs that I've ever done but don't get discouraged, it's actually not too difficult if you're willing to put in the time and effort.
Now, for my original design I did 5 separate Jack-o-Lantern faces (one for each nail) but today I'll only be showing you how to do 1 of the 5 faces (the one that's featured on my thumb in the original design). However, once you know the basics of how I went about one of the designs, you should be able to apply this tutorial for the other faces.
So to refresh, here's the design I'll be showing you how to do: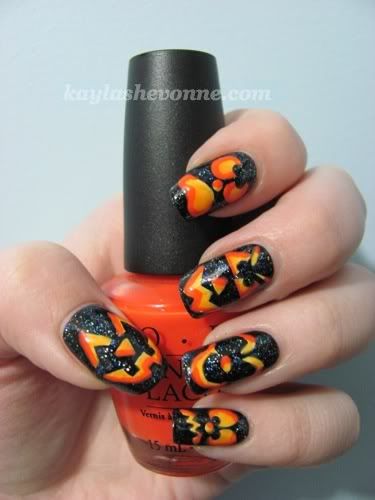 Keep reading for the tutorial!
What you'll need:
The exact brands/names of the polishes I've used are in brackets but you can use whatever brands/shades you have in your stash.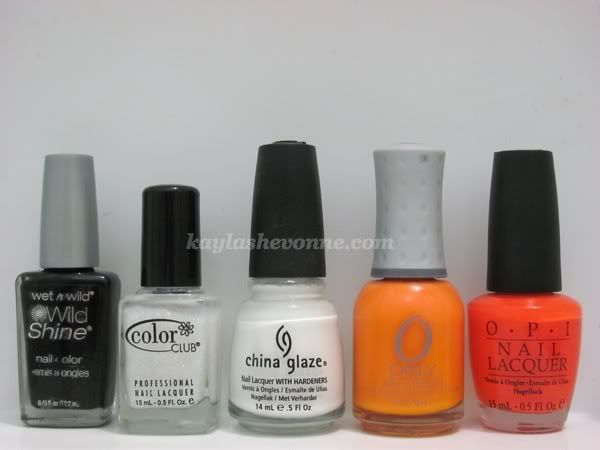 Black creme polish (Wet 'n' Wild Black Creme), sheer iridescent glitter top coat (Color Club Si Vous Please!), white creme polish (China Glaze White on White), light orange-yellow creme polish (Orly Crush on You) and a medium orange creme polish (OPI Brights Power).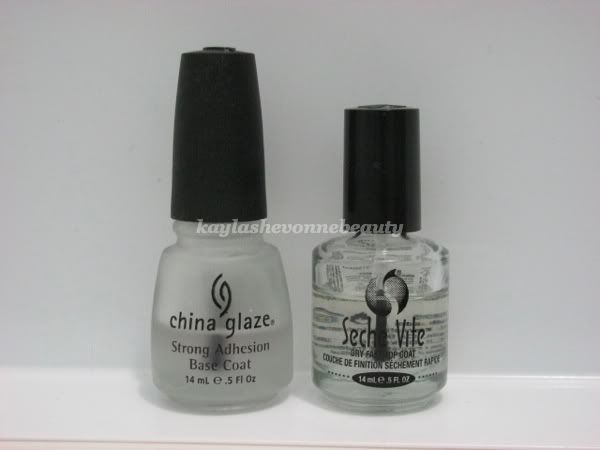 Your favourite base (China Glaze Strong Adhesion Base Coat) and top coat (Seche Vite Top Coat).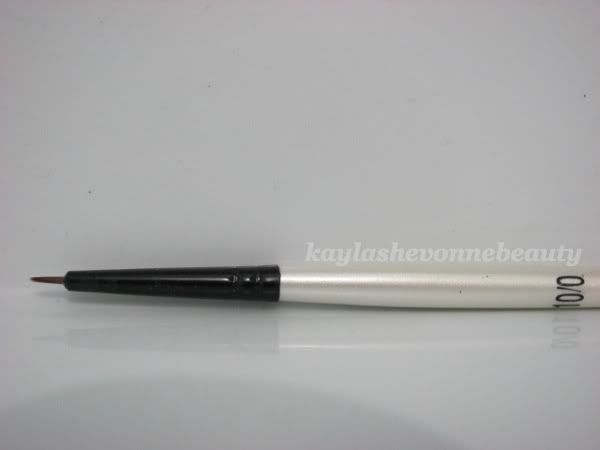 A detail brush (mine is from Michael's and the brand name is Simply Simmons).
Step 1:
Apply your base coat. (I didn't think it was necessary to take a photo of this step.)
Step 2:
Paint all of your nails with your black creme polish.
Step 3:
Paint 1 coat of your sheer glitter top coat over your base colour.
Step 4:
Using your white creme polish and your detail brush, freehand 2 large triangles near the base of your nail, leaving a small space in between them. These will serve as the eyes.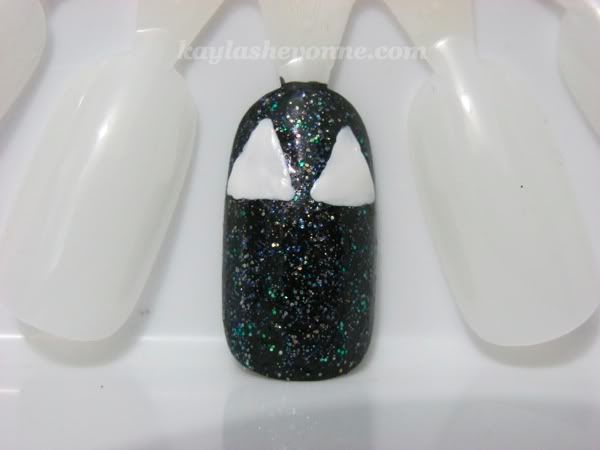 Step 5:
Still using your white polish and your detail brush, freehand a small upside-down triangle just below the 2 larger triangles. Use the space you left in between the 2 large triangles to situate this smaller triangle. This will serve as the nose.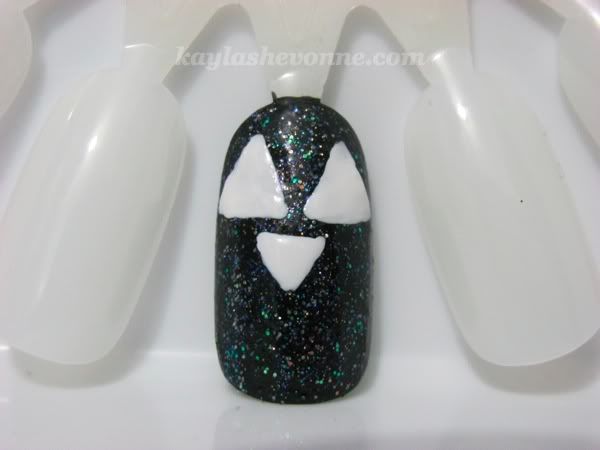 Step 6:
Below the small upside-down triangle, freehand a large, wide smile. This will obviously serve as the mouth and we'll add the details later.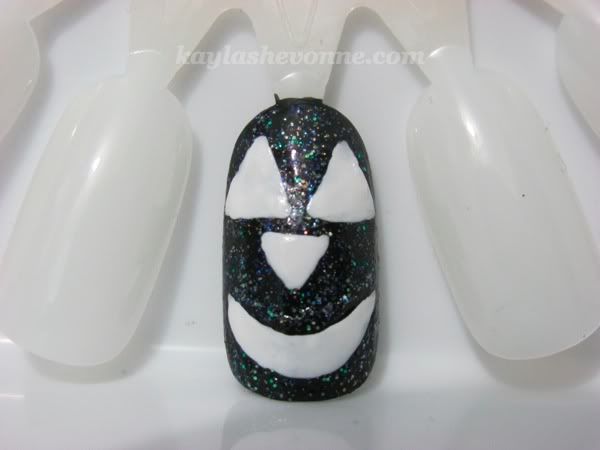 Step 7:
Fill in all of the white areas with your light yellow-orange polish.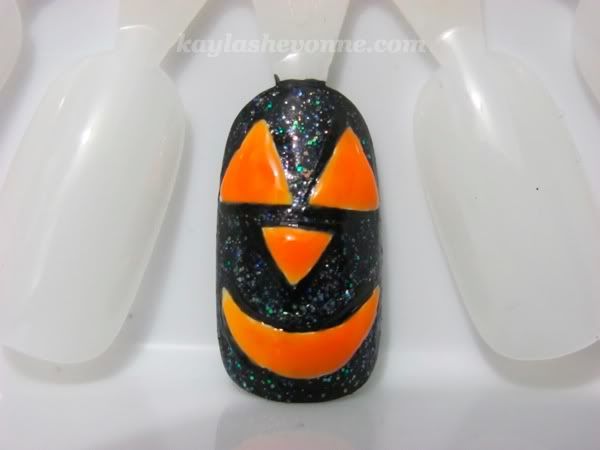 Step 8:
Using your black creme and your detail brush, we're now going to go back and start with the smaller details. First, at the base of both of your large triangles, draw a small triangle.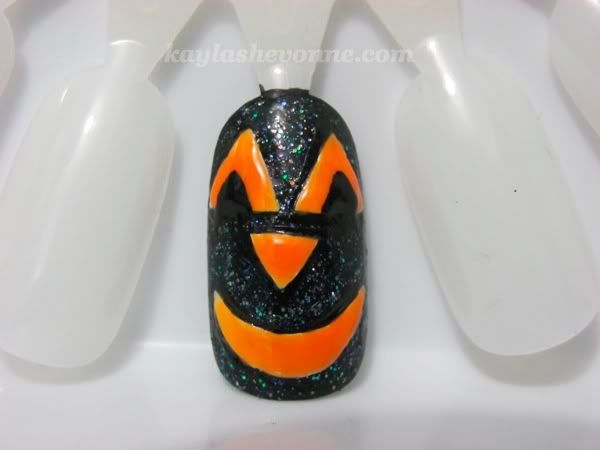 Step 9:
Next, at the top of the smile, freehand 2 small squares with your black polish. Make sure they're not too close together.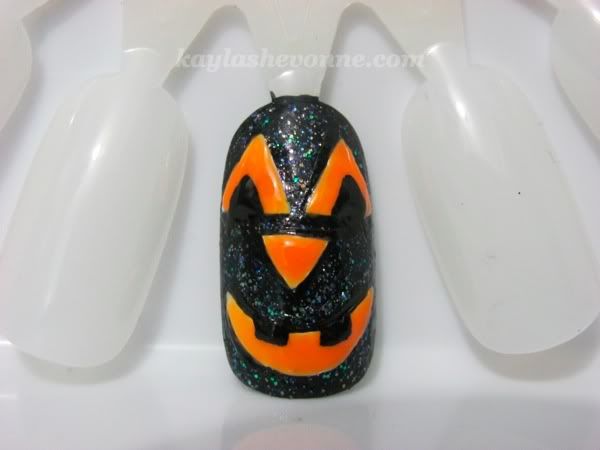 Step 10:
Now, at the bottom of the smile, freehand 1 small square with your black polish. Use your 2 small squares from the previous step to situation this square.
Step 11:
Since we covered up some of our glitter throughout the detailing process, use your detail brush and your sheer glitter polish to fill in any black spaces that are without glitter.
Step 12:
To give the Jack-O-Lantern a lit-from-within look, take your detail brush and your medium orange polish and outline the details on the face.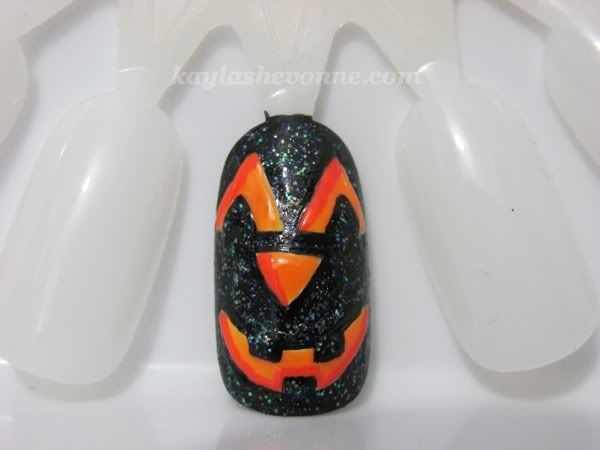 Step 13:
After allowing your design to dry completely, add a layer of your favorite top coat. This will make your new mani last longer, it will smooth out any bumps and ridges that have been created during the process, and will also give your nails a nice shine.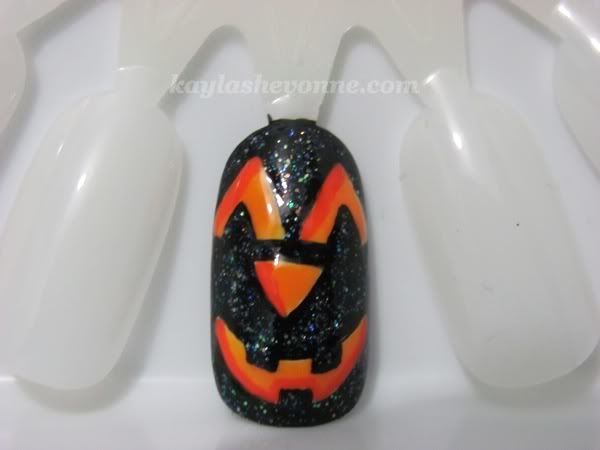 As always, I hope this tutorial was helpful and I hope some of you will try this design out for yourselves. And I'd love to see pictures if you try it!