Hey guys!
Today I have another Halloween tutorial for you! I figured that since the first Halloween tutorial that I did for you was for a more intricate design that today I would do a tutorial for an easier, less complex design - mummies!
This design has been seen MANY times before but it's a great Halloween design that can be executed by just about anyone at any level of nail art skill. I first did this design some time last year but now that I feel more skilled and better equipped, I'd actually like to try it again for this year's series!
Anyways, here's the design I'll be showing you how to do:
Keep reading for the tutorial!
What you'll need:
The exact brands/names of the polishes I've used are in brackets but you can use whatever brands/shades you have in your stash.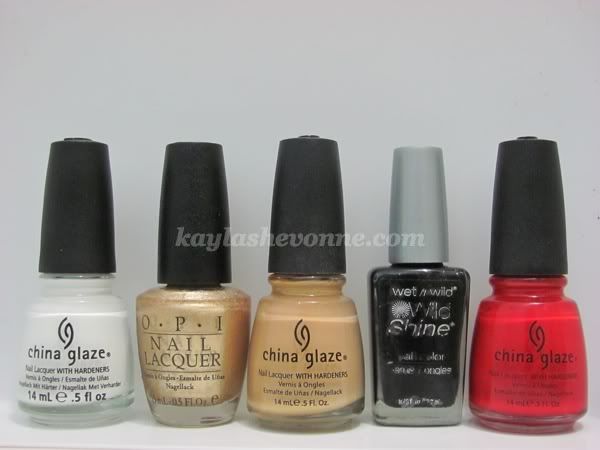 White creme polish (China Glaze White on White), sheer dirty gold polish (OPI I Get a Kick out of Gold!), a dirty beige coloured polish (China Glaze Classic Camel), and a black creme polish (Wet 'n' Wild Black Creme).
*Optional: Blood red creme polish (China Glaze Salsa).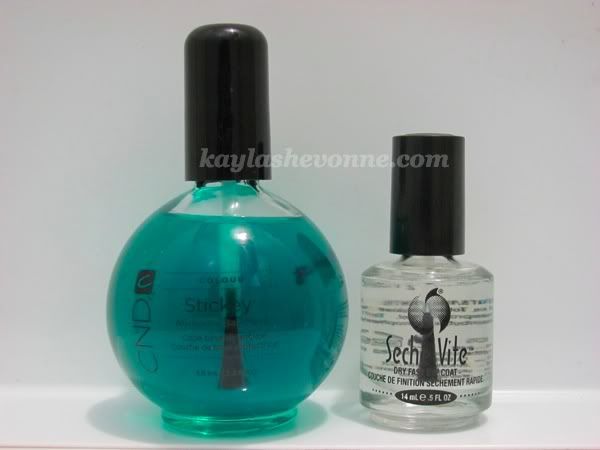 Your favourite base (CND Stickey) and top coat (Seche Vite).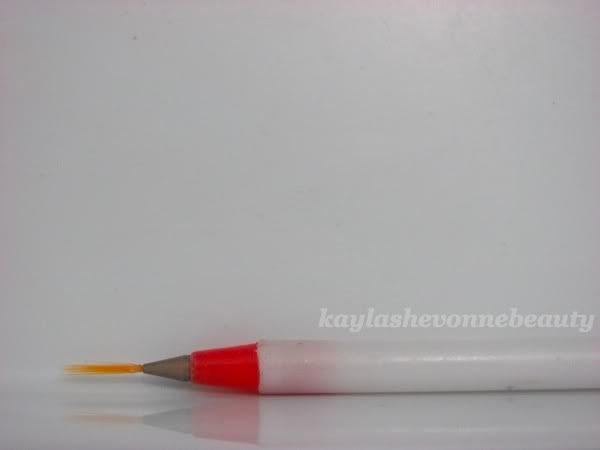 A striping brush (mine is from eBay and you can get them for next to nothing).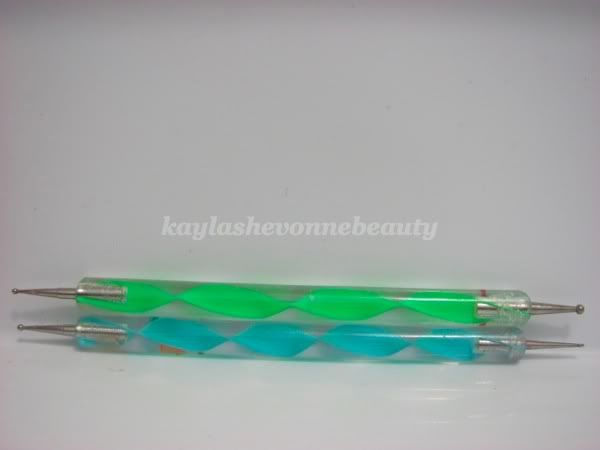 2 dotting tools: one large and one medium (mine are from eBay and they're very inexpensive).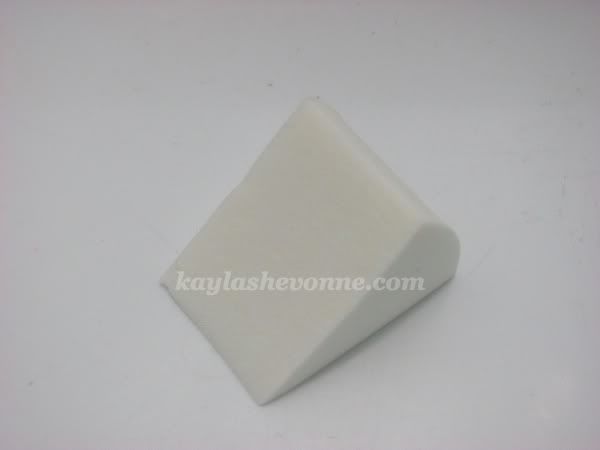 A makeup sponge.
Step 1:
Apply your base coat. (I didn't think it was necessary to take a photo of this step.)
Step 2:
Paint all of your nails with your white creme polish.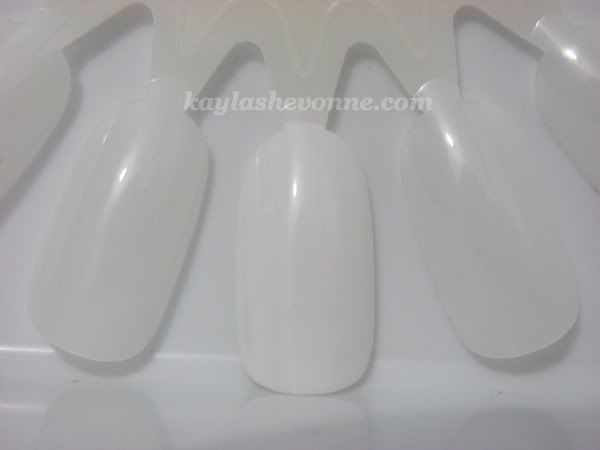 Step 3:
Drop some of your dirty beige polish onto a piece of paper and dip a small corner of your makeup sponge into it. Then lightly sponge over your white base but don't cover too much of the white. Then do the same with your sheer dirty gold polish but cover even less this time. This is to make the white look sort of old and dirty - like mummy wraps! The sponging doesn't have to be perfect or even over the entire nail as we're going to be covering most of it.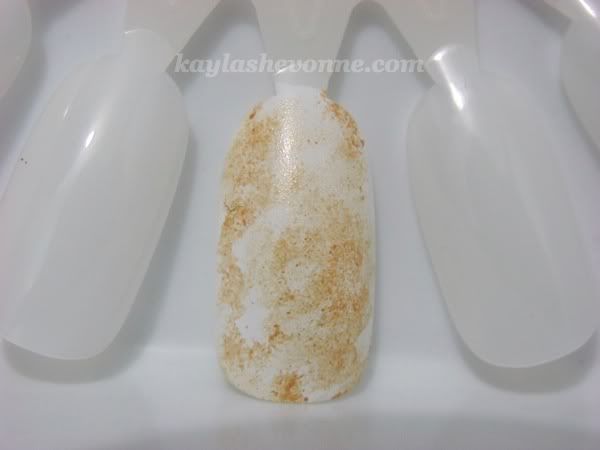 Step 4:
Using your black creme polish and your striping brush, draw some diagonal stripes along the entirety of the nail. These lines do not need to be perfect but try to get them to intersect at different points. These will serve as the outlines for the wraps.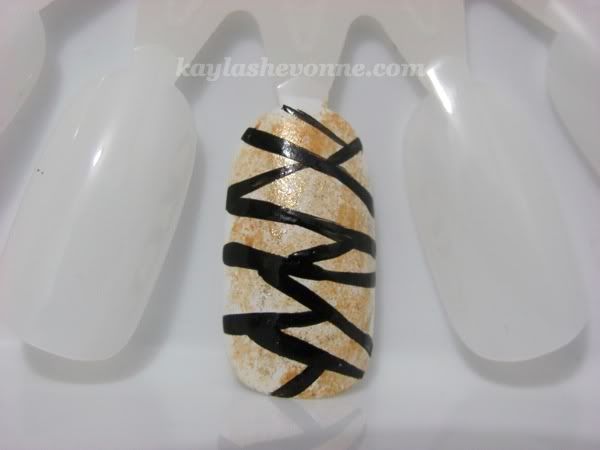 Step 5:
With your black creme polish, in between 2 of the stripes near the base of your nail, fill in an area big enough to fit the eyes of the mummy.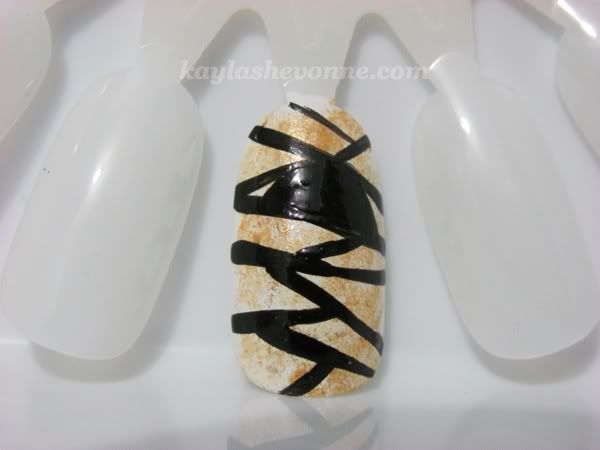 Step 6:
Using your dotting tools and your white creme polish, place a large and a medium sized dot next to each other inside of the black area you just filled in.
Step 7:
Inside of the white dots, add 2 smaller dots using your medium dotting tool and the black creme polish. OR, to make the mummies look more spooky, instead of using black in this step, use your blood red creme polish.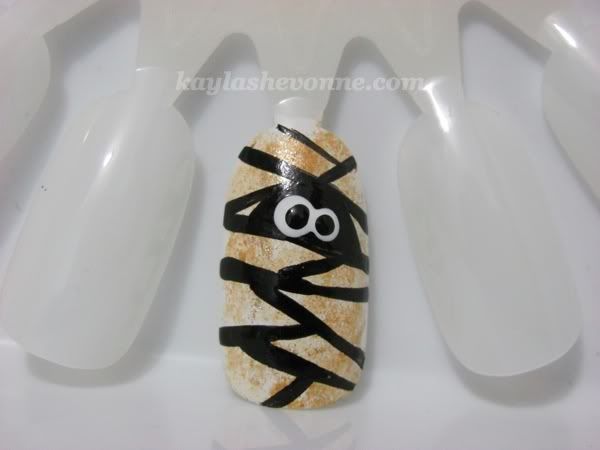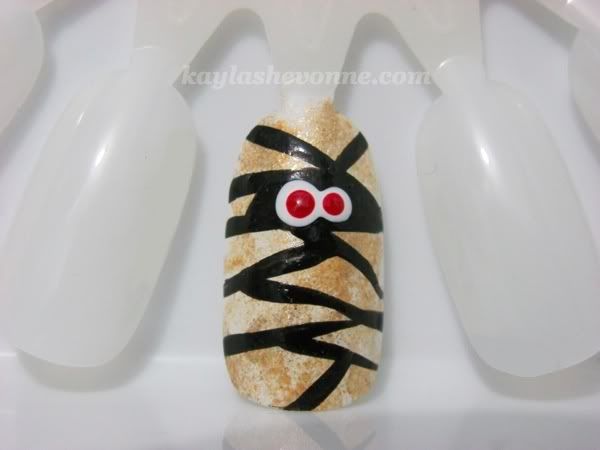 Step 8:
After allowing your design to dry completely, add a layer of your favorite top coat. This will make your new mani last longer, it will smooth out any bumps and ridges that have been created during the process, and it will also give your nails a nice shine.
As always, I hope this tutorial was helpful and I hope some of you will try this design out for yourselves. And I'd love to see pictures if you try it!