Hey guys!
Today I have a makeup post for you! I've basically transitioned my blog to be primarily a nail blog but every once in a while, if I find a makeup product that I'd like to share with you, I'll still do so. So this will be a review for MAC's newly released foundation called Matchmaster.
According to the press release, here's what MAC had to say about this new foundation:
"With our all races credo, we're redefined what a perfect match should be with new Matchmaster Foundation SPF 15 technoloigy, using translucent pigments to create a formula that enables a fully personalized finish influenced by the subtleties of your own skin tone. Adding to Matchmaster's true-to-life appeal is its moisturizing demi-matte finish, medium buildable coverage, and line-reducing soft focus powders. Add the fact that this formula reduces excess shine-creating oil, and who could resist?"
The reason I was so intrigued by this new foundation is that I'm
super
pale, so the new 1.0 shade (comparable to a NC/NW 10) really excited me. I've been using the NC15 shade from MAC (the lightest they offered until now) for a couple of years, but even that is just a smidge too dark.
However, I've come to really love the formula of MAC's Prolongwear Foundation, so I was still hesitant to try a new one, despite the fact that Matchmaster was offering a shade better suited to my skin colour. In the end, I decided to give it a try.
How did Matchmaster do? Keep reading to find out!

MAC Matchmaster Foundation: Shade 1.0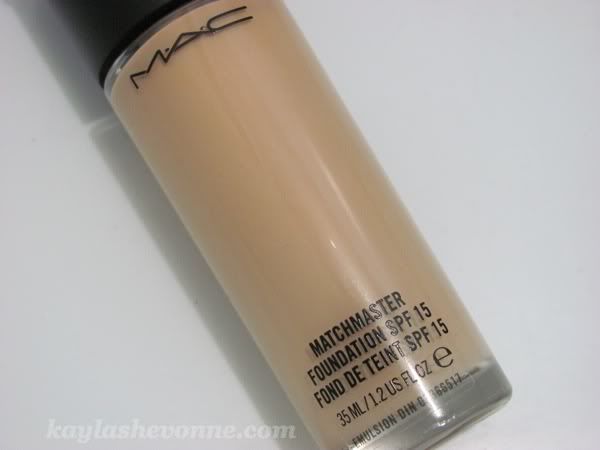 MAC Matchmaster Foundation: Shade 1.0
I might as well get right to it and say that I have fallen completely head over heels in love with this foundation. It's the absolute
perfect
match for my skin colour!
The one thing I was most worried about with trying out a new foundation was that it wouldn't work well with my oily skin. However, this foundation is said to have a demi-matte finish so I was hoping that it would work well with my skin. Fortunately, Matchmaster does actually work great for my oily skin, even without a primer underneath. The oil stays at bay all day long and this lasts a good 10 hours on me (with setting powder on top) without wearing away.
Matchmaster doesn't sink into my pores and it actually gives my face a nicer, more natural looking finish than Prolongwear does. In fact, my skin looks pretty darn amazing with this foundation on! The coverage is light to medium but I prefer light coverage myself.
I have read a few other reviews that say that it's a little dry which makes it slightly difficult to blend, but I have not noticed that problem at all. In fact, I think this one is really easy to work with - it spreads nicely and evenly and I find it really easy to blend with my MAC 109 brush.
Another plus to this foundation is that it comes in a pump bottle, so it's easy to dispense the right amount.
Furhermore, this product also contains SPF, which is always a benefit. However, it only carries an SPF 15 rating so it's not going to protect against much. But SPF 15 is better than no SPF!
Another thing I like about this foundation is that is comes in a bigger bottle than my usual Prolongwear. Matchmaster comes in a 1.18 fl oz. bottle and retails for $39.00 CDN. Prolongwear on the other hand comes in a 1.0 fl oz. bottle and retails for $36.50. So yes, I know I'm paying for the extra amount, but I still prefer it this way because I don't have to repurchase as often.
My one and only negative about this foundation (although it's not really about the foundation itself so much as it is about MAC in general) is that MAC isn't offering a co-ordinating concealer. So, my 1.0 shade in the foundation is a perfect match but all of MAC's concealers are therefore still a little too dark for me.
Overall, I will definitely be repurchasing this product and I would recommend it to anyone who's having trouble finding a foundation that's light enough. However, I would mostly recommend this to those of you with normal to oily skin types because the demi-matte finish will most likely highlight areas of dryness.
Have any of you tried the Matchmaster Foundation yet? What did you think?