Hey guys!
I finally have the China Glaze Halloween Collection for you! It seems rather strange to be posting swatches of a Halloween collection when I've already posted swatches of two Christmas collections!
But as it turns out, this collection was back-ordered at my supply stores so I had to get these at Sally's instead (and actually,
Rebecca
picked them up for me, otherwise I probably wouldn't have been able to get all of the shades).
This collection is supposed to include 6 shades, but there's actually 7 shades at Sally's because one of them was a Sally's exclusive release. And luckily, because I got these at Sally's, I also got that exclusive shade, which I'm happy about.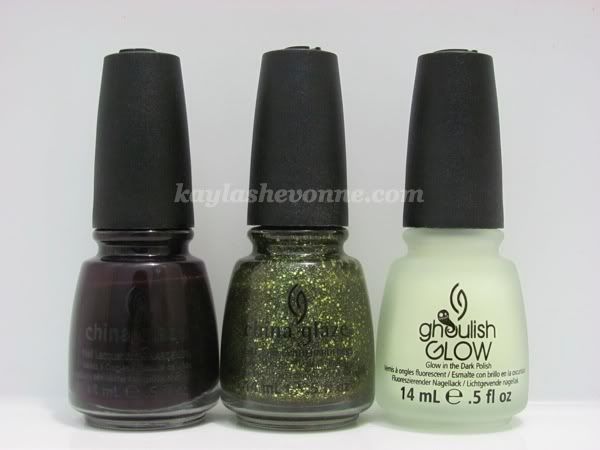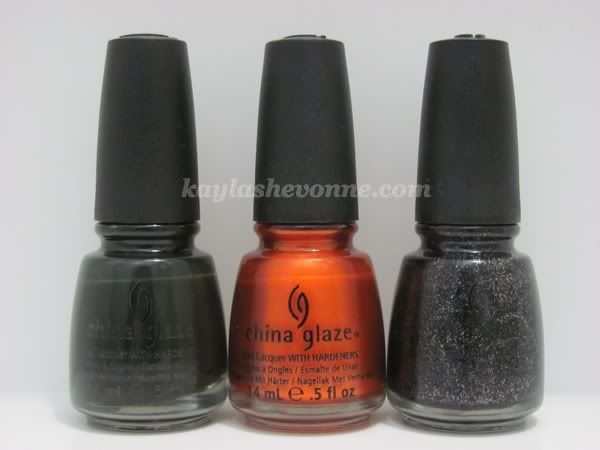 Keep reading for the review and swatches!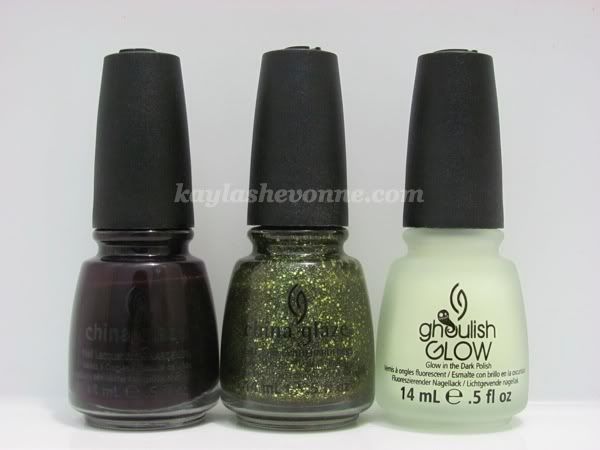 China Glaze Haunting Collection: Crimson, It's Alive, Ghoulish Glow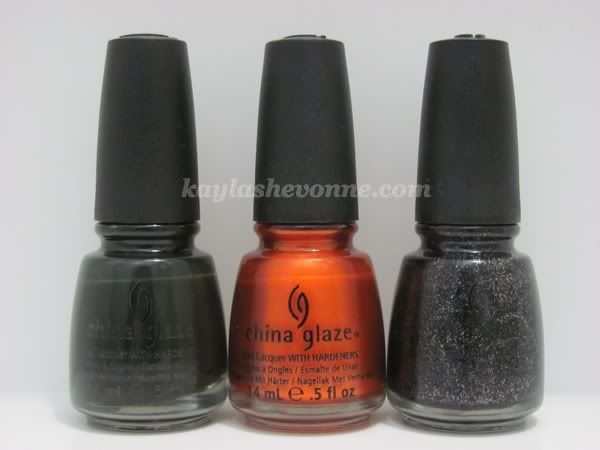 China Glaze Haunting Collection: Near Dark, Cross Iron 360, Haunting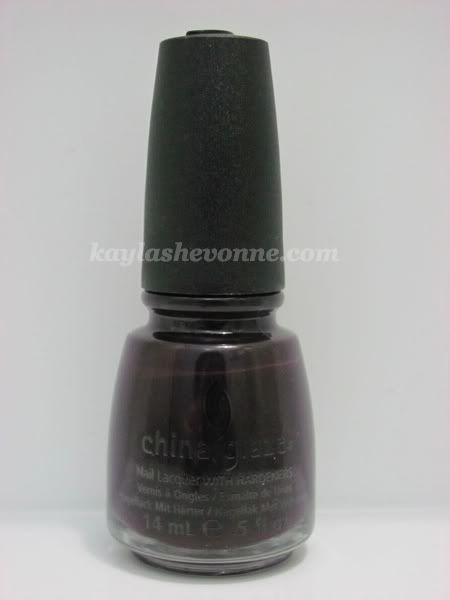 Crimson (deep eggplant creme)
I don't think the name Crimson is all that suitable for this colour, but it's very nice - it's vampy but not too dark that you can't tell that it's a purple. The formula was very nice and my swatch is 2 coats.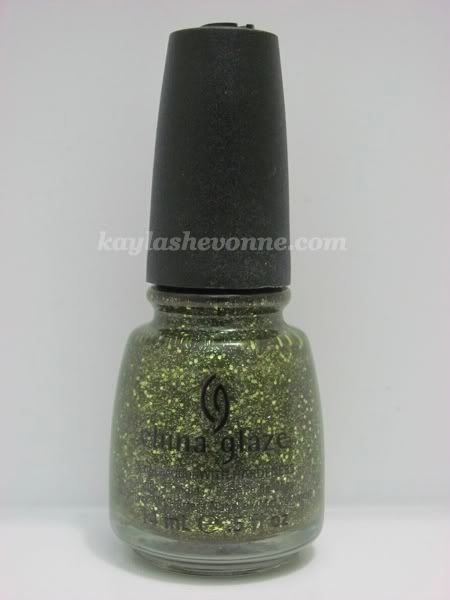 It's Alive (dirty blackened green base with small and large lime green glitter)
This is a really awesome glitter that's super appropriate for the Halloween season. The formula was really great, especially for a glitter which can sometimes be more difficult to work with and it only requires 2 coats for full opacity. However, I do see similarities between this and the Nicole by OPI shade Brilliant Idea. I'll have to do a side-by-side swatch to see how they compare. Either way, I'm happy to have this in my collection.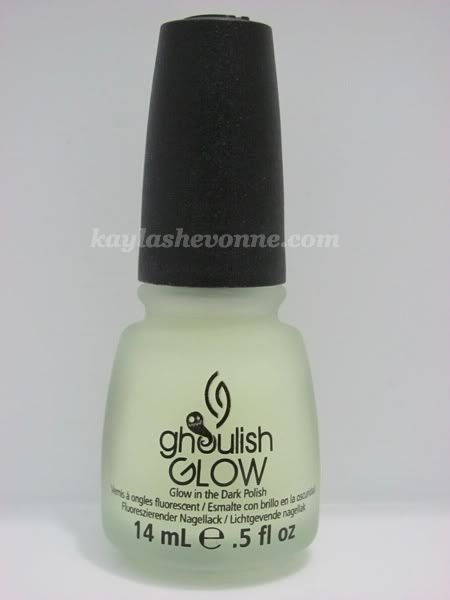 Ghoulish Glow (glow in the dark polish)
Despite my efforts, I haven't been able to master the art of photographing glow in the dark polishes. However, take my word for it that this is the best one that I've come across. This could be worn alone but I definitely think it would work better when used in a nail art design (such as this one by Sarah from Chalkboard Nails) or just as a top coat over another polish (although it will add a slight greenish tint to the base colour underneath). The formula was a tad thick but not difficult to work with.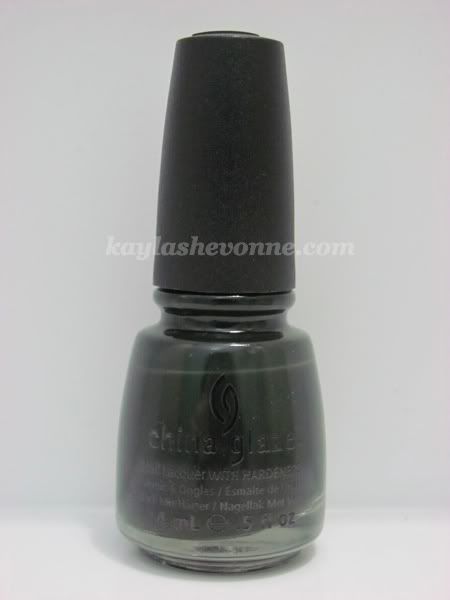 Near Dark (deep blackened green jelly)
I ended up liking this one a lot more than I thought I would! It's very dark (hence the name, I guess!) but I think that you can still clearly tell that it's green. I think it might be similar to OPI's Here Today...Aragon Tomorrow but I'll have to do a comparison to see for sure. The formula for this one was nice, although a little thick. My swatch is 2 coats.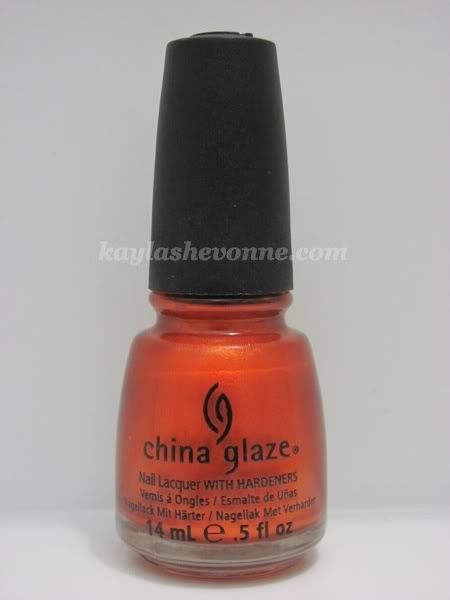 Cross Iron 360 (metallic orange shimmer)
This is the Sally's exclusive shade that I mentioned before and this was originally released with the 2007 Ski Collection. At first, Rebecca and I were confused by the name of the polish but I guess now that I know that it was originally part of the Ski Collection, it makes much more sense. It's an interesting shade and I don't think I have anything quite like it in my stash so I'm happy to have it. The formula was easy to work with and my swatch is 2 coats.



Haunting (black base packed with lots of tiny silver glitter pieces)
Although I like this shade, I feel like I've definitely seen it before. The formula was good - thick but in a good way. My swatch is 2 coats.



Crimson, It's Alive, Ghoulish Glow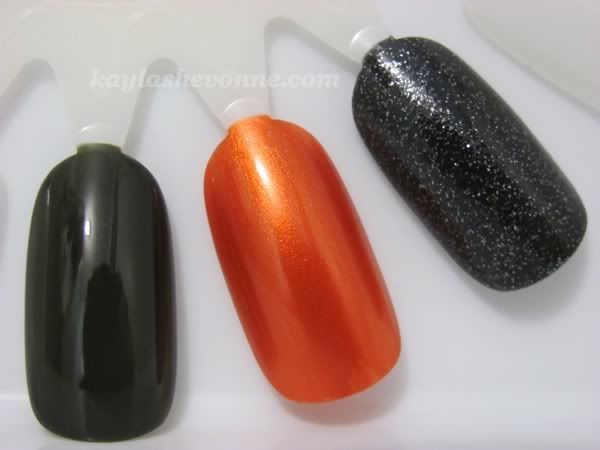 Near Dark, Cross Iron 360, Haunting
Overall, I think this is a great Halloween collection! There's a nice variety of colours and finishes to choose from so there should be something here for everyone.
There is a shade includes in this collection that I didn't purchase because I already own it and that's Black Mesh - China Glaze's black crackle polish. I've already reviewed and swatched Black Mesh
here
so I didn't feel the need to go ahead and do it again, especially since we've all seen SO many black crackle polishes by now.
It's hard for me to pick favourites here because I really do like all of the shades from this collection! I feel like we've seen a couple of the shades before but that doesn't mean I don't like them, just that they're not entirely groundbreaking.
The China Glaze Haunting Collection is available now through salons and professional beauty supply stores nationwide and will run you anywhere between $4 and $7 each, depending on where you live and where you find yours.
What do you guys think of the China Glaze Haunting Collection? Did you pick up any of these shades? I've already mentioned a couple of comparisons that I have in mind but if you have any other comparison requests, please let me know in the comments.