Hey guys!
In my
unexpected haul
from last week I picked up OPI's newest addition to their Shatter line of polishes - Pink Shatter, which is the 2011 Pink of Hearts polish for Breast Cancer Awareness.
As I've said a number of times already, I'm rather over the crackle trend now and I'm hoping it dies off really soon, but I still feel the need to test out new additions to the trend to see if there's anything unique.
Keep reading for the review and swatches!

OPI Pink Shatter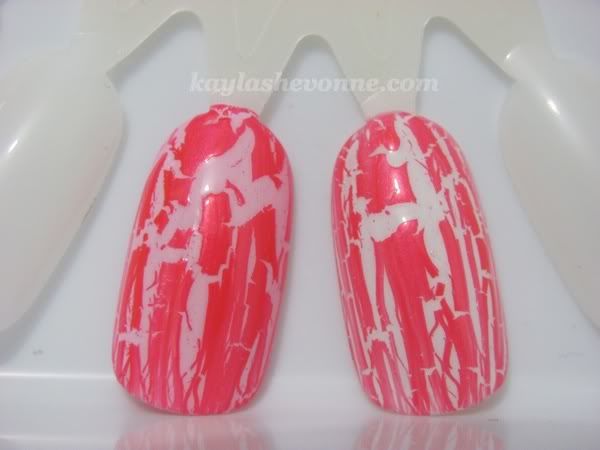 Pink Shatter over OPI Mod About You, Pink Shatter over OPI Alpine Snow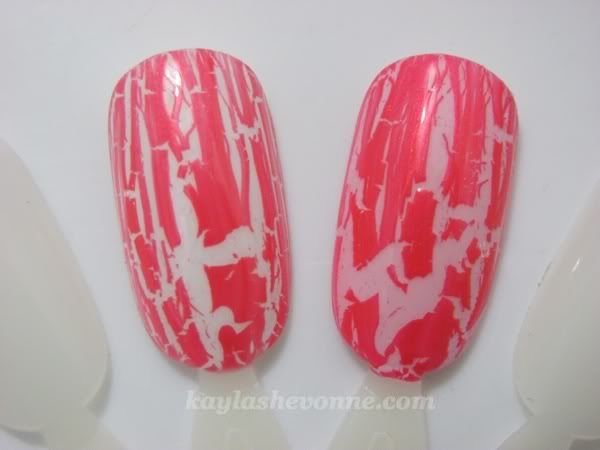 Pink Shatter over OPI Alpine Snow, Pink Shatter over OPI Mod About You
I found that this polish shattered really well and though the consistency is a little thinner than I'm used to with shatter polishes, it was a good thing because it seemed to make this one easier to use than some of the thicker, creamier ones out there.
I was a little disappointed with the colour because by looking at the bottle, I thought it was going to be a really hot pink but it turned out much lighter than I anticipated. It also has a slightly frosty, almost shimmery look to it which I'm still on the fence about. I liked the all-out shimmer look of both
Turquoise and Blue Shatter
but this one seems to be missing something in my opinion.
I swatched it over a white creme and a light pink creme for you and although I prefer it over the white, I think it would look better over something with a similar finish (I'm thinking something along the lines of OPI Play the Peonies from the
Nice Stems Collection
).
Overall, this isn't my favourite of the Shatters from OPI - it's just ok. However, in my opinion it's still worth it because it supports a great cause.
What do you guys think of OPI Pink Shatter? Did you like it more than I did?