Hey guys!
I'm so excited to be able to show you these polishes today! These have been available to those of you in the US for a while now but I didn't think we would ever get them here in Canada, let alone in Newfoundland. However as you know from my recent
haul
post, I spotted them last week!
These glitters belong to a larger collection called Expressionists and there's actually one (or maybe two, I can't remember) other nail polish(es) that belongs to the collection. However, these glitters really stole the show, and you'll see why.
Keep reading for the review and swatches!

Revlon Fall 2011 Glitters: Facets of Fuchsia, Blue Mosaic, Starry Pink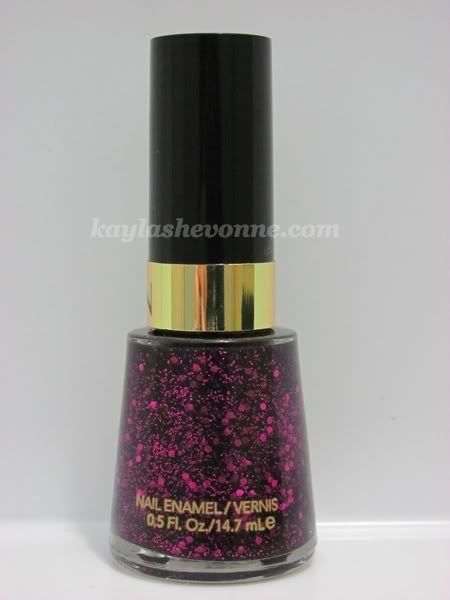 Facets of Fuchsia (sheer black jelly base with small and large fuchsia glitter)
I think this is the shade that has caused the most buzz from this collection because of its possible dupe-ability of the beloved Bad Romance by Deborah Lippmann. They definitely appear very similar but I won't say anything conclusively until I do a comparison. This one applied nicely and it needed 3 coats for the opacity you see below.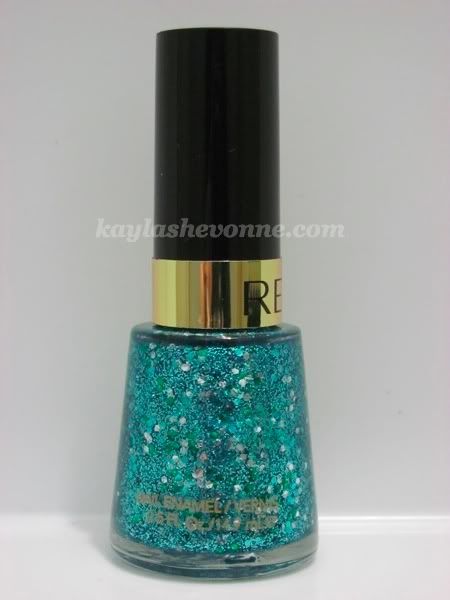 Blue Mosaic (clear base packed with small and large bright blue glitter and large silver and green glitter)
I think that this shade kind of took a back seat to the other two glitter shades in this collection but this one is actually really interesting. The addition of the large green glitter pieces make it unique. The formula was what I've come to expect from glitter with clear bases - a little thick but not difficult. My swatch is 3 coats.



Starry Pink (milky pink base with small and large silver glitter)
I've said it a number of times before but I'll say it again: I'm not the biggest fan of pink polish. However, I'm totally in love this shade! It's the most unique of the three shades here and it's just really pretty and feminine. The silver glitter almost gets lost in the base but it shines through just enough. My swatch is 3 coats and the formula was really creamy and easy to work with.



Facets of Fuchsia, Blue Mosaic, Starry Pink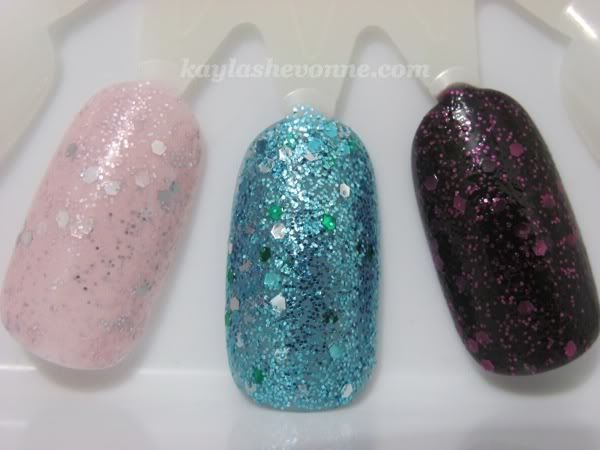 Starry Pink, Blue Mosaic, Facets of Fuchsia
Overall, I'm totally in love with these glitters by Revlon. Is it just me or is Revlon stepping up their game lately? With the
Sweetly Seductive Collection
from Summer, to the
Edgy Elegance Collection
of Fall, to these glitters, I'm really digging what Revlon is offering!
I haven't actually done the comparison between Deborah Lippmann's Bad Romance and Facets of Fuchsia yet but I'm pretty sure that we have a dupe on our hands. I also have a polish in mind that I'll be comparing Blue Mosaic to but I'm unsure about the dupe-ability of those yet. I should have both of those comparisons up in the next couple of days though so look out for those posts. I know that I definitely don't have anything similar to Starry Pink in my collection so I'm really happy to be adding that one to my stash.
These glitters should be available at most drugstores in the US right now and now that they've started popping up here in Newfoundland, I would assume that they should also be available throughout the rest of Canada. Revlon polishes usually cost between $4 and $6 each, depending on where you find yours.
What do you guys think of these glitters by Revlon?