Hey guys!
Today I have a tutorial for one of my retro designs! I finished up with my retro series last week but this design seems to have been the most popular of the series and I've gotten several requests to do a tutorial for it.
Despite looking complex, this is a pretty simple design so don't be intimidated!
To refresh, here's the design I'll be showing you how to do today: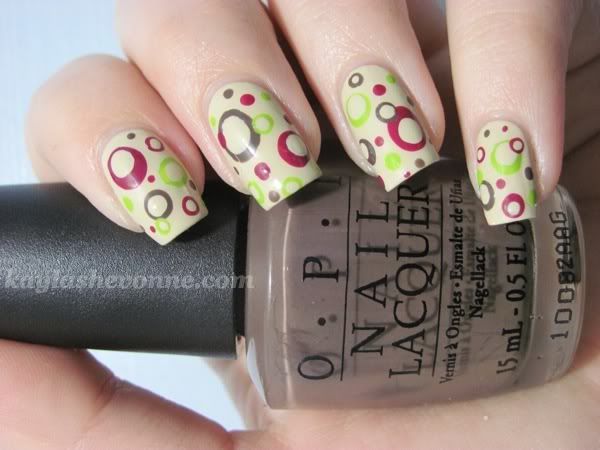 Keep reading for the tutorial!
What you'll need:
The exact brands/names of the polishes I've used are in brackets but you can use whatever brands/shades you have in your stash.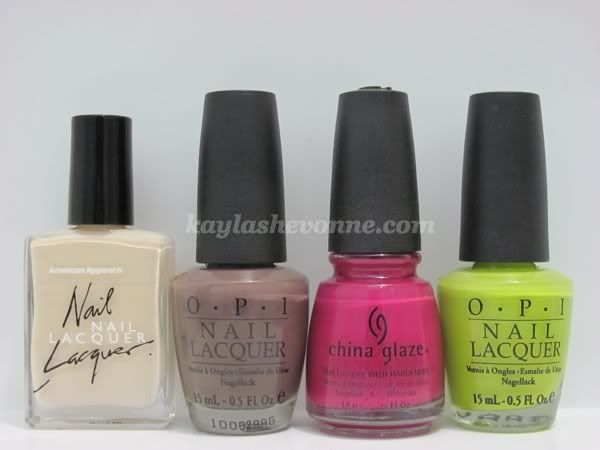 Beige creme polish (American Apparel California Trooper), greyed brown creme (OPI You Don't Know Jacques!), berry creme polish (China Glaze Traffic Jam) and a lime green polish (OPI Who the Shrek Are You?).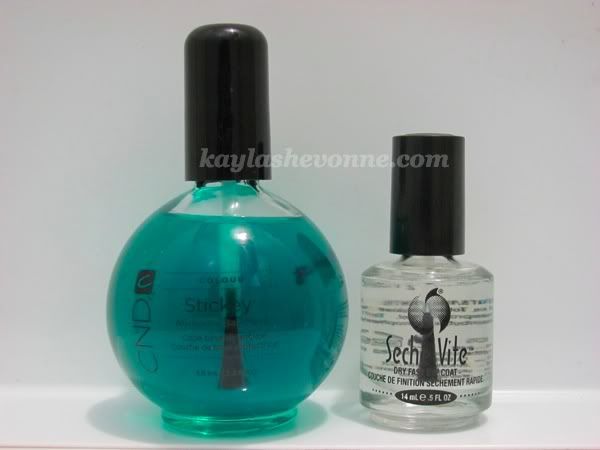 Your favourite base (CND Stickey) and top coat (Seche Vite).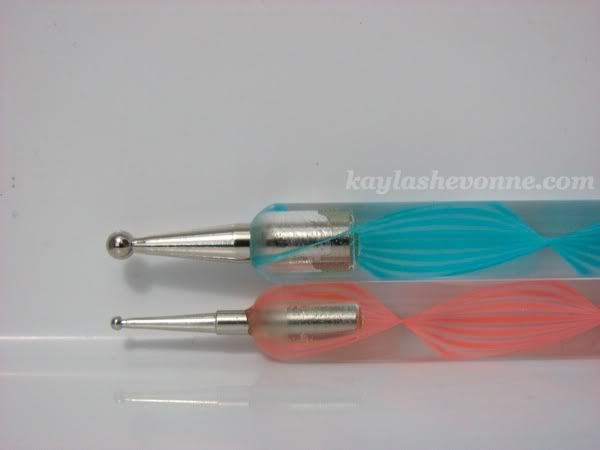 As many different sized dotting tools as you have. You might also need something even bigger to create the larger dots so I used the bottom end of one of my nail art brushes.
Step 1:
Apply your base coat.
Step 2:
Paint all of your nails with your beige creme polish.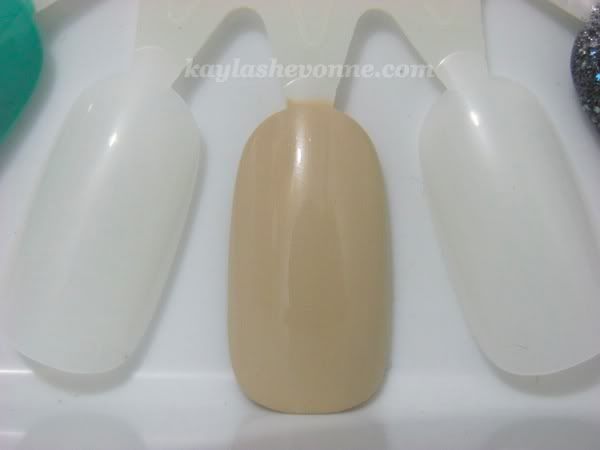 Step 3:
Starting with your largest dotting tool (or your makeshift large dotter), make 1 or 2 large dots on each of your nails using any of the other shades (I'm starting with the brown). I'm only showing you 1 nail here but you get the point so mix the colours up on all of your nails.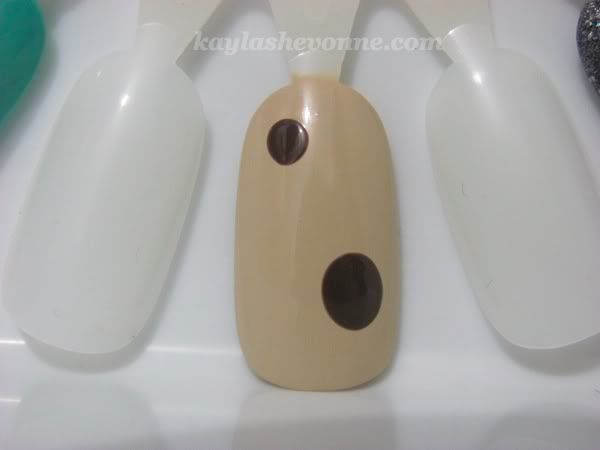 Step 4:
Using that same colour, make a few more dots of varying sizes using your different sized dotting tools.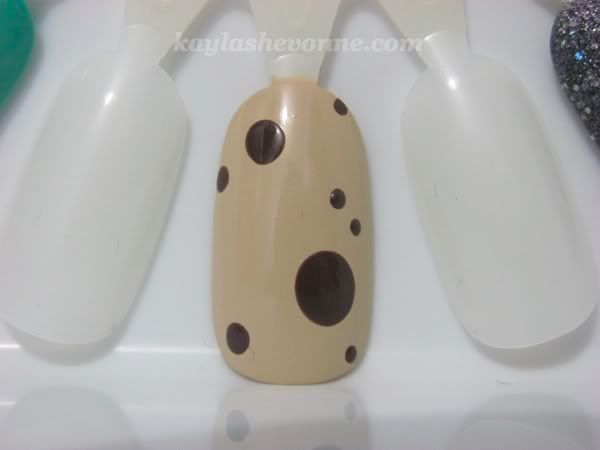 Step 5:
Take the 2 other shades and make dots of varying sizes but be sure not to crowd the dots too much.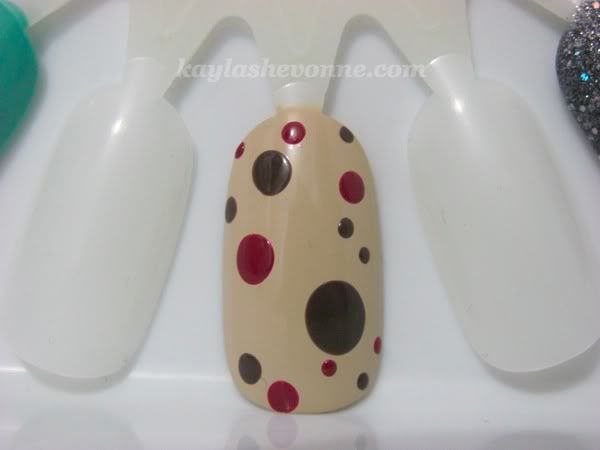 Step 6:
For any dots that are large enough to fit a slightly smaller dot inside of them, do just that using the same colour you used as your base colour (the beige creme). Make sure that the inside dot doesn't cover up too much of the original dot because we still want that first colour to be visible.
At this point we can also go back and fill in any empty spaces with small dots of all of the different colours. You can even overlap a few dots if there's enough leftover space for you to do so.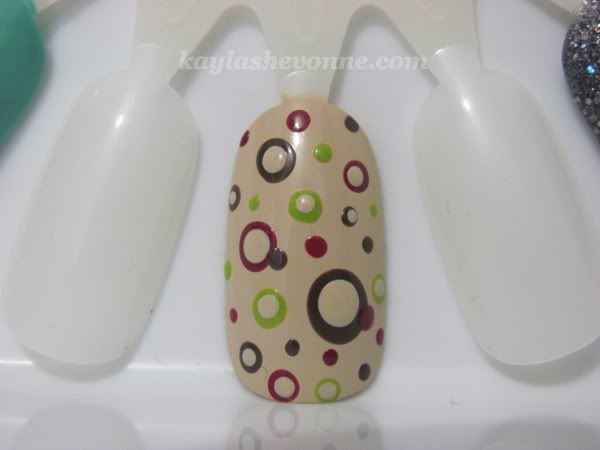 Step 7:
After allowing your design to dry completely, add a layer of your favorite top coat. This will make your new mani last longer, it will smooth out any bumps and ridges that have been created during the process, and it will also give your nails a nice shine.
See! That was pretty simple, right?
As always, I hope this tutorial was helpful and I hope some of you will try this design out for yourselves. And I'd love to see pictures if you try it!