Hey guys!
So after I received all of my Bundle Monster plates a couple of days ago, I knew what the first mani I wanted to recreate was going to be. I saw
this
design on
Let them have Polish
and I instantly fell in love with it (are you surprised?).
For some reason I thought the design was created using 2 separate stamping images, just strategically placed. However, after reading the post more carefully, I realized that it's actually 1 image (Konad m78) and unfortunately, I don't have that plate. So, I freehanded it! I changed the design up a bit but it's still the same general idea. And now the Konad m78 plate is on my to-buy list.
Hope you enjoy!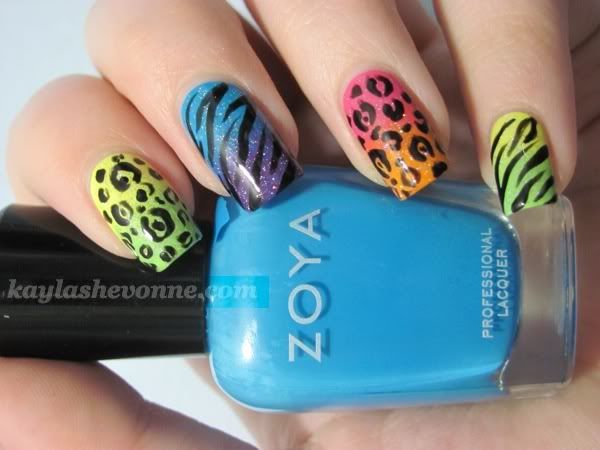 Products:
OPI Chip Skip
CND Stickey Base Coat
Zoya - Jolene (base for thumb and ring fingers)
China Glaze - Papaya Punch (sponged over Jolene)
Orly - Spark (base for index and pinky fingers)
Orly - Green Apple (sponged over Spark)
Zoya - Robyn (base for middle finger)
OPI - Funky Dunkey (sponged over Robyn)
China Glaze - Fairy Dust (glitter top coat)
Wet 'n' Wild - Black Creme (zebra stripes, cheetah spots)
Seche Vite Top Coat
The next stamping mani that I want to recreate is
Once Bitten's snakeskin design
that I found when
Rebecca recreated it
. And this one I actually have the plate for!