Hey guys!
Today I'll be announcing the winner of my
piCture pOlish giveaway
! Sorry it's taken so long with this but like I said earlier in the week, I've been swamped with school work/exams lately.
Before I announce the winner, I want to say another thank you to the girls at
piCture pOlish
for giving me the opportunity to offer one lucky reader a chance to try their polishes.
I'd also like to thank everyone who participated in the giveaway and who took the time to leave a comment. I really loved reading all of the comments you guys left for me in the giveaway form and that's become my absolute favourite reason to host giveaways. It makes the time that goes into running them totally worth it just to read all of your comments.
So without further adieu, the winner of 3 piCture pOlish shades of their choice is...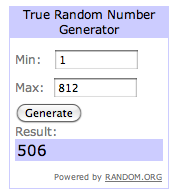 Beth I!
Congratulations! I've emailed Beth and she has 48 hours to respond and claim her prize. If she doesn't respond, I will randomly pick another winner.
Thanks again to everyone who participated! And don't get too discouraged if you didn't win, I've got another giveaway in the works that I will most likely run when I reach 2500 followers and there'll be more than one winner!