Hey guys!
Today I have what will probably be the last post for my retro series. I knew this probably wouldn't be a long series but I still really enjoyed it and I hope you have as well.
Today's mani was once again inspired by an image that I found through google by just typing in "retro pattern" in the image search. I was really drawn to this image (pictured below) but I wanted to change it up just a bit so I took further inspiration from
this
mani by
Emerald Sparkled
.
Hope you like my interpretation!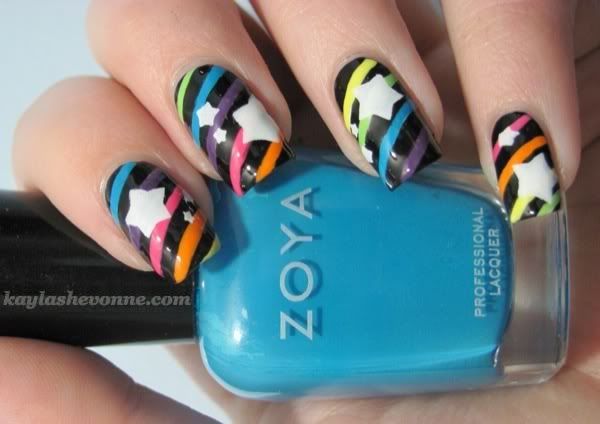 Products:
OPI Chip Skip
CND Stickey Base Coat
OPI - Black Onyx (base)
China Glaze - White on White (base for stripes)
Zoya - Jolene (pink stripes)
China Glaze - Papaya Punch (orange stripes)
Orly - Spark (yellow stripes)
Orly - Green Apple (green stripes)
Zoya - Robyn (blue stripes)
OPI - Funky Dunkey (purple stripes)
Konad - White (stars)
Bundle Monster - BM20 (stars)
Seche Vite Top Coat