Hey guys!
Sorry for the late post today! I wrote this post last night and scheduled it to publish today but I accidentally scheduled it for 2:00AM instead of 2:00PM. And I only just realized the mistake.
Anyways, today I have a review of a product that I started using back in July - OPI's Chip Skip. I originally started using this to try to extend the wear time of my
Nfu-Oh Holographics
, but I also continued to use it in my regular manicures to test its claims.
According to the packaging,
"Just one coat of this Patented ChipSkip formula primes nail surfaces so that nail lacquer adheres better and remains chip-free longer - keeping your manicure or pedicure looking beautifully fresh!"
So does Chip Skip live up to its claims?
Keep reading to find out!
OPI Chip Skip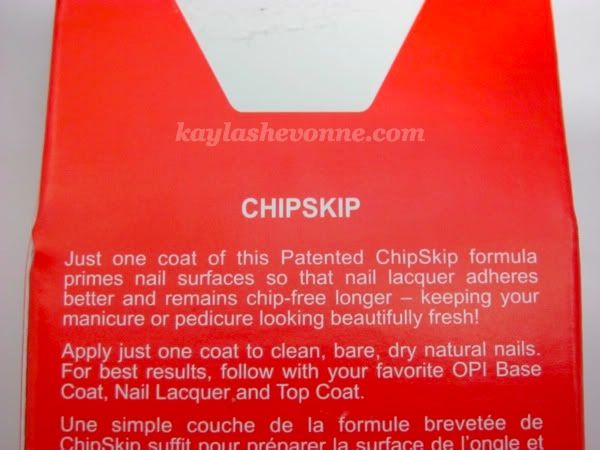 OPI Chip Skip (package instructions)
I want to quickly point out that Chip Skip is meant to be used BEFORE your base coat, which is an instruction that I think some might not adhere to. However, the way Chip Skip is supposed to work is that it temporarily dries out the surface of your nail - in effect removing natural moisture from your nail plate. Thus, you need to use this before you apply your base coat, otherwise this won't be able to penetrate through the base coat and to your nail.
Remember, I told you in my
Manicuring 101 Series - Your Natural Nail
post that the moisture content in your natural nail is approximately 18%. So, Chip Skip removes some of this natural moisture so that nail polish has a better surface to adhere to. Chip Skip will also remove any moisture that you've added to your nail plate. In other words, if you've applied some cuticle cream or oil before polishing, your polish will not adhere to this, so using Chip Skip will help to remove some of that excess moisture.
This all makes sense from a technical and logical standpoint but in reality, Chip Skip doesn't really seem to extend the life of my manicures. I can see it working when I apply it because I can see the change in the colour of my nail plate when they are drier, but it still doesn't seem to extend the wear of my manis. However, I should note that my nail beds are particularly dry already, so this might be a miracle product for those of you who have naturally very moisture-ful (for lack of a better term) nail plates.
Also, it should be noted that the brush for this product is nothing like the regular OPI brush, which is what I was expecting when I first used it. The brush is small, short, and stiff. The consistency of the product is also a surprise - it's pretty much like applying water to your nails.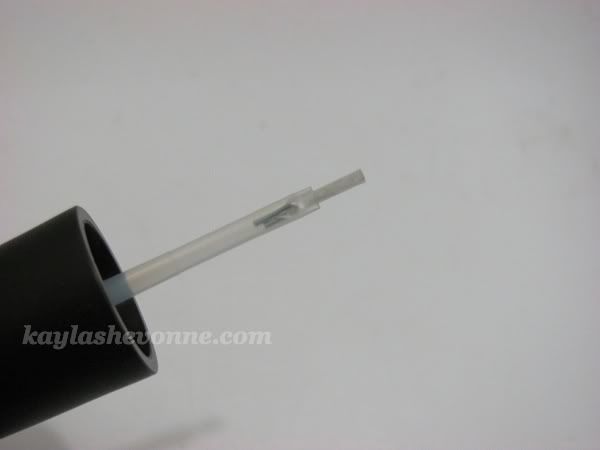 OPI Chip Skip (brush)
OPI Chip Skip is a permanent product offered by OPI. OPI nail lacquers and treatments are available through professional salons and I believe that this product will you run about $12-$15.
If any of you have better luck with this product, I'd love to hear about difference experiences than my own.