Hey guys!
Today's post is a scheduled one because today is mine and my boyfriend's 5 year anniversary so we're going to be spending the day together!
Today I have a comparison for you that's probably a little late to the game but that I still wanted to do nonetheless. This is between Orly's Fowl Play from the Fall 2011 Birds of a Feather Collection and OPI's Merry Midnight which is a now hard to find shade from the Holiday 2009 Holiday Wishes Collection.
I was able to get my hands on Merry Midnight through a Facebook friend and although you would think it should have been easier to get Fowl Play considering it was only released a couple of months ago, it actually wasn't that simple!
For some reason, my local Sally's doesn't seem to get every new collection in and the Birds of a Feather Collection happens to be one of the ones they didn't get. That was definitely a bummer but my friend Sarah from
Chalkboard Nails
sold me a bottle of Fowl Play recently, so now I'm finally able to do a comparison of these two shades for you.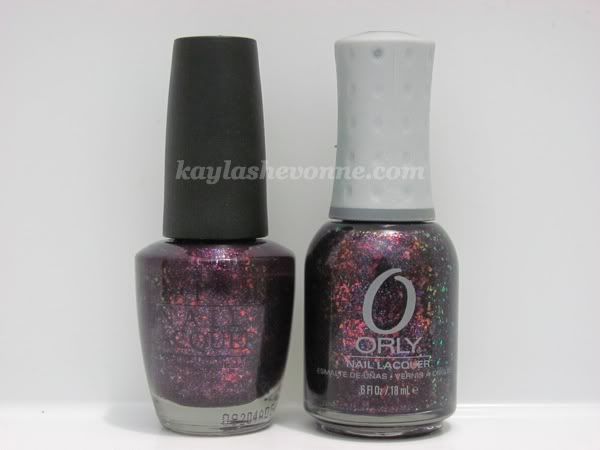 Keep reading for the comparison!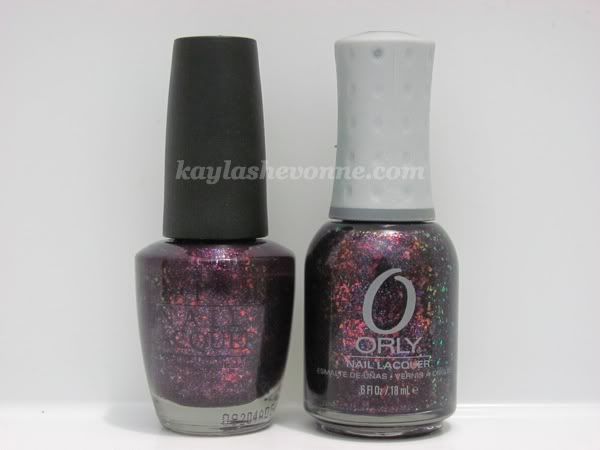 OPI Merry Midnight, Orly Fowl Play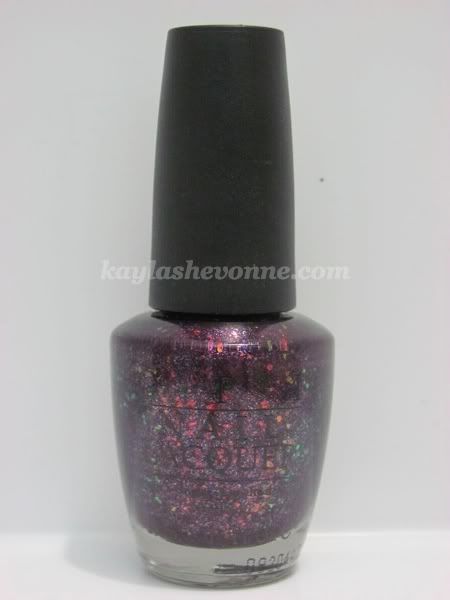 OPI Merry Midnight (from the 2009 Holiday Wishes Collection)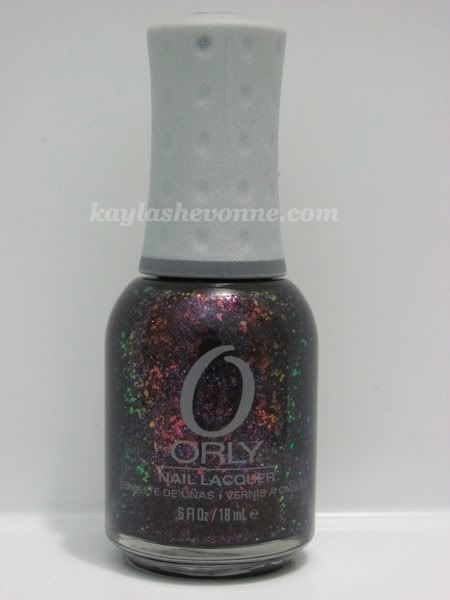 Orly Fowl Play (from the 2011 Birds of a Feather Collection



OPI Merry Midnight, Orly Fowl Play
Similar? Definitely. Dupes? Almost.
The base of Merry Midnight is more red than the plum-y base of Fowl Play. However, I believe that this difference is exacerbated by the while nail wheel and I don't think this difference would be as noticeable on natural nails.
The flakies in both shades are evenly dispersed and seem about the same in terms of number and size. The bright blue glitter that is apparent in both shades seems to be a bit more vibrant in Fowl Play but this difference is almost negligible.
In terms of formula, both were easy to work with but Fowl Play was a little thicker than Merry Midnight, which was helpful for the opacity level because Fowl Play only needed 3 coats for the swatch above but Merry Midnight needed 4. In fact, when you first start applying Merry Midnight, it's so sheer that you wonder if it'll even be opaque, but it does get there.
Because of Merry Midnight's HTF status, it's going for a pretty hefty price on eBay (I'm talking $35 without shipping costs included). On the other hand, Orly's Fowl Play will run you about $6-$7 at Sally Beauty Supply stores.
In the end, these are pretty darn close to being dupes. So if you weren't able to get your hands on Merry Midnight and aren't willing to pay the ridiculous prices on eBay, Orly's Fowl Play is an excellent alternative. In fact, I think I might actually prefer Fowl Play!
What do you guys think? Can you scratch Merry Midnight off of your lemming list now?