Hey guys!
As an homage to Cassandra from
Both Hands Polished
, who I featured as my
December featured blog
, I decided to use one of her recent manicures as inspiration for my one of my own! I loved her
The Grinch mani
from a few days ago and although I was a little hesitant to try such a detailed design, I really wanted to give it a try. Well, I'm glad I did because I absolutely LOVE how this turned out!
I wanted to change things up a bit to make the design more my own so I basically only recreated The Grinch himself from her mani and I altered the rest of the design.
I hope you all like it and I hope I made Cassandra proud!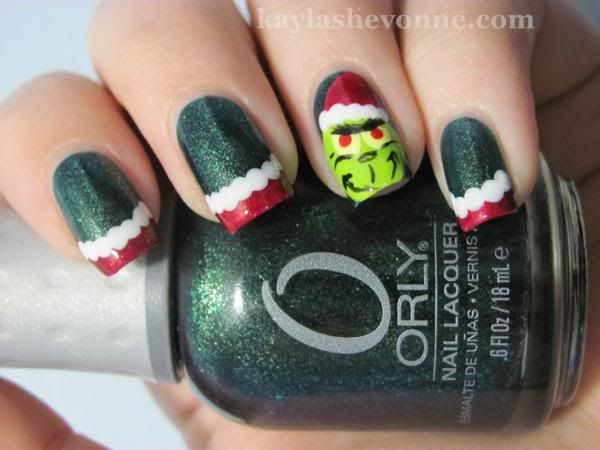 Products:
OPI Chip Skip
CND Stickey Base Coat
Orly - Meet Me Under the Mistletoe (base)
China Glaze - White on White (base for french tips, base for The Grinch's face and hat, hat fluff)
Orly - Star Spangled (french tips, hat)
OPI - Who the Shrek Are You? (The Grinch's face)
China Glaze - Lemon Fizz (eyes)
China Glaze - Salsa (pupils)
OPI - Black Onyx (black details on face)
Seche Vite Top Coat