Hey guys!
So before I get to today's mani, I want to quickly fill you in on some information that will affect my blog. I'm going through a lot of changes right now, and although they're all good changes, they're going to be taking up a lot of my free time.
As some of you may know, I finished my degree this past Thursday, which is super exciting but also really scary. I've been a University student for the last 5 and 1/2 years so it's going to feel very weird to not go back in the winter semester. As well, today I started a new job (within the same company I was already working part-time, but this is a whole different position). This is a Monday-Friday, 9-5 type job, which is something I've never done before so it's definitely going to take some getting used to. And finally, my boyfriend and I recently got our own place and are in the process of moving. We'll be moving in sometime early in January so we have a lot of work to do in a short amount of time. Plus, it's the holiday season which is already busy enough as it is!
With all that said, I may not have as much time to devote to my blog/my nails over the next month or so. I'm going to try my very best to post as often as I can but I hope you will all understand and bear with me until I can get settled away with all the new (but exciting!) things going on in my life.
Now, onto today's mani! Back in June I featured
MaD Manis
as my featured blog of the month and it's still one of my favourite nail blogs. I always look forward to posts from this Mother-Daughter team of nail bloggers.
Recently, Amanda posted a
super cute penguin design
that I knew I just had to recreate for my Christmas series. She also posted a
tutorial
which made recreating it even easier. Now, I've seen plenty of penguin nail designs before but this is by far the cutest and most original one, in my opinion. The way her penguins were peeking out from the sides is too adorable for words.
Anyways, I hope you like my interpretation of Amanda's awesome design!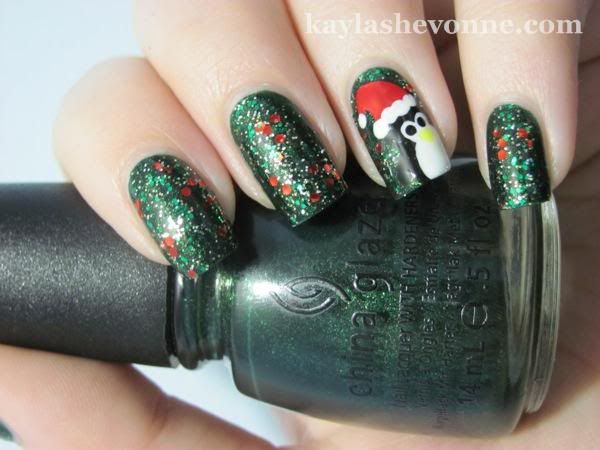 Products:
OPI Chip Skip
CND Stickey Base Coat
China Glaze - Glittering Garland
(base)
China Glaze - Party Hearty (over base)
Wet 'n' Wild - Black Creme (penguin body, eyes)
OPI - Alpine Snow (penguin belly, base for santa hat)
Orly - Spark (beak)
China Glaze - Salsa (santa hat)
Seche Vite Top Coat