Hey guys!
My post today is a little later than usual but I shamefully only recently woke up (it's 3:30pm in the afternoon here). I had a really rough week with very little sleep so I guess today's really late wake-up was my body's way of telling me that I needed a good, long sleep to rejuvenate.
Anyways, you might remember that in my original review post of the
China Glaze Eye Candy Collection
, I said that Material Girl reminded me of another polish I owned but that I wasn't sure which one at the time. Well, I went digging through my stash and I came up with Deborah Lippmann's Some Enchanted Evening, so today I have a comparison of those for you.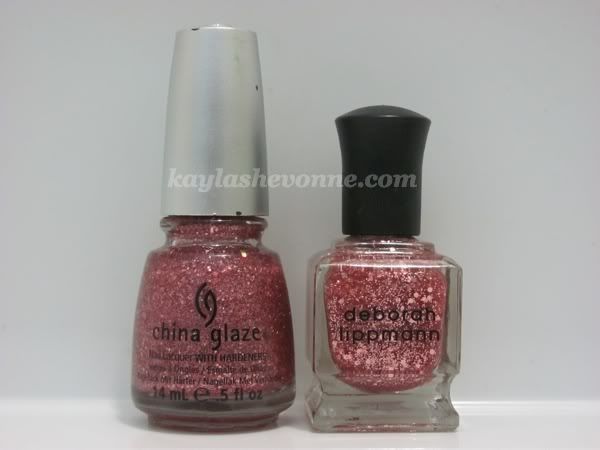 Keep reading for the comparison!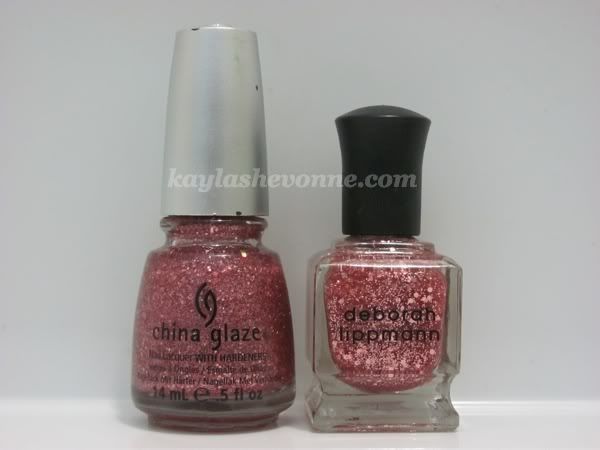 China Glaze Material Girl, Deborah Lippmann Some Enchanted Evening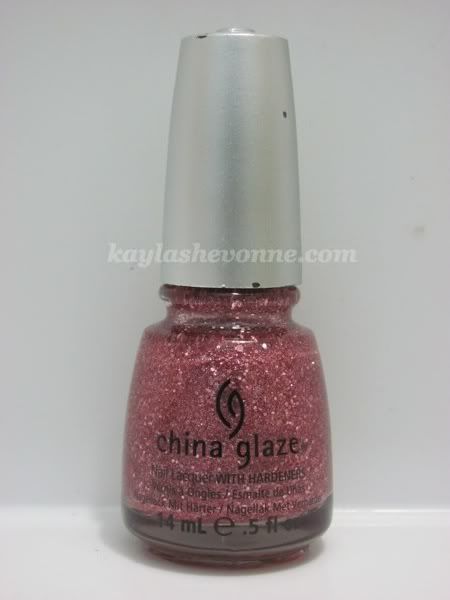 China Glaze Material Girl (from the Holiday 2011 Eye Candy Collection)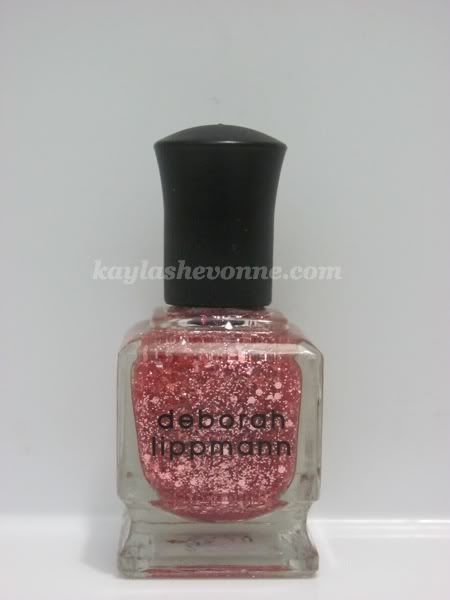 Deborah Lippmann Some Enchanted Evening (from the Fall 2010 All That Jazz Trio)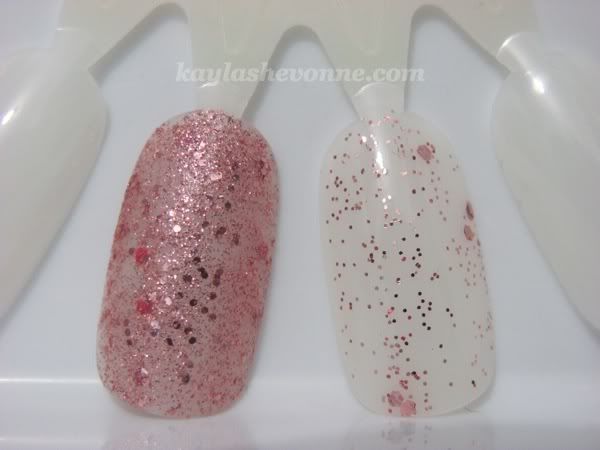 (1 coat of) China Glaze Material Girl, (1 coat of) Deborah Lippmann Some Enchanted Evening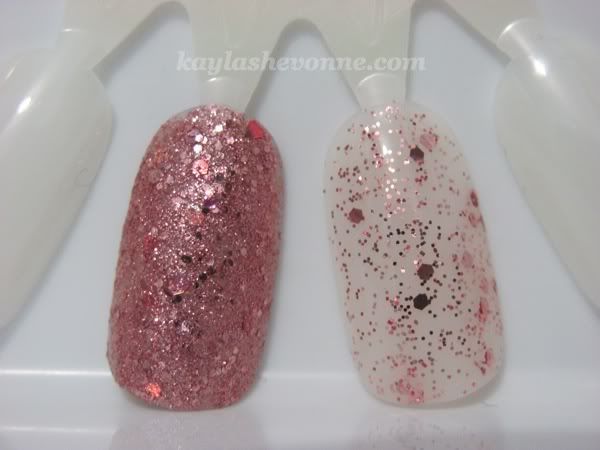 (2 coats of) China Glaze Material Girl, (2 coats of) Deborah Lippmann Some Enchanted Evening
These look much more similar in the bottle than they ended up being once on the nail. Let's take a look into their similarities/differences.
First, they both consist of clear bases with medium and small rose coloured glitter. Material Girl also consists of some large holographic hex glitter that Some Enchanted Evening doesn't have. However, like I said in my original review, this glitter is very sparse and tends to get lost within the rest of the glitter.
Furthermore, it's clear that the glitter in Material Girl is
much
more densely packed than it is in Some Enchanted Evening. This means that Material Girl can be build up to opacity in 3 coats (which I showed in my original review of the Eye Candy Collection) while Some Enchanted Evening will remain a layering polish because it won't build up to full opacity.
I've always said it but I'll say it again here - I don't like the Lippmann polish brush. I simply find it too small. However, I do really like the China Glaze brush.
The price difference between these two shades is quite significant. Deborah Lippmann polishes retail for about $16-18 a pop and they're only available through higher-end department stores and a few online e-tailers. However, Some Enchanted Evening was released as part of a limited edition trio in Fall 2010 and as far as I know, it's no longer available. I did a quick search on eBay and found one result and the listing price is roughly the same as regular retail price for Lippmann polishes. On the other hand, China Glaze polishes run for about $4-$7 each and the Eye Candy Collection is currently available at salons and professional beauty supply stores.
In my opinion, everything about Material Girl is better than Some Enchanted Evening. The higher opacity level, the brush, and the price. Thus, that would be my definite choice between the two. However, if you're looking for a strict layering polish of this colour, Some Enchanted Evening would be better suited for that.
What do you guys think? Which would be your first choice?