Hey guys!
Today I'll be showing you #10 of my Top 10 list of polishes released in 2011. For #10, I chose a polish that was really popular this year and that I really enjoy - Deborah Lippmann Glitter in the Air.
Glitter in the Air was released in Spring 2011 along with Naked, a nude cream shade. Glitter in the Air is a very light, very sheer milky blue with multiple sizes of blue and pink glitter scattered throughout.
Because this is so sheer, it's best used as a layering polish, much like I did here. I layered Glitter in the Air over China Glaze Sea Spray, which was also released in Spring 2011 as part of China Glaze's Anchors Away Collection and is a really great base colour for Glitter in the Air. I've also seen swatches of it over Naked and that also looks really nice (and Naked is still on my never-ending wishlist).
Let's move on to some swatches!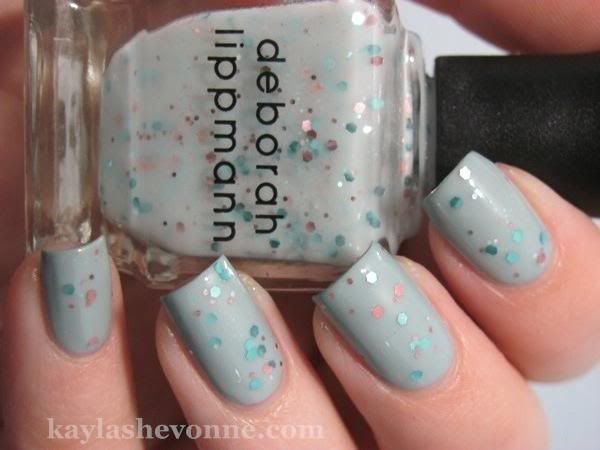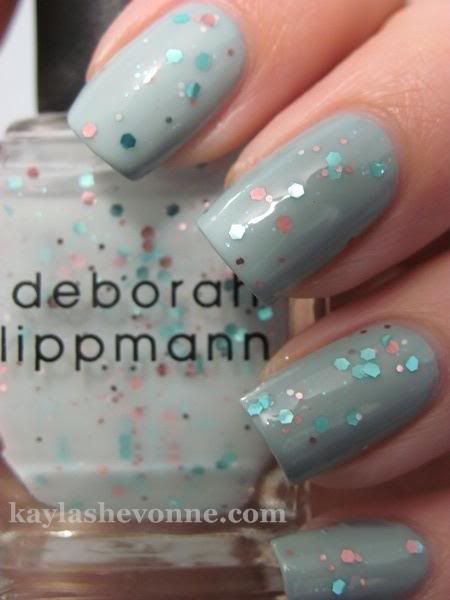 The light hit my nails in an odd way in this photo so that my index finger looks like it's a lighter shade of blue than the rest of my fingers. Fortunately, that gives you some idea of how Glitter in the Air looks over a lighter shade!
I chose this shade as my #10 pick because it's super unique to my collection and it's something we haven't really seen before. I think it's really light and dreamy looking and it's versatile enough that you could layer it over a number of shades.
However, as we all know, Lippmann polishes are pretty expensive and I think that's their main drawback. On the bright side though, Revlon has recently released a supposed dupe of Glitter in the Air called Whimsical. That means that if you love Glitter in the Air but you're not willing to fork over the $18, you can get the same shade (from what I hear anyways), for about $5! Hopefully I'll be able to get my hands on a bottle so that I can do a comparison for you all.
Nonetheless, dupe or no dupe, Glitter in the Air is definitely a favourite of mine from 2011 and I'm happy to have it in my collection.
What do you guys think? Did you pick up a bottle of Glitter in the Air? If not, will you be looking out for the Revlon dupe?
And be sure to head over to
Rebecca's blog
to see what her #10 polish of 2011 is!