Hey guys!
Today I'll be showing you #2 of my Top 10 list of polishes released in 2011. We're almost to the end! Today's polish is one that I never did get around to posting for you guys but I did wear it as a full mani on two separate occasions! It's Zoya Yara!
Yara was released with the Fall 2010 Smoke & Mirrors Collection and is only one of two shades I picked up from the collection. I hate how Zoya is not widely available in Canada, especially here in NL, otherwise I would probably own the entire collection! Anyways, Zoya Yara is a smokey olive green with gold shimmer flecked throughout and it covers wonderfully well in 2 coats.
Sadly, I don't have many good things to say about Zoya as a company as I find that they're super ignorant of Canadians, which is just not cool. However, they make some damn good polish so it's a little bittersweet to have a Zoya shade as #2 on my list.
Anyways, let's see some photos!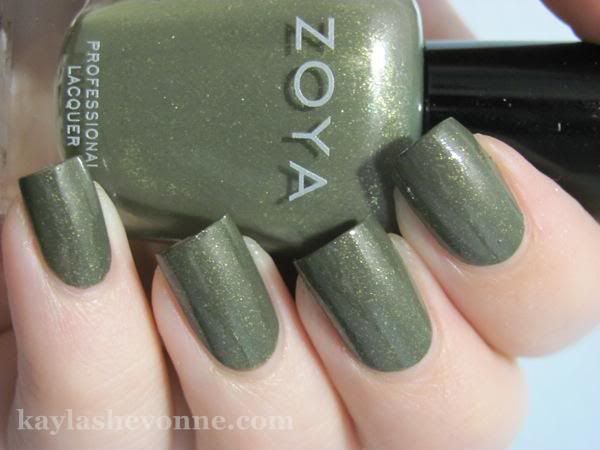 Yara made it high on my Top 10 list because I really loved the military/olive green trend this year and the gold shimmer within that base makes Yara not only gorgeous, but unlike anything I own or have seen before.
Yara and the rest of the Smoke & Mirrors Collection should still be rather easy to come across, especially online, so you should't have any troubles finding it.
What do you guys think of my #2 pick? Did you pick up Yara or any others from the Smoke & Mirrors Collection?
Be sure to head over to
Rebecca's blog
to see what her #2 polish of 2011 is! Interestingly, Rebecca chose Zoya Neeka as one of her picks, which was also released with this collection and which I had a hard time cutting from my own Top 10 list!