Hey guys!
Today I'll be showing you #9 of my Top 10 list of polishes released in 2011. For #9, I chose a favourite of mine from one of this year's holiday collections - OPI Excuse Moi! from the Muppets Collection.
The OPI Muppets Collection consisted of 6 glitter shades but Excuse Moi! was the only shade that had a pigmented base and the only one with multiple colours of glitter. To be more specific, Excuse Moi! is a sheer red-pink base packed with silver micro glitter and small multi-coloured glitter. I think that Excuse Moi! really set itself apart from the other glitters of the collection and it definitely stood out to me as the star of the entire collection.
The formula is surprisingly easy to work with for a glitter and unlike a lot of glitters, such as the others from this collection, Excuse Moi! does not need to be used as a layering polish because it looks pretty awesome on its own. My swatches are 2 coats but I think it could have used another since you can see a yellow hint coming through from my natural nails in some areas (I've whitened my nails since taking these swatch photos and now I wish I had done it beforehand instead).
Anyways, let's move on to some swatches!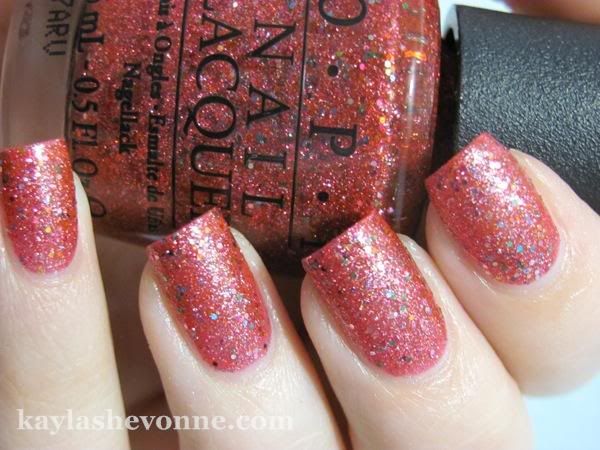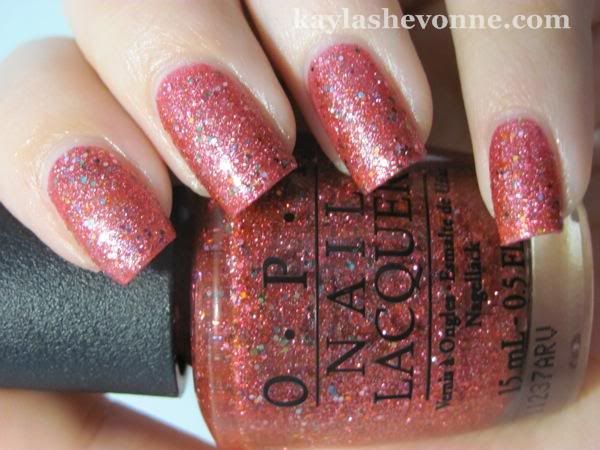 Excuse Moi! makes it to #9 on my list because I really have nothing else like it and it stood out the most to me out of all the other polishes released for the holiday season. Plus, I don't think this shade garnered as much attention as it should have.
Luckily, the OPI Muppets Collection is still available in stores so if you're interested in Excuse Moi!, it shouldn't be too difficult to come across.
What do you guys think of my #9 choice? Did you pick up a bottle of Excuse Moi! yet?
And be sure to head over to
Rebecca's blog
to see what her #9 polish of 2011 is!