Hey guys!
I'm continuing on with my swatches of the Hits Speciallità No Olimpo Collection and today I'll be showing you Hestia - a pale lilac linear holo.
Hestia was one of the Hits holo shades that I was most excited about because I thought it bore slight resemblance to the ever popular
OPI DS Original
. And since I love my DS Original so much, I was sure I would also adore Hestia. And I do! It's delicate and feminine yet still strikingly gorgeous. I haven't swatched them side by side yet but from what I can tell, Hestia and DS Original aren't quite dupes, but they are similar.
I don't think I even have to say it, but I will anyways: the formula and application of Hestia are flawless. I think I could wear these Hits polishes every day for the rest of my life.
I also decided to add some simple nail art to this mani to spice it up just a tad. At first I wasn't sure what I would do but then I received a present in the mail that was the perfect inspiration!
My polish friend Laurie from
Dressed Up Digits
(she only recently started her blog but I can see her becoming quite popular within the community) made me a polish ring out of DS Original and a zebra print stamp! So, in order to match my ring, I added some freehand zebra stripes to my Hestia mani!
I wish I had snapped a couple of photos before adding the art so that you could see Hestia on its own but it totally slipped my mind so I'll have to do that another day. Regardless, here's Hestia with zebra stripes! And there's a couple of photos of the ring from Laurie at the end!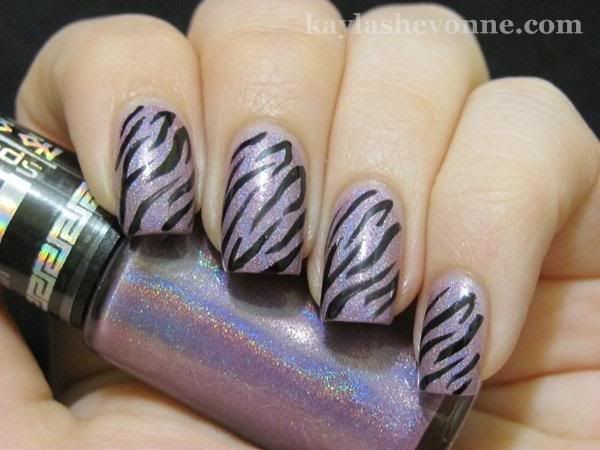 Please ignore the stupid cut on my middle finger - I don't even know how I did that!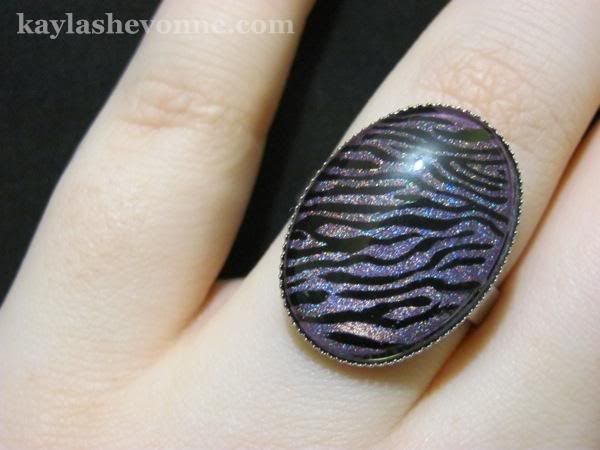 I'm head over heels for polish jewelry and I'm hoping to one day make some of my own. For now though, I'm just smitten with the one piece that I own. Thanks again, Laurie!
You can purchase
Hestia
along with the
entire line of Hits holographic polishes
from the US stockist
llarowe
. The holo polishes are $10 each and don't worry if you live outside the US/Canada because llarowe ships internationally.
Keep checking back for swatches of the remaining Hits polishes I received!
The product(s) in this post were provided by the above retailer in exchange for an honest review.