Hey guys!
Today I'm showing you the first design in this year's Valentine's Day series! If you're interested in my Valentine's designs from 2011 you can see those
here
.
I have to introduce this design by first saying that I am in love with this! This is my first attempt at a "ruffian" manicure and I can say for sure that it won't be my last! I love this style! For anyone not familiar with the style, it's basically an inverted french manicure that was created by CND and which started popping up at the 2010 New York Fashion Week.
For my ruffian, I started with a base of a satin black polish and added a shiny crimson red over most of the base, leaving only a little of the black peeking out at the base of my nail. I used a satin black as the base because I liked the idea of there being both a colour and a finish contrast between the two shades. To make it more of a Valentine's design, I freehanded three cascading hearts down my ring ringer nail.
Hope you like my ruffian as much as I do!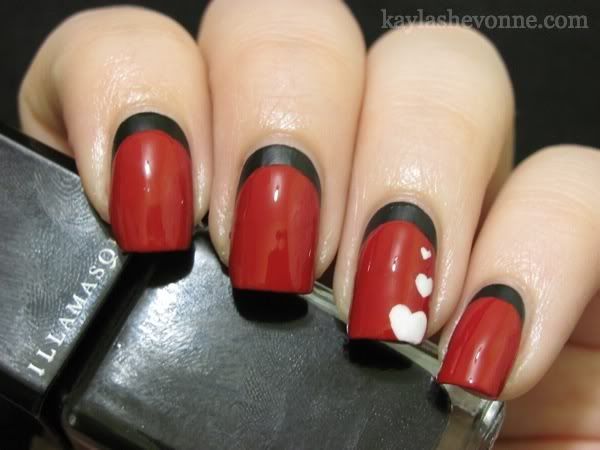 Products:
CND Stickey Base Coat
Illamasqua - Scorn (black base)
Illamasqua - Throb (red base)
China Glaze - White on White (hearts)
Seche Vite Top Coat