Hey guys!
First off, I must apologize for my recent absence. I have a lot going on in my life right now and although I won't bore with you the details, I really don't have much free time right now. Plus, thanks to
my nubbin nail
, I haven't been doing any nail art or swatches recently. It may sound silly but the perfectionist/OCD in me would really prefer to wait until it grows to a length that is consistent with my other nails before I start swatching and posting photos.
Luckily, I do still have a few swatch photos from a Hits swatch-a-thon that I did a couple of weekends ago. So I'll do up some posts with those for you and I think I'm also going to work on a couple of Valentine's Day nail art tutorials!
In the meantime, today I'll be showing you the last of the Hits holos that I have - Hermes. I'm missing one from the No Olimpo collection, Hefesto, but I'll hopefully be able to show you that sometime in the future.
Hermes is a pale gold chrome-like polish with holo mized in. Like some of the others, this one is more of a prismatic holo as opposed to a linear holo. The colour of this one is definitely too warm for my skin colour but I think this would look amazing against tanned skin. This is also a shade that can be considered work-apporpriate so if you're restricted by what nail polish colours you can wear but you still want to have some fun with your polish choices, I think this would be a great match for you.
As with the rest of the Hits holos, Hermes has a wonderful formula and super easy application. My swatch is 2 coats.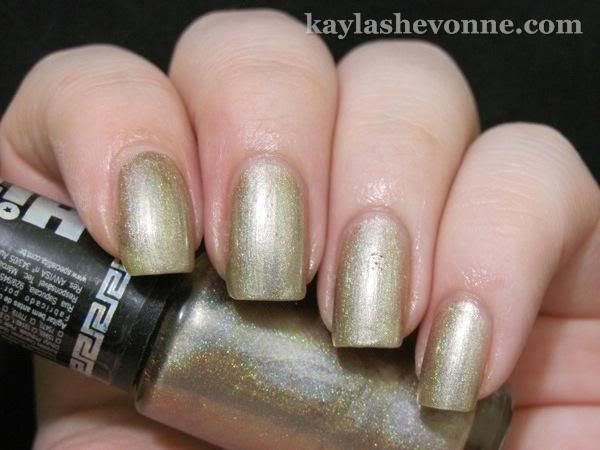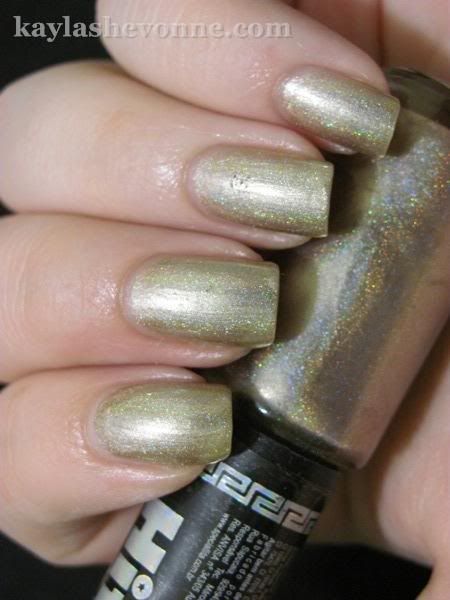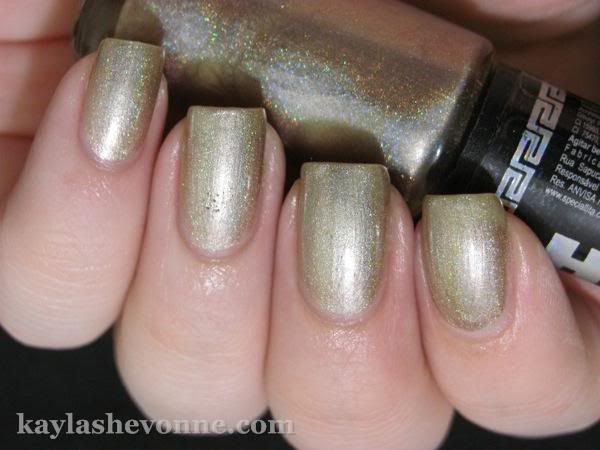 You can purchase
Hermes
along with the
entire line of Hits holographic polishes
from the US stockist
llarowe
. The holo polishes are $10 each and don't worry if you live outside the US/Canada because llarowe ships internationally.
Check back within the next couple of days to see some interesting layering with this polish!
The product(s) in this post were provided by the above retailer in exchange for an honest review.