Good morning!
Today's nail art design is the one that I had planned to do last week but ran out of time, so I ended up with my
bright pink and yellow cheetah design
. This time I allotted myself a lot of time to paint my nails so I was able to complete my vision!
This design was inspired by the
photo album
that I use to hold all of my stamping plates. I've always been intrigued by the pattern but I've never wanted to take on that many stripes. So, I decided to switch it up a bit and change the stripes to a more manageable design - dots!
I chose colours that matched the pattern on the book and where the stripes are larger, I made larger dots, where they're small, I made small dots, etc. I like how it turned out and maybe one day I'll take on the actual pattern of all the stripes.
Enjoy!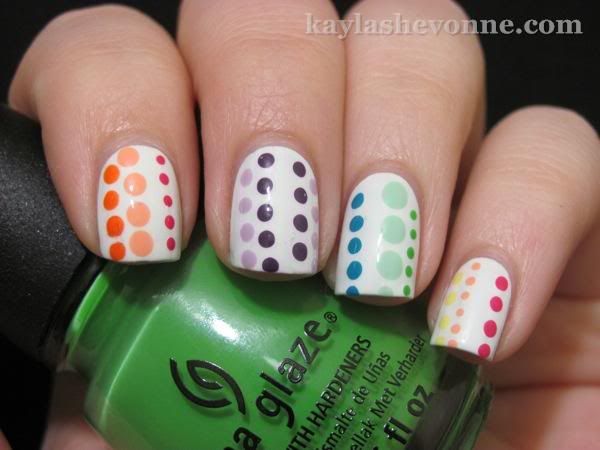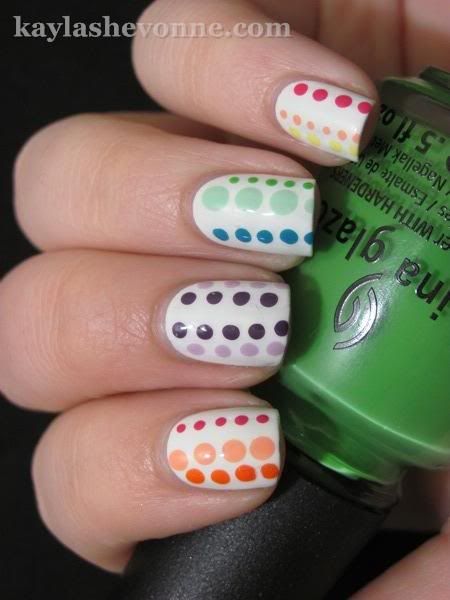 Products:
CND Stickey Base Coat
China Glaze - White on White (base)
China Glaze - Breakin' (orange dots)
Illamasqua - Purity (light orange dots)
OPI - Kiss Me on the Tulips (pink dots)
OPI - Rumple's Wiggin' (light purple dots)
OPI - Funky Dunkey (purple dots)
Zoya - Robyn (blue dots)
China Glaze - Re-fresh Mint (light green dots)
China Glaze - Gaga for Green (green dots)
China Glaze - Lemon Fizz (yellow dots)
Seche Vite Top Coat