Hey guys!
I promised that I would give you an update on my
caviar mani
from yesterday in regards to its wear time. Well, literally 2 hours after applying the beads, they started falling off, especially around the edges of my nails.
So, I guess the caviar manicure isn't that practical, but it's definitely fun for a night out or a special occasion. However, if you happen to find beads that don't dull when top coat is added, top coat would definitely help to keep them in place longer.
Anyways, today's manicure was unplanned as it was just something I came up with to replace my caviar manicure. You all know that I love rainbow manicures and since I hadn't use a crackle polish in a while, I decided to do a rainbow crackle mani.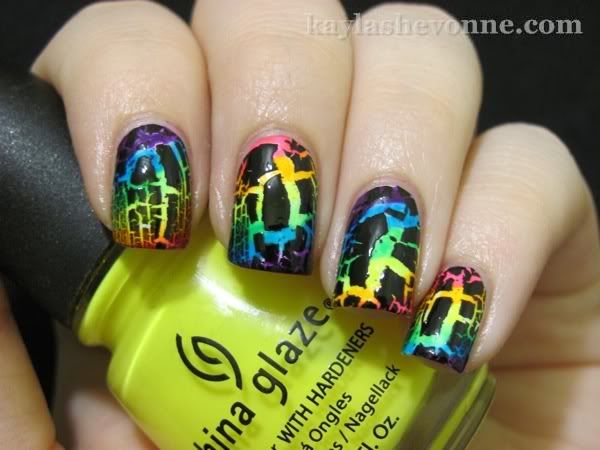 I applied a white base to make the neon colours pop and then I hastily did diagonal lines of pink, orange, yellow, green, blue and purple using just the polish brushes. I waited about 15 minutes and then did a coat of black crackle over everything. For an unplanned and hastily done mani, I'm actually really loving this!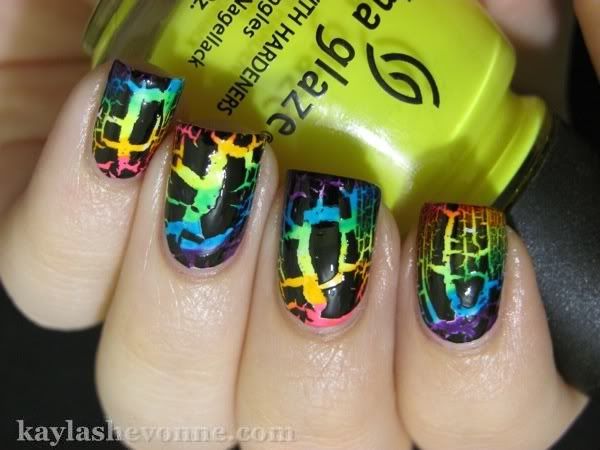 Products used:
CND Stickey Base Coat
OPI - Alpine Snow (base)
China Glaze - Pool Party (pink)
China Glaze - Sun Worshipper (orange)
China Glaze - Yellow Polka Dot Bikini (yellow)
China Glaze - Kiwi Cool-ada (green)
Color Club - Chelsea Girl (blue)
China Glaze - Flying Dragon (purple)
LCN - Black Friday (crackle)
Seche Vite Top Coat