Good morning!
Have you all heard of the new emerging nail art trend called "The Caviar Manicure"? The trend first started popping up on runways last year but now the brand Ciate will be selling kits through Sephora to create this look. Basically, it's just microbeads stuck to the nail, but the end result looks pretty cool.
The Ciate kits are going to be pretty pricey, so I decided to see if I could recreate the look with supplies I already own. Ages ago I bought some microbead kits at Wal-Mart that were on clearance, so I dug those out and picked out a vial that included some fuchsia, silver and foil green beads. The Ciate mani is done with black and blue but considering the season, I wanted something a little brighter.
I only did did the caviar look on an accent nail since I really didn't know how practical it was going to be. On the rest of my nails, I picked out polish colours that matched the colours of the beads I chose and just did some simple dots.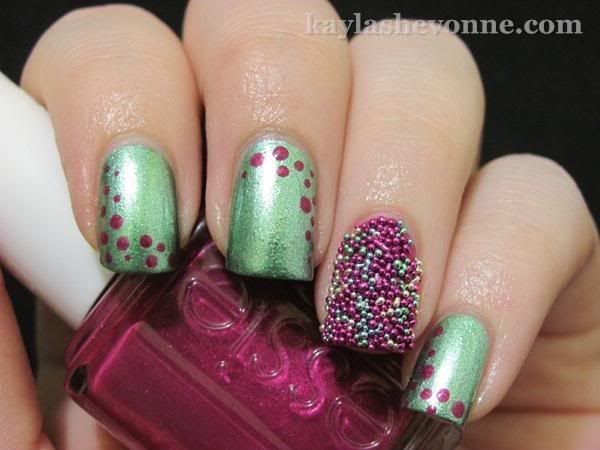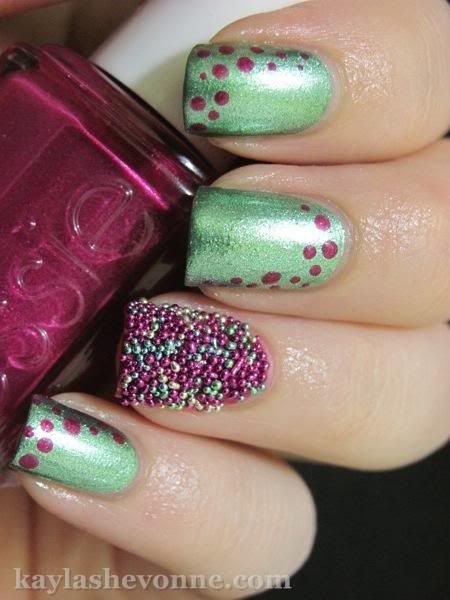 Products used:
CND Stickey Base Coat
Color Club - Perfect Mol-ten (base)
Essie - Jamaica Me Crazy (dots, base for caviar nail)
Microbeads from Wal-Mart
Seche Vite Top Coat
Unfortunately, top coat significantly dulls the colours of the beads so I wasn't able to add any to the caviar nail. I'm not sure if the Ciate beads will also dull if top coat is added but I foresee the beads falling off fairly quickly without something to really keep them in place. Regardless, I'll let you guys know how long my caviar nail lasts.
What do you guys think of this new trend? It's definitely not going to be everyone's cup of tea, but I'm totally diggin' it.