Good morning!
Claire's Cosmetics recently released a new shade called Candy Shop, which is a pink jelly base with an array of multi-coloured and multi-sized glitters. Sound familiar? That's because it's a duplicate of Deborah Lippmann's Candy Shop from the
Get This Party Started Set
!
I've been wanting both Candy Shop and Forget You from that set for a while now but I just can't justify that price tag. So I'm glad to to say that Claire's Candy Shop has been able to kill one lemming!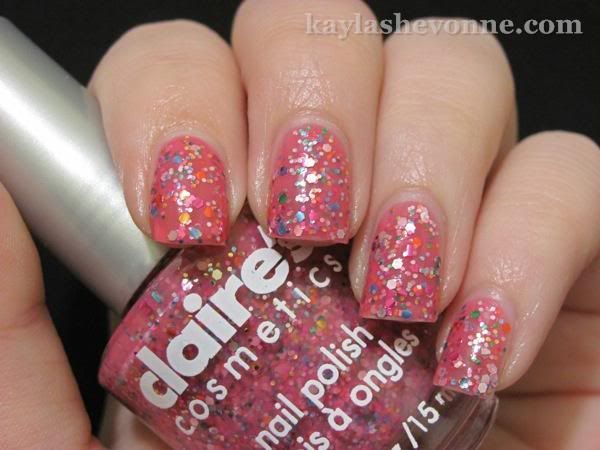 The sheer pink jelly base of Candy Shop would probably do best layered over a similarly coloured pink creme, but I did 2 coats of Candy Shop alone for my photos so that you could see the true colour. You can see that there's still some VNL, so if you did want to wear it alone, you'd have to go for 3 or maybe even 4 coats.
This is the first polish from Claire's that I've tried so I'm assuming that the brush is the one they use for all of their polishes. Well, I'm not a fan. I find it far too thin and it doesn't pick up enough polish to cover the entire nail.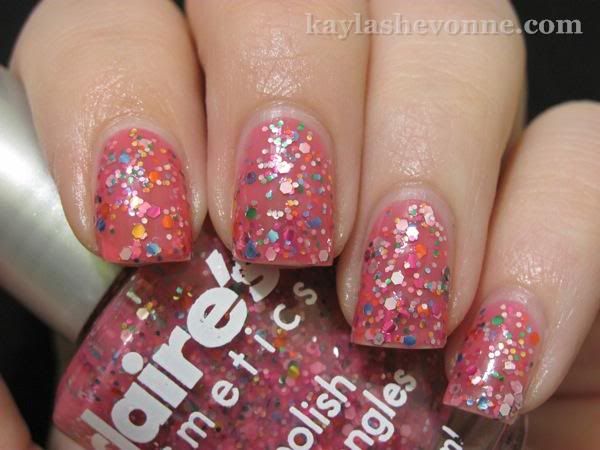 Unfortunately, I don't own the Deborah Lippmann Lippmann Candy Shop so I can't tell you if they're dead-on dupes. However, from what I've seen, they look pretty darn similar. And for less than a third of the price (Lippmann polishes sell for about $18 each, while the Claire's version is $5 US or $5.75 CDN), you can't beat that!
Now if only someone would release a dupe for Forget You, I would be a very happy girl.