Hey guys!
If you've been looking through your reader, you must have already seen the large number of water marbles that have been posted today. Many of us decided to participate in a Marble Monday where we all try our hands at water marbling and link to each other! I probably wouldn't have agreed to participate if it wasn't for my
recent success with water marbling
.
So was I successful again?
I was!
For this marble, I used my new blog design as inspiration. First, I picked out three colours that match the peacock feathers (China Glaze Grape Pop, Zoya Robyn and China Glaze Custom Kicks) and then I did my marble. But when I was done, I thought it was missing something. So, I added some white dots to tie in the white from my blog as well, and I think that really completed the look.
Sadly, I had a really rough time photographing this. The blue was showing up as brighter than it truly is, and the teal was showing up duller than it truly is. After taking over 100 photos, I settled on these three, but I'm still not totally satisfied. You'll just have to trust me that this is even better in person!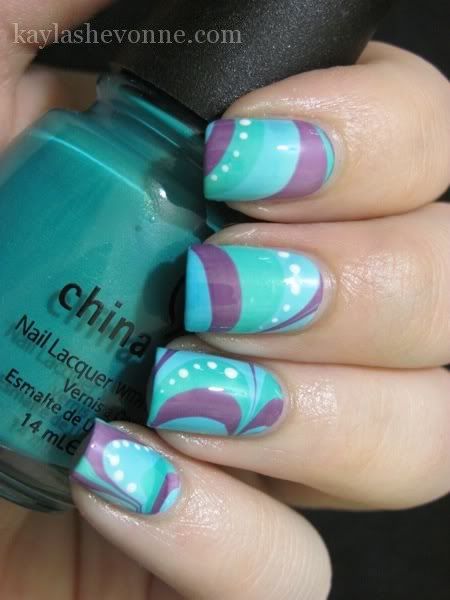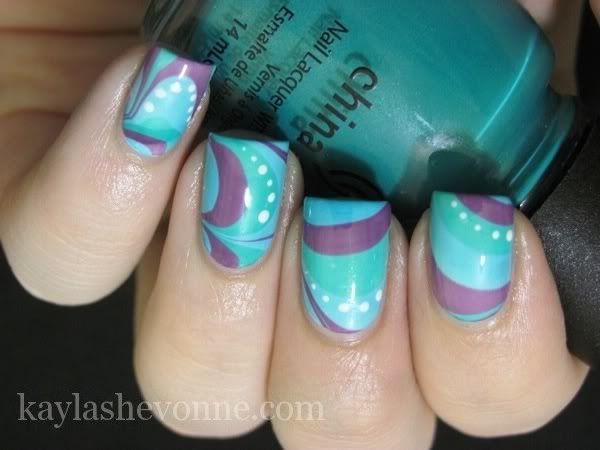 Regardless of my photography problems, I really, really like how this turned out - especially my ring finger!
At the bottom of this post is a collection of photos that links to the other marbles that have been done today, so be sure to check them out!
Products used:
CND Stickey Base Coat
China Glaze - White on White (base, dots)
China Glaze - Grape Pop
Zoya - Robyn
China Glaze - Custom Kicks
Seche Vite Top Coat