Hey guys!
Today I have my absolute top pick from the recent China Glaze Colors from the Capitol Collection (a.k.a The Hunger Games Collection). I got all 12 shades from this collection, not even because I liked them all, but simply because I love the books so much that I know I would regret it in the future if I was missing any of the colours.
Before even seeing swatches, I had pegged a few of the shades as being contenders for my favourites, and this was never one of them. But after trying it out for myself, I'm blown away by this polish.
Riveting is an electrifying, fiery orange with intense gold shimmer and a glass fleck finish (which China Glaze always does well). The formula is freaking amazing and it's almost a one-coater, although I used two for good measure.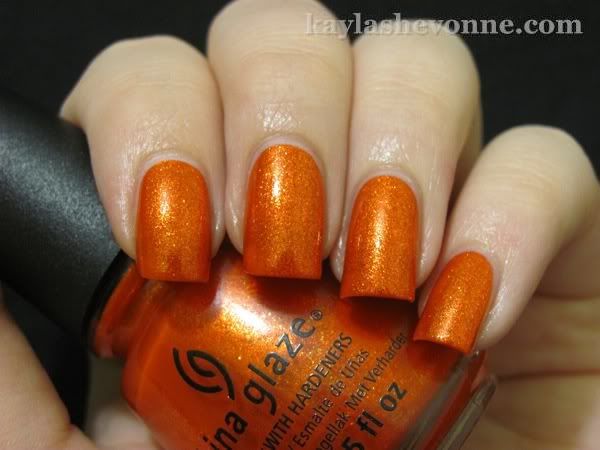 Riveting is supposedly inspired by District 3, which is the technology district of Panem. However, if anyone else is a fan of the books, then you will most likely agree with me when I say that the original names of the polishes (the ones released before the controversy and subsequent lawsuit - google the whole story if you're not familiar with it) were much better than the names that were actually produced.
Originally, Riveting was named Fire in Flight and it was inspired by the flaming mockingjay.
Here's a photo of the polishes and what their original names were meant to be:
Anyways, I'm just glad that the collection was released at all because otherwise I wouldn't have this amazing polish!
What were your picks from the Colour from the Capitol Collection?