Hey guys!
Today I have one of the three new shades from piCture pOlish's Opulence Range of polishes to show you! The girls at piCture pOlish were kind enough to send me all three of the Opulence shades so you'll be seeing the others throughout the week.
The one I'll be showing you today is called Monroe and not that it even needs to be said, but the inspiration for this polish is obviously Marilyn Monroe. As the bottle itself describes, she's a "classic Hollywood icon".
Monroe is a deep, blood red jelly polish with tiny specks of holographic glitter speckled throughout. The speckles are very small so they're not too visible from far away but they really add that extra sparkle up close. Plus, the deep red colour is really gorgeous so even from far away, this polish still looks great.
As a fair warning, red polishes tend to wash my skin out in photos. The colour of the polish is accurate, though.
The formula is great and I didn't experience any dragging or bald spots, which can happen with some jelly polishes. My swatch shows two coats of Monroe, but you could add another to make it even deeper looking if you'd like.
I don't normally gravitate towards red shades but this is definitely one that I see myself wearing.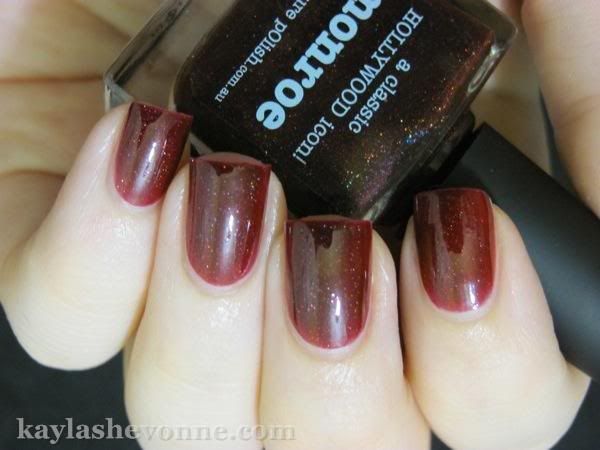 Monroe retails for $13.50 USD and can be purchased
here
on
piCture pOlish's website
.
Stay tuned for the other two shades from the Opulence Range!