Hey guys!
Today I'm going to share with you the mani that I submitted to the Bundle Monster Nail Art Contest! 25 winners will be selected and each will win a set of their new set of plates!
I know it will come as no surprise that my entry consists mainly of neon polishes! I chose six of the shades from the China Glaze Summer Neons Collection - which I'm totally in love with. The six I chose are all ones with that subtle shimmer in them and I honestly can't get enough of them!
I had my colours picked out before I even had a design idea, so I leafed through my Bundle Monster plates and landed on the peace sign image on plate BM07, which I thought would go really well with the neon colours.
I started out by applying a base of white and then, using the polish brushes, I did diagonal lines with all six of the colours (listed below). I waited for all of that to dry and then I added a coat of China Glaze Fairy Dust to give it some extra sparkle. Once that was dry, I stamped the peace sign using Konad Special Polish White.
Here's a list of all of the neons I used for this design (in order from pink - purple):
Hang-ten Toes
Orange You Hot?
Sun-Kissed
I'm With The Lifeguard
Splish Splash
Beach Cruise-r
I love everything about this mani! I had originally planned on just doing this design for the contest and then removing it, but I loved it so much that I decided to keep it on!
Here's the photo I entered for the contest (without holding the bottle):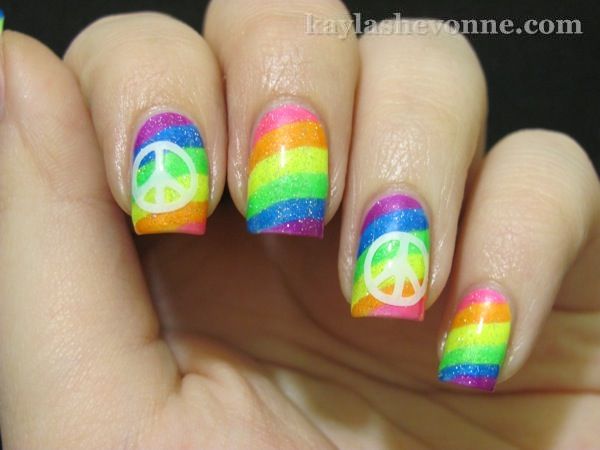 If you also like this mani, I'd really appreciate it if you would vote for me in the contest!
If you have a Facebook account, click
HERE
to go directly to my entry and vote.
If you don't have Facebook, you can still vote! Click
HERE
if you don't have Facebook but would still like to vote for my entry.
You can vote once per day throughout the week, so vote as many times as you can!
Thanks in advance for your support!