Hey guys!
First off, I want to thank all of you for the kind comments you left on my
Pepper tribute post
. They really meant a lot and are helping me get through this.
Second, today is a big day for me because today is my university graduation ceremony! I finished my schooling in December but today is the ceremony when I actually receive my degree. I picked out a gorgeous dress to wear under my graduation gown and of course, I had to do some nail art to match!
The colours of the dress scream peacock so I re-did
my peacock nails
from last year, but used different colours to better match the dress. I also added an accent nail of rhinestones because the waistband of my dress has a lot of rhinestone detailing.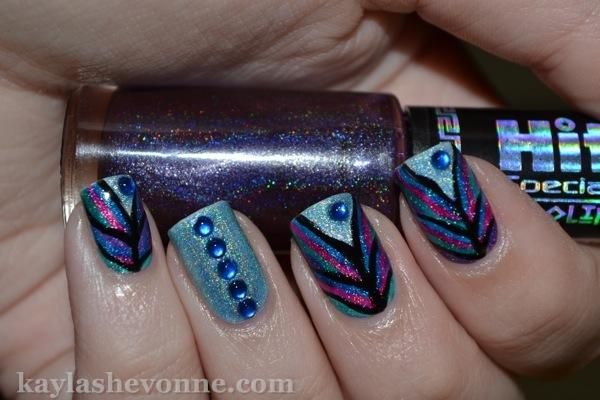 The colours I used are all from the Hits No Olipmo Collection: Poseidon, Apolo, Atena, Hera and Dionisio. I started with a base of white (China Glaze White on White) because some of the Hits holos are on the sheerer side and I needed the colours to pop without having to go over them several times. I then followed my own
tutorial
to create the rest of the design.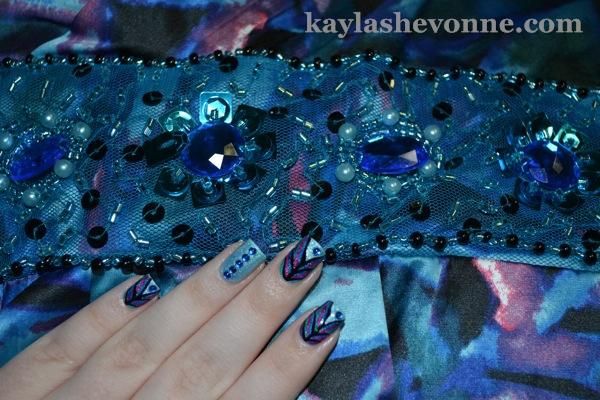 Here's a photo that shows my nails together with my dress. I think it matches perfectly!
Ok, I have to go graduate now! Talk soon!
P.S. Thanks to everyone who entered my
nail art contest
! One of my judges is on vacation in France right now (I'm totally jealous), so I have to wait for her to get back in order to help with the judging. She'll be back on June 2nd, so the winner should be announced soon after. As well, we should be finished moving soon after that, so posting (and lighting/photo-taking) will return to normal then, too.