Good morning!
Today I have an indie polish by
Elemental Styles
to show you! Whitney from Elemental Styles was generous enough to sponsor
my nail art contest
and when she sent me the prizes, she also sent me a couple of minis for myself! One of the ones she sent me is 79 Fool's Gold, which is also one of the ones that's being offered as a prize in my contest!
One of the cool things about Whitney's polishes is that they're all science themed! The 79 in the name 79 Fool's Gold stands for gold's number on the periodic table.
79 Fool's Gold is a shimmery gold base with several sizes of gold and holographic glitters mixed throughout. I've taken a couple of bottle shots below to give you an even better idea of the glitters in this polish.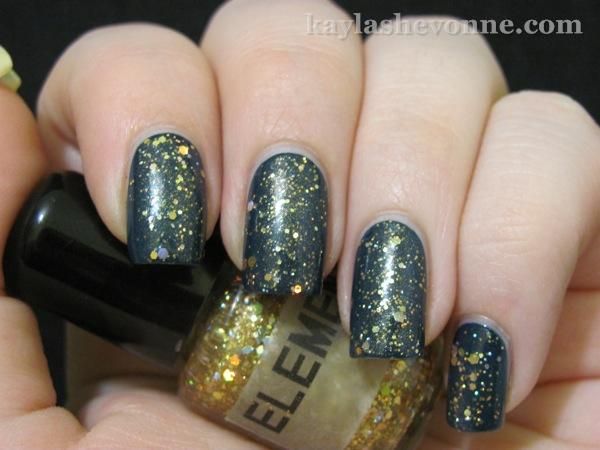 Because I've already seen
a great swatch
of 79 Fool's Gold on its own by Sarah of
Chalkboard Nails
, I decided to layer it for my swatch. I chose a base colour of OPI Ski Teal We Drop, which is a gorgeous deep teal. I only needed one coat of 79 Fool's Gold to get a nice layer over the base.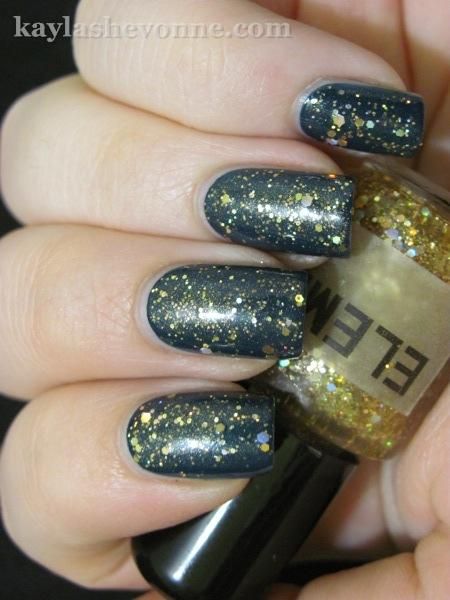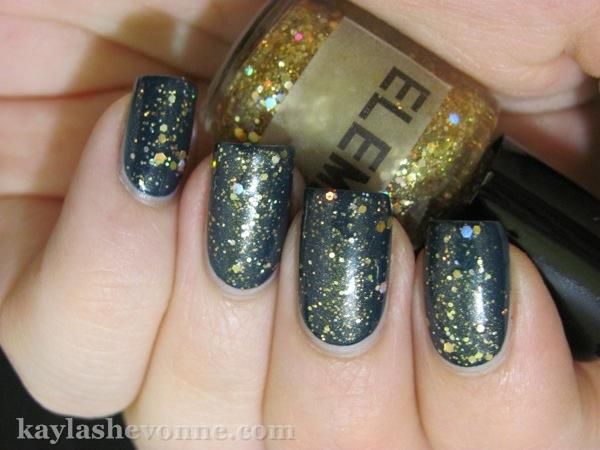 The formula was easy to work with and I didn't have any application issues. The glitter spread evenly and didn't feel thick like these kind of glitter polishes sometimes can.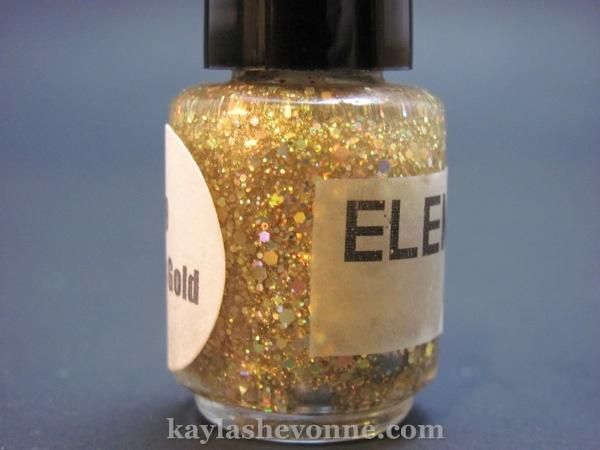 Overall, I really enjoy this polish. I like the look of it alone, and I like it layered. I think it would also look great over a gold polish!
Elemental Styles polishes can be purchased through Whitney's
etsy shop
. She recently launched a new collection that I'm really excited about and I plan on picking up a few more of her creations soon.
And of course, you have a chance to win three of her full-size polishes by entering
my nail art contest
!