Good afternoon!
Continuing with my indie polish swatches, today I'll be showing you one of the ones I picked up during Candeo's last sale. I wanted a number of her polishes, but sadly only three were able to make it into my cart before the others sold out. As much as I'm loving indie polishes, I despise the buying frenzy/stress they create! Of course, I'm contributing to that frenzy, so I can't say much.
Anyways, the polish I'm showing you today is Candeo Colors Glacier, which is a sheer blue base with lots of different types of glitter mixed throughout. The glitter consists of small blue squares, small, medium and large silver hexes, and finally, there's a fine iridescent glitter in there as well.
For my swatch, I wanted to show you this polish over several different shades of blue. So, I decided to do an ombre manicure first, and then I layered Glacier over all of the shades of blue.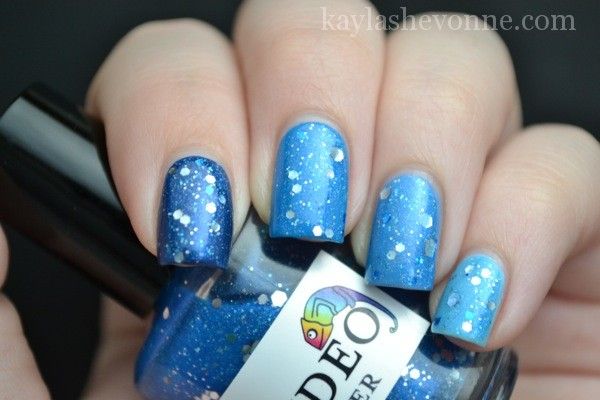 The blue shades I used for my ombre consist of: OPI Road House Blues (thumb), China Glaze First Mate (index), OPI Ogre-the-Top Blue (middle), China Glaze Electric Beat (ring) and OPI What's With the Cattitude? (pinky).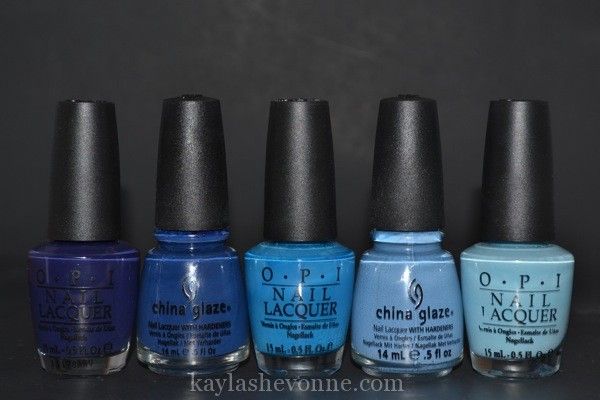 In retrospect, I wish I hadn't chosen Electric Beat for my ring nail. The sheer blue base of Glacier tinted Electric Beat slightly and it ended up looking too similar to my middle finger in the end. Ah well.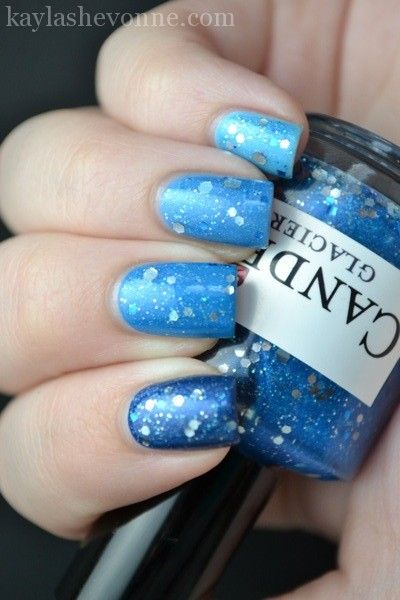 The formula of Glacier was thinner than I expected, but it was rather easy to apply. However, because the formula is on the thin side, the larger silver hexes were settling at the bottom of the bottle rather quickly. Because of that, I was shaking the bottle after every few nails to ensure that I was able to get enough of the large silver hexes on my brush. This isn't a big deal to me, but I still think it's important to mention.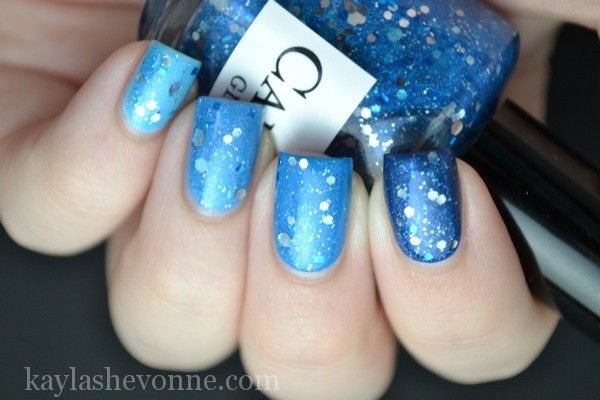 Overall, this is a fun polish and I think it will also look cool over shades besides blue, but I don't think it's going to be my favourite of the Candeo polishes I picked up.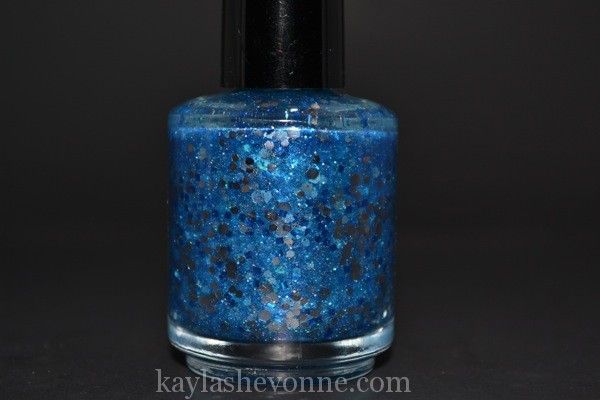 Candeo polishes can be purchased through the
Candeo Colors website
and they retail for $8.00 USD each. Everything on the site is currently sold out, but you can keep up with stock dates and other information via the
Candeo Colors Facebook Page
.