Hey guys!
I'm so excited to let you know that we are finally moved in, unpacked and totally organized in our new place! That means that I can happily get back to blogging and painting my nails on a regular basis!
I received several new polishes over the last couple of weeks - mostly from indie brands, so I'll show all of those to you in an upcoming haul post and then I'll work on swatching the rest of them for you. To start, today I'll be showing you a polish by the brand
Lush Lacquer
, which is a mother/daughter team of polish makers. I currently have three of their polishes and I have eight more on the way, so you'll be seeing a lot from this brand!
The first polish I'm showing you is called Salt n' Peppa and it's a clear base that's packed (and I mean PACKED) with a mix of black and white square, hexagonal and bar glitters. There's also a fine iridescent glitter mixed throughout the base that adds something different and special to this polish.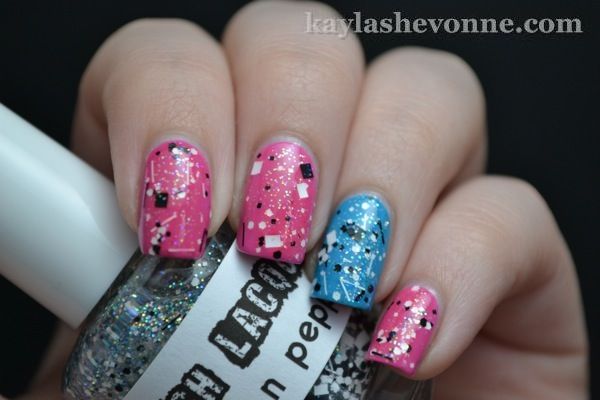 Here I've shown just one coat of Salt n' Peppa layered over Orly Frolic (FYI, Frolic is actually a touch more purple than my camera picked up) as well as over Zoya Robyn (ring finger). I'm loving the colour combinations here, but I especially love Salt n' Peppa over Robyn.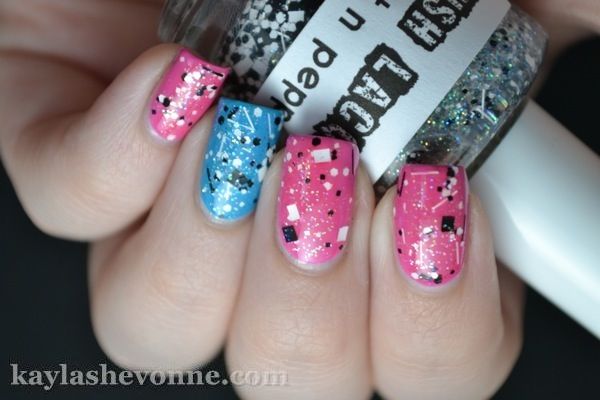 The formula was easy to work with and I didn't have to fish through the bottle to get enough glitter on the brush. Furthermore, I didn't have to "place" the glitter on my nails - it flowed from the brush nicely and provided an even coverage of all the types of glitter.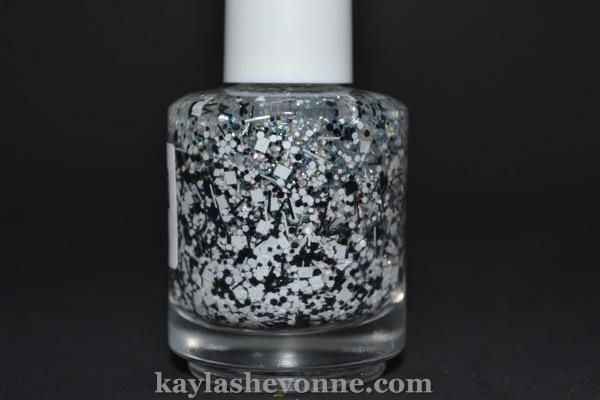 I'm really loving this polish and I'm a little worried that I've caught
Sarah's black and white glitter addiction
! I really can't stop staring at my nails! In fact, I've stopped writing this post several times just to stare at my nails.
Salt n' Peppa, along with many other fun glittery shades can be purchased via Lush Lacquer's
Etsy shop
. Salt n' Peppa is currently in stock in the full (15 ml) size for $8.75 USD.
And if you want to try this in the mini (5 ml) size, Lush Lacquer offers a really great system for purchasing their mini polishes. They have listings where you choose how many minis you would like (the listings range from 2-8 mini polishes) and you just list which ones you want in a note to the seller. I used this method to purchase the 8 mini polishes I have on the way and I think it's a great way to simplify the checkout process as well as ensure that you get the polishes you want!
Stay tuned for more Lush Lacquer creations soon!
The product(s) in this post were provided by the manufacturer or their PR in exchange for an honest review.