Good afternoon!
Today I have another tutorial for you! Tutorials are always my most requested posts, so I'm happy to know that you enjoy them.
Today's tutorial is for
this fish scale design
that was originally inspired by an outfit worn by Nicki Minaj in her Super Bass video. However, this is a versatile design, so you can easily switch up the colours to separate it from the video reference if you prefer.
To refresh, here's the look I'll be showing you how to achieve: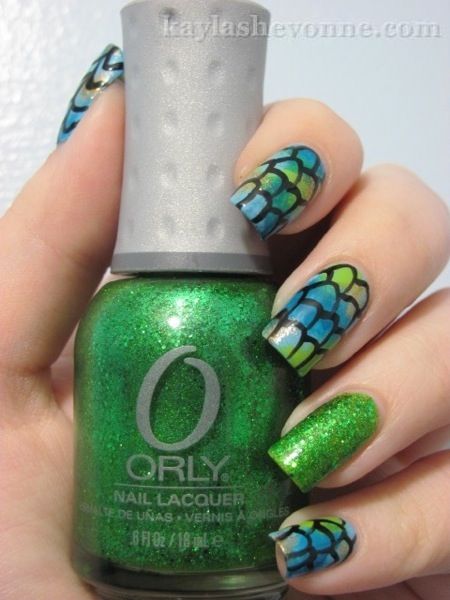 Keep reading for the step-by-step tutorial!
What you'll need:
I've included the exact brands/names of the polishes I used, but you can use whatever brands/shades you have in your stash.
Polishes:
- Base coat (CND Stickey)
- Top Coat (Seche Vite)
- Light blue creme (China Glaze Bahamian Escape)
- Lime green creme (OPI Who the Shrek Are You?)
- Medium blue-teal creme (China Glaze Shower Together)
- Light gold shimmer (Orly Luxe)
- Black creme (OPI Black Onyx)
Other tools:
- A makeup sponge
- A pair if tweezers (preferably a cheap pair)
- A small nail art brush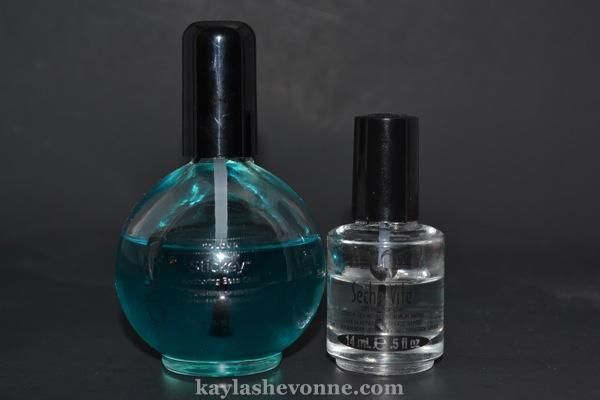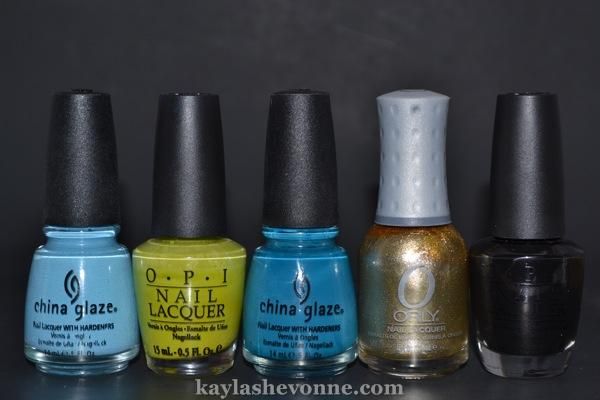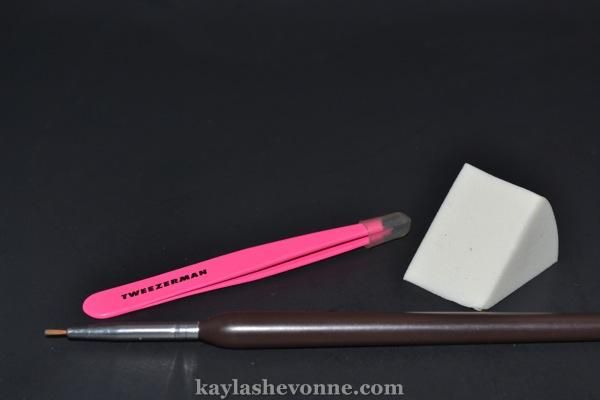 Step 1:
Apply your base coat.
Step 2:
Paint all of your nails with one of the lighter colours you've chosen (I'm using the light blue). Wait for this to dry completely.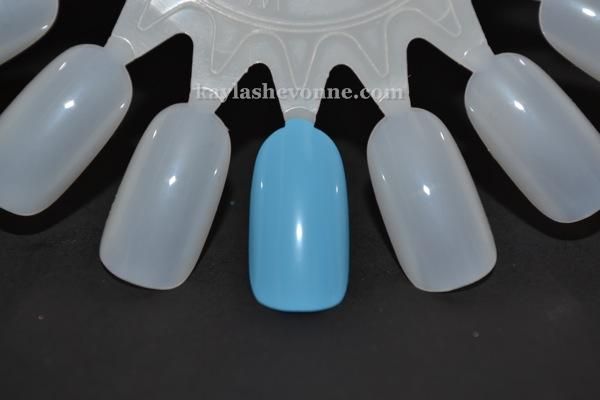 Step 3:
After your base colour has tried, tear off a very small piece of your makeup sponge. Using your tweezers to hold it, dip it into a small amount of your medium blue-teal polish and then sponge a few random, irregular spots on your nails.
Step 4:
Starting with a new piece of sponge, move on to the lime green and repeat the same process, only on different areas of your nails. You can overlap the colours a bit, but not too much as you don't want them to get muddy. And remember to leave some of your base colour visible since we want to see that colour in the finished design as well.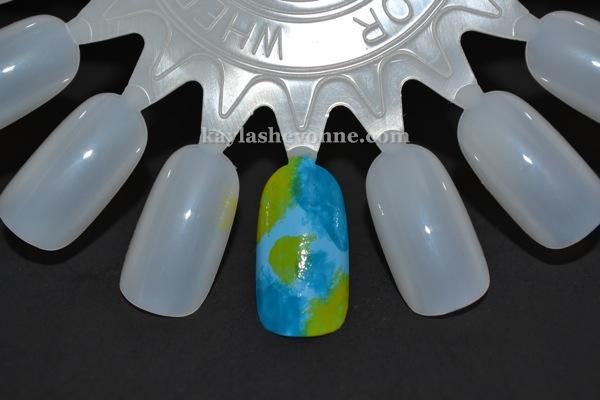 Step 5:
Start with another new piece of sponge and move on to the gold shimmer polish. You only want a small touch of the gold, so be sparing with it.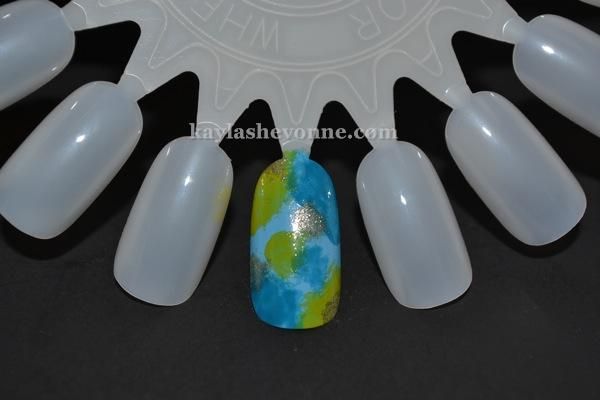 Step 6:
You've now completed the sponging part of this design, so you can move on to the freehand art. Using your small brush and the black creme polish, outline some upside-down U and V shapes horizontally across your nails. These shapes do not have to be perfect, or even consistent, since real fish scales are not either.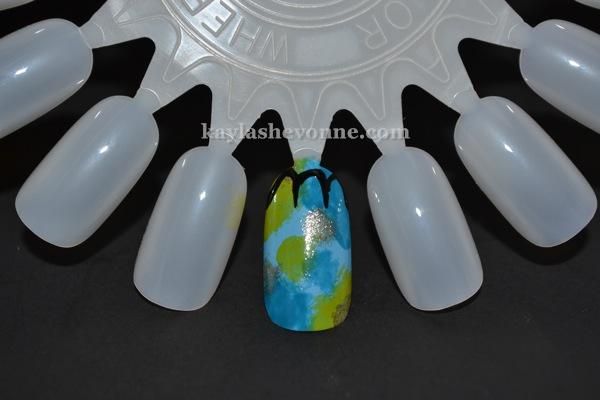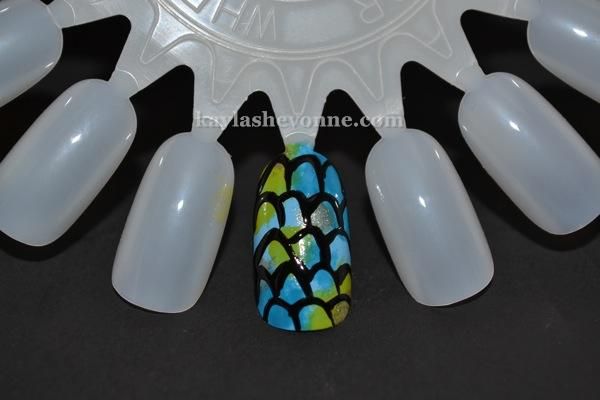 Step 7:
After allowing your design to dry completely, add a layer of your favorite top coat. This will make your new mani last longer, it will smooth out any bumps and ridges that have been created during the process, and it will also give your nails a nice shine.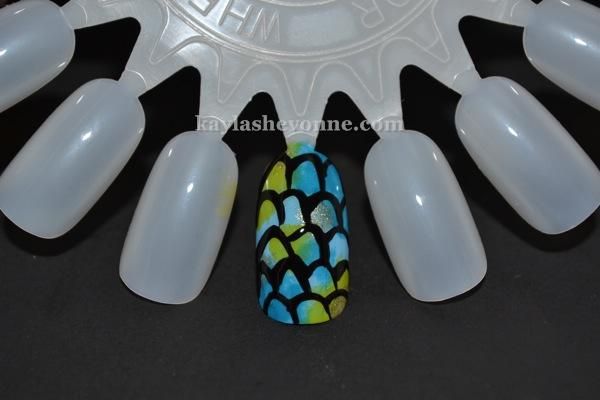 There you have it! A fun, bold fish scale design! And if you're tight on time (or patience), you can try only doing an accent nail in this design and then paint the rest of your nails a coordinating colour!
As always, I hope this tutorial was helpful and I hope some of you will try this design out for yourselves. And I'd love to see pictures if you try it!