Hey guys!
One of the polishes that's been on my wishlist the longest is Chanel Peridot. There are many dupes out there, but nothing ever seemed to quite compare to the real thing for me.
Recently, OPI released a supposed dupe with their new The Amazing Spiderman Collection and I thought that I would give that a try since I get OPI for a pretty good price with my pro discount. Without going into too much detail (I'll do that in a future post), I hated the OPI version.
Luckily, I was recently contacted by a reader named Maria who had found a bottle of Peridot and was interested in a swap! She was in search of some China Glaze since the brand isn't available to her, so I of course said yes!
Along with my huge lemming of Peridot, Maria also sent me some other fun polishes!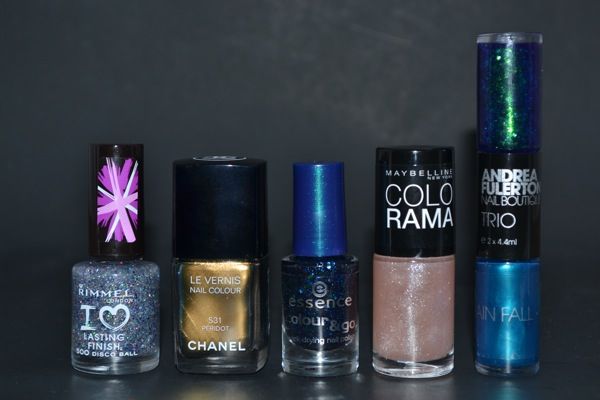 Rimmel Disco Ball, Chanel Peridot, Essence Blue Addicted (which seems like a possible dupe of Deborah Lippmann Across the Universe), Maybelline Colorama Sugar Crystals, Andrea Fullerton Rain Fall
I'm really excited to try all of these out! In return, I sent Maria several China Glaze polishes, as well as a Nicole by OPI polish (I can't name them because she hasn't received them yet and I want them to be a surprise)!
I really enjoyed this international swapping experience! I definitely need to swap more often.
Thanks Maria! I can't wait for you to receive your goodies!