Hi everyone!
Today I have a brand that is completely new to me and that I hadn't even heard of until a few days ago!
Pebble Beach is a line of super shimmery nail polish that is produced by the Cherimoya brand. The entire line is broken up into sets of four polishes and the point is to use those four polishes to create a seamless gradient on your nails. When I learned of this, the "Step 2" in the name made much more sense.
I picked up three of the Pebble Beach polishes, but since I wasn't aware of the original purpose of the polishes, none of the ones I have are from the same colour scheme (i.e. none of the ones I have are supposed to go together to create a gradient). Nonetheless, these polishes are amazing on their own!
The first one I'm showing you is
Ruby Step 2
, which is a stunning and super sparkly red glass fleck with a slight flash of pink. My first couple of pictures in natural light don't really do this polish justice, but take a look at the flash photos below and you'll see what I'm talking about!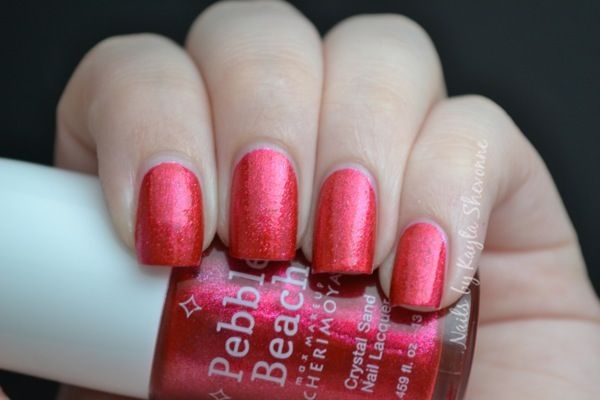 My swatch is just one coat of Ruby Step 2. It super opaque and it really doesn't need a second coat! This makes me think that this one, and possibly the other Pebble Beach shades might be good for stamping. I'll do some tests on that and let you guys know.
The formula was pretty good - a little on the thick side but still very easy to work with. The brush is also sort of thick - about as thick as the OPI brush, but the shape is more similar to the China Glaze brush.
The Pebble Beach polishes aren't quite full size (if you consider full size to be 15 ml), but they're pretty close at 13 ml per bottle. And the Pebble Beach polishes are all Big 3 Free.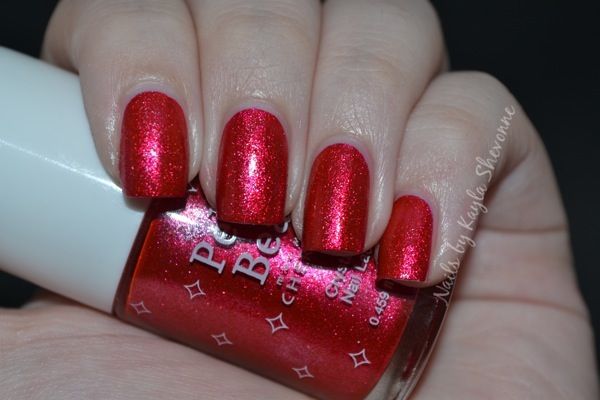 Are you in love yet? Well, prepare to be even more in love because guess how much this polish cost? $2.59! There's nothing I love more than an amazing polish at an amazing price. I'm actually going back and getting as many more shades as I can today!
As far as availability, I found my Pebble Beach polishes at an Eastern Canadian drugstore called Lawton's Drug Mart but I'm not sure where else these can be purchased. I found them on the Cherimoya website
here
, but there's no option for purchasing them. So, if anyone knows where else these can be bought, please leave a comment below!
Have you guys heard of the Pebble Beach nail polishes before? What do you think of Ruby Step 2?