Hey guys!
This
ruffle nails tutorial by Sarah of
Chalkboard Nails
has been on my to-do list for a while now, so I finally made a point to do it last night!
I had a hard time deciding on what colours I wanted to use for my ruffles, but in the end I went with a rainbow theme. Anyone who's been following me for a while knows that I
love
doing rainbow designs, so this was a good choice for me.
The polishes I used are my go-to rainbow colours:
Zoya Jolene
(pink),
China Glaze Papaya Punch
(orange),
Orly Spark
(yellow),
Orly Green Apple
(green),
Zoya Robyn
(blue) and
OPI Funky Dunkey
(purple).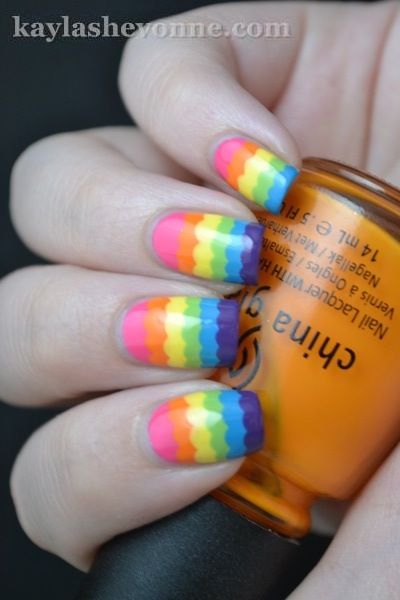 I was actually going to use red instead of pink as the base colour, but before I got started I realized that the red might be a lot harder to cover up with some of the lighter colours like yellow and orange. So that's why I went with a lighter pink, and I think it worked out perfectly in the end.
Also, if any of you have nail related OCD like I do, you'll notice that I wasn't able to fit the purple ruffles on my pinky. This bothers me immensely, but hopefully you guys aren't as bothered by it as I am. :)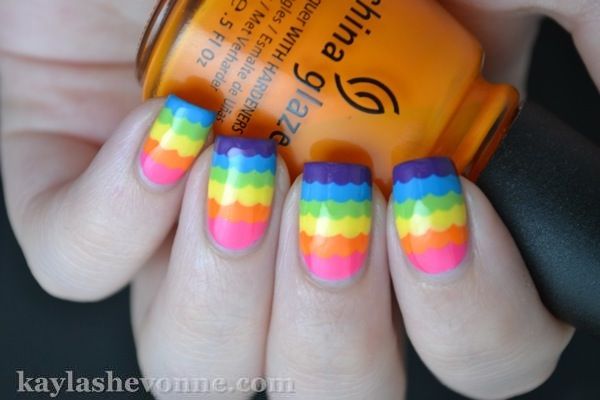 I'm completely in love with this mani so I owe a big thanks to Sarah for the inspiration!
What do you guys think of my rainbow ruffles?