Hi guys!
Tonight I'll be going to my favourite Aunt's 50th birthday party and I needed an awesome nail art design for it. She loves rainbows (I guess it runs in the family), so I knew I had to incorporate rainbow colours into my design.
I was also in the mood for some zebra print nails since I haven't done a zebra design in months! However, I didn't want to go the traditional route and do a rainbow background with black zebra stripes, so instead I went with a white background and made my zebra stripes using rainbow colours!
I started with a base of white using
Wet 'n' Wild French White
. Then, using a striping brush, I freehanded on the zebra stripes using six rainbow-coloured polishes.
The red is
China Glaze Salsa
, the orange is
China Glaze Papaya Punch
, the yellow is
Color Club Almost Famous
, the green is
Color Club Twiggie
, the blue is
Zoya Robyn
and the purple is
OPI Funky Dunkey
. For the most part, I did two zebra stripes of each colour, but if your nails are shorter and you still want to try this design, just go for one stripe of each colour.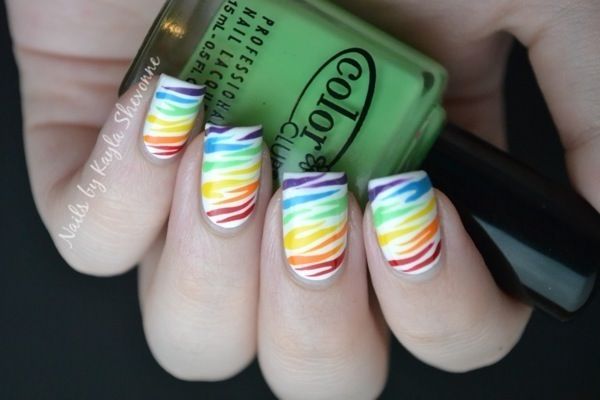 I love how this design turned out and I'm sure my Aunt will as well!
Enjoy your Saturday everyone!