Hi everyone!
Welcome to another nail art collaboration! This time around the theme is "geometric", so you should be seeing some really interesting and fun manis in your reader today!
I actually wasn't going to participate in this one, but I decided at the very last minute (about 12am last night) that I wanted to. Then there was the issue of coming up with a design, which proved to be less than easy at that time of night. So basically, I chose a few colours and just went for it, with no particular plan. I ended up with this completely random v-gap/funky chevron french mani that I actually quite like!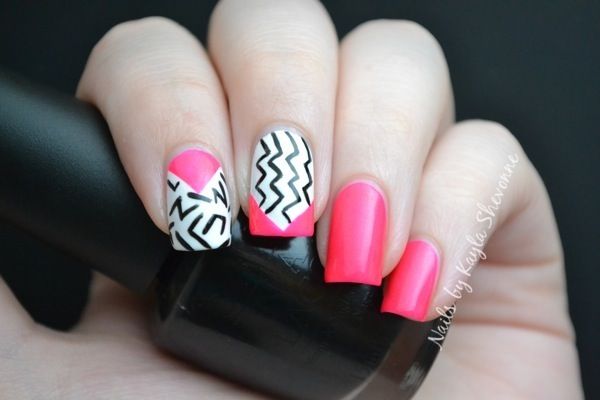 To do this design, I started out with a base of
Wet 'n' Wild French White
on my accent nails. I then painted all of my non-accent nails using
China Glaze Love's a Beach
from the Summer Neons Collection. I also used that colour to create the v-gap on my index nail and the chevron french tip on my middle nail with a striping brush.
After that, I went in with a small nail art brush and a black polish (
OPI Black Onyx
) and freehanded some random geometric lines and shapes on my index nail. There's really no rhyme or reason to these shapes, I just went for it.
On my middle nail, I used the same brush and black polish to create some vertical zig zags. The zig zags aren't as neat or consistent as I would have liked, but there was no way I was going back and re-doing everything.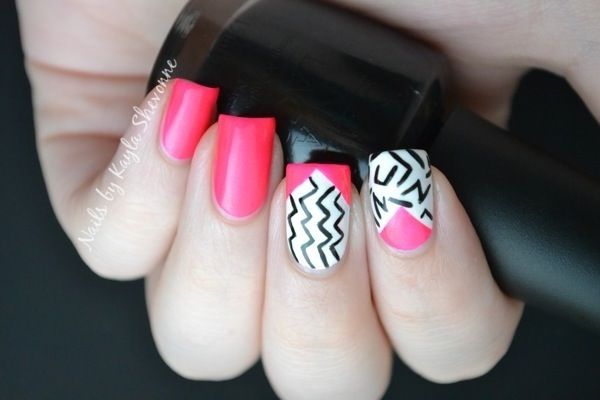 I'm quite happy with how this random geometric manicure turned out! I like how I did both of my accent nails differently, but they still go together nicely. Plus, black, white and pink always go well together!