Hi guys!
Today I have another fairly new indie brand to share with you! This one is called JENsations and the creative mind behind this brand, Jen, was kind enough to send me a few of her polishes to try out.
Let's get right to it.
First up is
Be My Valentine
, which is a mix of light and dark pink hex glitters and light pink heart glitters in a clear base. I've layered it here over a simple white creme. Application can be tricky - I had to place many of the glitters, but if you have a little patience with it, this can look really neat.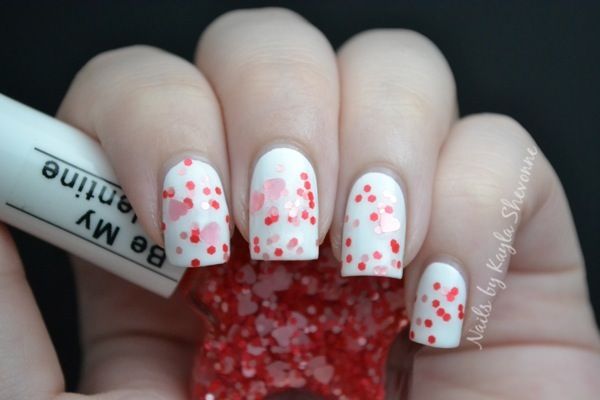 Bumble Bee
is a clear base with a mix of differently sized bright yellow, black and white hex glitters. The yellow hexes make up the majority of the combination while the black and white glitters are sort of sprinkled amongst.
I've layered one coat of Bumble Bee over a base of
Color Club Almost Famous
, which I think is a great combination. The end result reminds me of honeycombs, which is quite appropriate given the name of this polish. The formula was the best of the three shades here and only required a little placing, mostly for the black and white glitter pieces.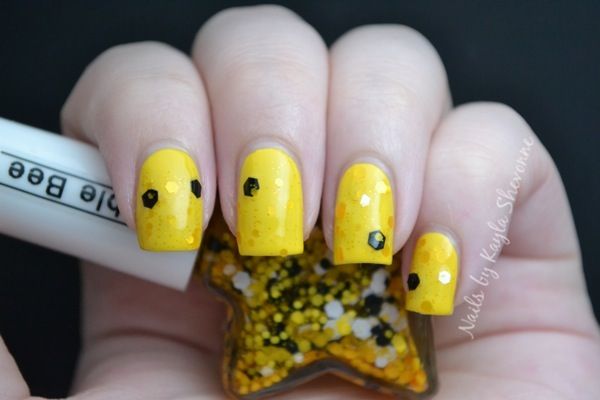 Queen of Hearts
is a clear base with bright red heart and black diamond glitters. For my swatch, I've layered Queen of Hearts over
China Glaze Cheers to You
- a straight-up silver foil.
Application was tricky with this one and I had to place most of the glitters with the brush. I also had to fish a lot of them out of the bottle because not many would come out with the brush. Maybe the glitter to clear base ratio should be a little higher with this one? Nonetheless, the end result is interesting if you're willing to work with it.
These polishes are fun and Jen has branded herself well by using a unique star-shaped bottle for her polishes. JENsations polishes can be purchased
on Etsy
and each 10ml bottle retails for $7.50. All three of these shades are currently in stock.
The product(s) in this post were provided by the manufacturer or their PR in exchange for an honest review.