Hi everyone!
I've had stained glass/mosaic nails on my to-do list for a while, but I could never make my mind up about what colours to use. I always landed on neons, but then I thought that the manicure would end up looking too similar to my
neon geometric print
from a couple of months ago.
So, I just kept putting the idea off. That is, until I swatched the
OPI Germany Collection
and realized that a few of the jewel-toned shades might work well in a stained glass mani!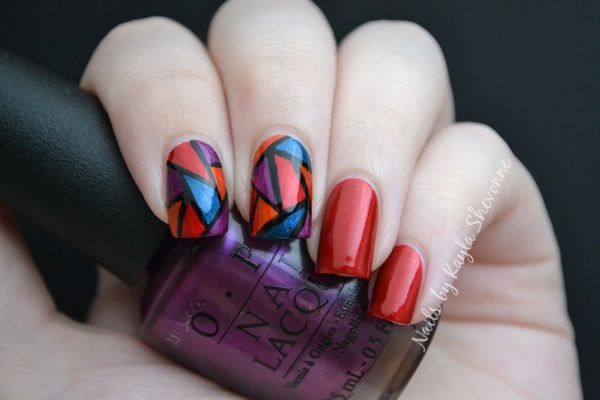 To get this stained glass look, I first started with a base colour of white. The white isn't necessary to make the colours pop (such as it is with most neon colours, for example), but I just needed a neutral base for everything to be layered on top of.
Next, I used a striping brush and a black polish to create random lines on both of my accent nails. I then filled in the spaces using four of the colours from the OPI Germany Collection:
Danke-Shiny Red
(also featured on my non-accent nails),
Deutsche You Want Me Baby
,
Suzi and the 7 Düsseldorfs
and
Unfor-Greta-bly Blue
. The ultimate key to this look is making sure that none of the coloured "glass" pieces touch another of the same colour.
Finally, I went back with my striping brush and re-touched some of the black lines that had been slightly covered by the other shades.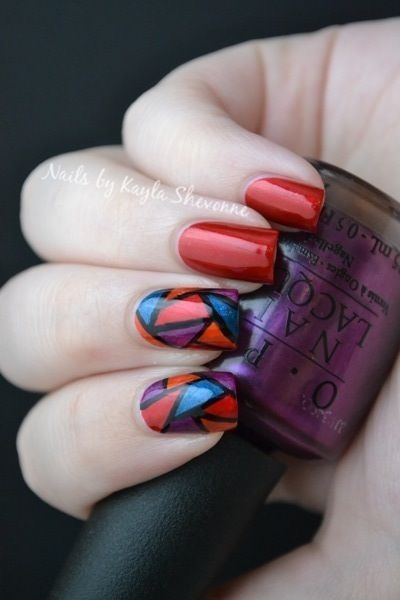 If you're uncomfortable with your freehand skills, this manicure can also be achieved using stamping! There's a number of mosaic style images out there, such as on the
BM-208
and
Konad m64
plates. You can lay down the jewel-toned colours first in a semi-random pattern and then stamp over them with black!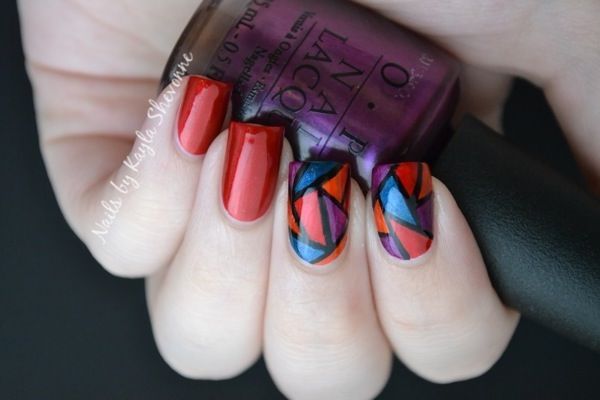 I'm rather pleased with how this manicure turned out! It's rare that I have an idea and it turns out exactly as I pictured it, but this one did!