Hi guys!
Today I have an indie brand that's new to the site - it's
KBShimmer
! This brand offers not only handmade polishes, but also an array of bath and body products such as soaps, scrubs, lotions, etc.
The polishes I'm going to be showing you are from the new KBShimmer Fall 2012 Collection that's set to release on September 1st. There are eight shades in this collection and today I have four of them for you.
Let's get right to it!
I Made a Bleu Bleu
is an electric royal blue that's packed with purple, green and gold shimmer. You know how sometimes certain glitter polishes are called "glitter bombs" because they're so packed with glitter? Well then this polish would have to be called a shimmer bomb because it has so much shimmer! My swatch is two coats and the formula was great.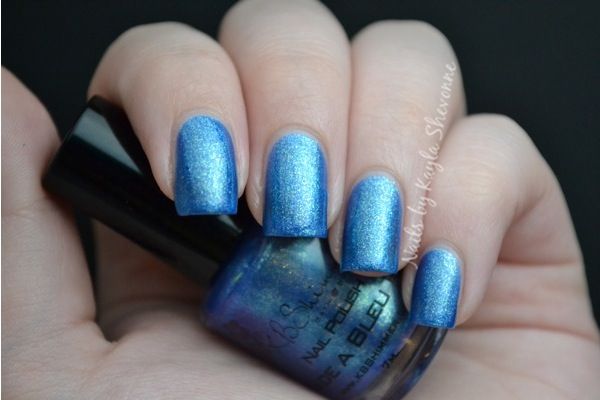 No Whine Left
is a gorgeous dark plum base packed with a mix of blue, purple and fuchsia hex glitters in various sizes. I'm basically in love with this polish. And to boot, the formula is excellent, it covered in two coats and I didn't have to do any placing of glitters. Gah! Love!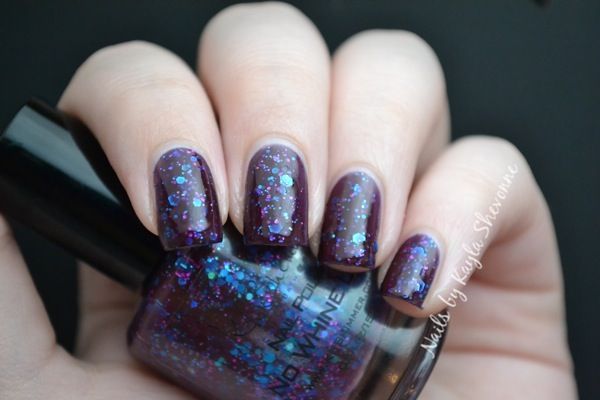 Oh Splat!
is a white jelly polish with rainbow coloured hex glitters in various sizes. This is a very fun polish and you all know how much I love anything to do with rainbows! My swatch is three thin coats and the formula of this is really good - it flowed nicely and evenly and I didn't have to do any glitter placing.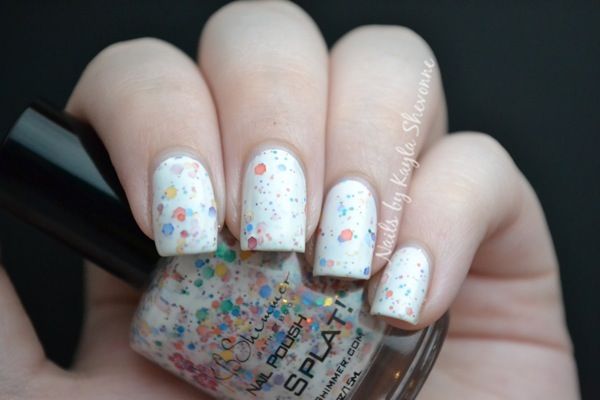 Last, but certainly not least is
Quantum Leaf
. This is a warm, rustic mustard-y orange base with orange, copper, gold and red hex glitters in various sizes. This screams fall to me and makes me think of a big pile of leaves. I haven't seen anything quite like this before and I love me a unique, interesting polish! The formula is great with this one as well and my swatch is three thin coats.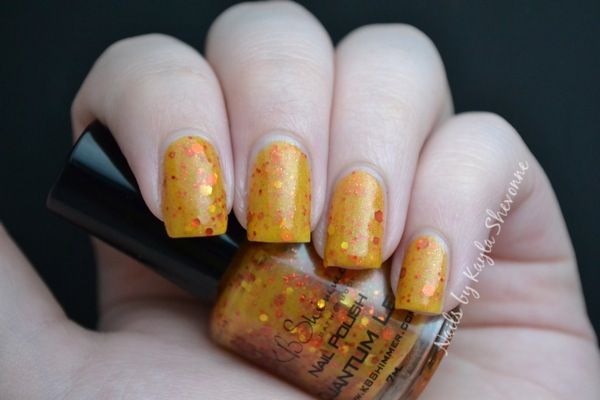 Overall, these four polishes are all big winners and this was a great introduction to the KBShimmer brand for me. And I definitely need to get my hands on the rest of this Fall Collection!
The KBShimmer Fall 2012 Collection will be available on September 1st on the
Harlow & Co. website
. Each shade retails for $9.00 each.
To keep up with the KBShimmer brand and to see the rest of the colours from this collection, check them out
on Facebook
.
The product(s) in this post were provided by the above retailer in exchange for an honest review.